Eighteen US Club Soccer coaches begin LaLiga Formation Methodology course in Spain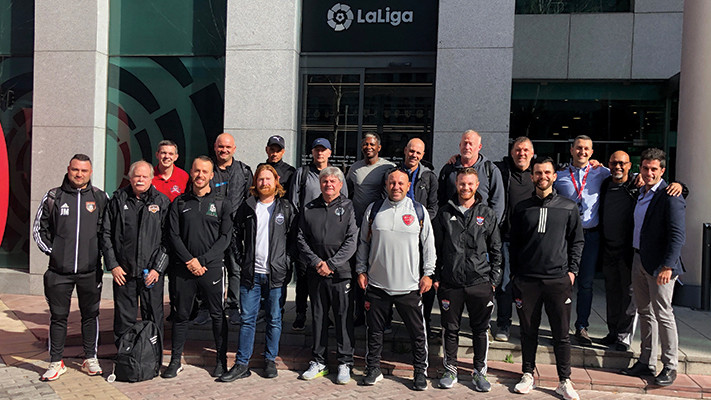 Course web page | Players First
MADRID, Spain | US Club Soccer's first-ever LaLiga Formation Methodology Level 1-Spain course began Monday with a full itinerary of lectures, guest presentations and a visit to a LaLiga academy.
Eighteen coaches representing 15 clubs and 10 states are attending this intimate immersion into LaLiga methodologies. The delegation arrived yesterday in Madrid and will be based in the Spanish capital until Feb. 11.
This Level 1-Spain course represents the ultimate progression in the popular LaLiga Formation Methodology series, which features Level 3 (introductory), Level 2 (advanced), Level 1-U.S. (expert, part one) and Level 1-Spain (expert, part two) opportunities. To date, about 1,500 coaches from 400 clubs have been educated in LaLiga philosophies and methodologies through this educational series.
"When we began our Players First partnership with LaLiga four years ago, they asked us what they could do to best impact soccer in the U.S.," said US Club Soccer CEO Kevin Payne. "We believe better coaches develop better players, so we asked them to provide a comprehensive coaching development series. LaLiga Formation Methodology is just that, and it's exceeded our expectations. This Level 1-Spain course is exactly what we envisioned four years ago. To be able to put our members in intimate learning environments with one of the best leagues in the world will surely lead to better coaches and better players."
A day-to-day schedule, bios of LaLiga leadership and more are all available on the official course web page. This Level 1-Spain course features numerous educational sessions, including classroom lectures on management, methodology, performance and scouting; tours of various LaLiga academy clubs; visits to Real Madrid and Atlético de Madrid; and attendance at LaLiga youth academy games and one professional match.
Be sure to follow @USClubSoccer on Instagram (for posts and stories), Twitter and Facebook for continuous coverage from Madrid.
LaLiga methodology experts Hugo Blanco, Carlos Casal and academy directors from FC Barcelona, Athletic Club Bilbao, Celta de Vigo, Villarreal, Getafe and RCD Mallorca will lead this Level 1-Spain course. The delegation will also visit the youth academies of Real Madrid, Atlético de Madrid, Real Valladolid C.F., A.D. Alcorón, C.D. Leganés and more.
"We welcome US Club Soccer and its coaches to this unique learning experience in Spain," said Blanco, LaLiga's Sports Projects Manager. "This is a 360-degree view of LaLiga. Participants of this course are learning from the best professionals in our clubs, visiting their grassroots training and attending their youth and professional matches."
LaLiga Formation Methodology is a staple of the US Club Soccer/LaLiga partnership, which stems from US Club Soccer's Players First initiative.