EDP alum Dylan Nealis discusses MLS SuperDraft experience, shares advice for youth players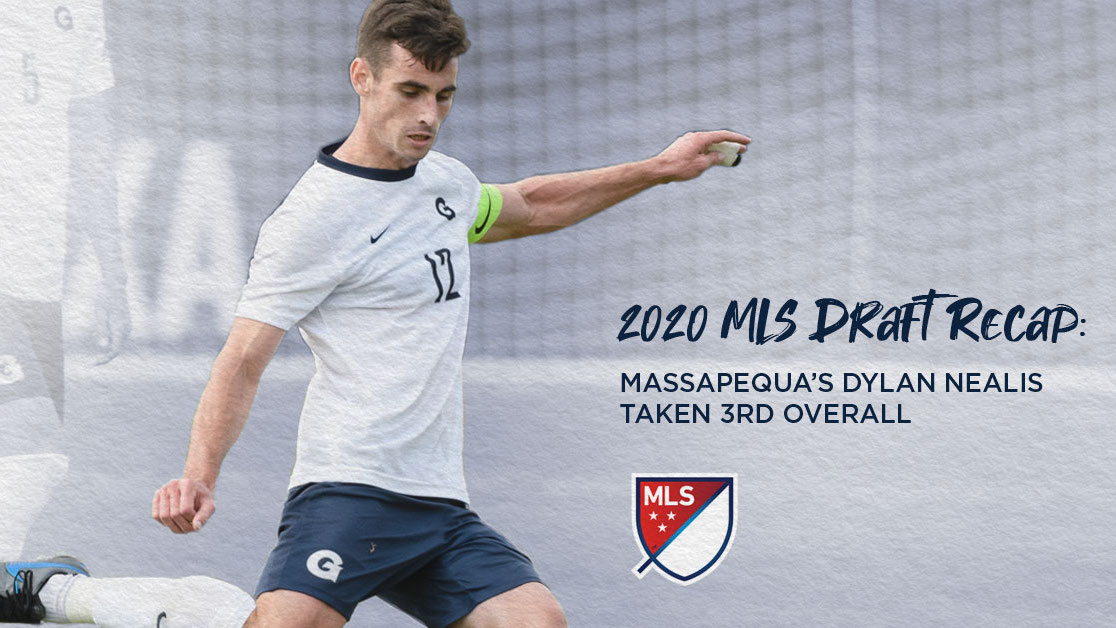 By Christopher Korte
Published in Partnership with EDP Soccer
On January 9th, 2020, Dylan Nealis was selected as the third overall pick in the 2020 MLS SuperDraft by David Beckham's Inter Miami CF.
Nealis explains how he felt as this incredible moment happened, explaining, "It was pretty unbelievable to have family and friends there. We were at a restaurant in Massapequa when I was drafted. They had some MLS crew come down and do like a little show. My name got called and almost immediately after, I got a call on my phone. I had a Facetime request from a weird contact and I thought I might as well answer and there he was."
"David Beckham just pops up on the other end. He congratulated me and said welcome to the team, I can't wait to get started and I can't wait to see you down here in Florida."
Nealis is a former Massapequa SC forward and Georgetown University defensive back, who in 2019 as a senior, captained Georgetown University to win their first NCAA national championship.
He says, "I couldn't have asked for a better way to end my college career and I think it helped me in the draft. Having the chance to play on that big stage, I believe there were a lot of scouts attending those final four games and it helped in some decision making. My agent told me he wouldn't be surprised if I landed in the top five. I don't think I let it get to my head. It didn't matter if I make it as a 1, 2, or 3. I felt like I have something to prove no matter what pick I get, there's always work to be done."
As a sophomore in high school, Nealis was named the 2013 NYSPHSAA Class AA tournament MVP and at Georgetown University, was named Defensive Most Outstanding Player of the National Tournament and is first from Georgetown to receive this award. Nealis has also been named as a finalist for the top college soccer player in the nation, the MAC Hermann Trophy and Big East Conference Men's Soccer Defender of the Year in 2018 and 2019.
After graduating from Georgetown in December and where planned to go professionally, Nealis stated, "I never really thought about going overseas after college, I think it's important to establish yourself at the MLS level. It's getting a lot more common these days. You see younger guys being successful at the MLS level and then a European club reaches out and takes a shot on them. I always planned to be apart of the MLS and see where it goes from there."
Dylan is the youngest in a long line of soccer superstars beginning with his eldest brother, who is another former Georgetown University defender, Jimmy Nealis who was drafted in the second round of the 2013 MLS SuperDraft by the Houston Dynamo. He also played for the NASL New York Cosmos and the CSL New York Pancyprian Freedoms.
Jimmy is then followed by former Binghamton University midfielder-defender Connor Nealis and then Hofstra University defender Sean Nealis, who plays in the MLS for the Red Bulls.
Dylan as the youngest of his brothers didn't feel any added pressure in pursuing soccer. He says, "I felt like I had to do this. It was my family duty almost. I strived to outdo them in a sense."
Nealis adds recalling the moments his brother, Jimmy, was drafted and how he felt in those moments, "Seeing my oldest brother getting drafted, I can tell you exactly where I was when we watched the draft and I think I just wanted to model myself after my brothers more."
He continued to provide more context about his family and motivations in soccer, "I grew up with 3 older brothers. I was the youngest of four boys in the family. It's a blur, to be honest, following in my brother's footsteps. I kind of just followed my older brothers. They all played soccer at Massapequa, my oldest one, Jimmy went to Georgetown. He graduated in 2012 and got drafted in 2013 by the Houston Dynamo. He works at the MLS now. His team was really good at Massapequa and I grew up watching them play. I felt like I almost had to do the same. The one that's a year older than me, Sean, is with the Red Bulls now, he got drafted last year. He stayed local at Hofstra in Long Island. His team, I used to sometimes jump in and play with at Massapequa in some tournaments as well. I enjoyed playing at a higher level. The challenge of it back when I was that young, all the guys were bigger, stronger. I think that helped with my trajectory and who I am and being able to solve things on the field."
After Dylan was drafted, he says his brother Sean, provided him with key advice on moving from the collegiate level to the professional stage, "He told me to stay strong mentally when you make the jump to the MLS level. Mental fortitude is a huge aspect of success. You're playing with some great and incredible players. You know you're not going to be the best one on the field, but to know you're there for a reason. That's what will help you through."
He added, "Using my athleticism I know at this level, in the MLS, athleticism kind of evens out. I think it's my knowledge of the game and being able to read events on the fly, making those onfield adjustments, and also just being versatile that will make the difference. I think being able to play multiple positions on the field also helps, which all of that started from being younger as a winger my whole life and then converting to a full-back later."
Nealis explains how his experience in EDP tournaments helped in his growth as a player stating, "Obviously growing up as a little kid, competing in those local tournaments you know the schedule, the teams and the guys from different towns you're competing again, but once you start getting into the EDP tournaments you start to realize the level of increases. There are good players all around the country. Then with EDP, even the states around you that compete in the EDP tournaments, there are some really special players at a young age. It just gives you a perspective of there's a lot of good players out there. I'm not just the only one in my town that's best. I got to look at these kids from these other states and how I line up in the talent pool."
Nealis ended his interview with EDP with this advice to players looking to follow a similar path as him, explaining, "Putting in work on and off the field is important, even when no one is watching. Whether its weight lifting or extra stretching to avoid injury, even some little ball work in your backyard. Every time you do go to practice, you focus on a lot of other things. You also have school to worry about and stuff like that, but once you step on the field, give it your all because there's going to be someone out there that's going to be working harder than you. You have to treat it like a job early on I think. I forget who I saw, it some YouTube video that said, you have to earn the right to wear the jersey on your back. I think just having that mindset at an early age and wanting to put in the hours on and off the field."
He also wanted to add, "I think off the field too is important from the educational aspect. A lot of these top universities are pretty good academically and I think if you plan to go from club to the college level and then to the MLS, I think it's important to get your academics straight. A lot of these schools and universities require some good grades. Obviously, if you're good enough, you can go straight to the professional level, but that's a pretty rare occasion.
EDP would like to thank Dylan for sitting down with us about his family, his draft experience and providing crucial advice to our young players. We appreciate your time and wish you the best of success in your MLS career and with Inter Miami CF.