St. John's men's soccer program adds three transfers for spring semester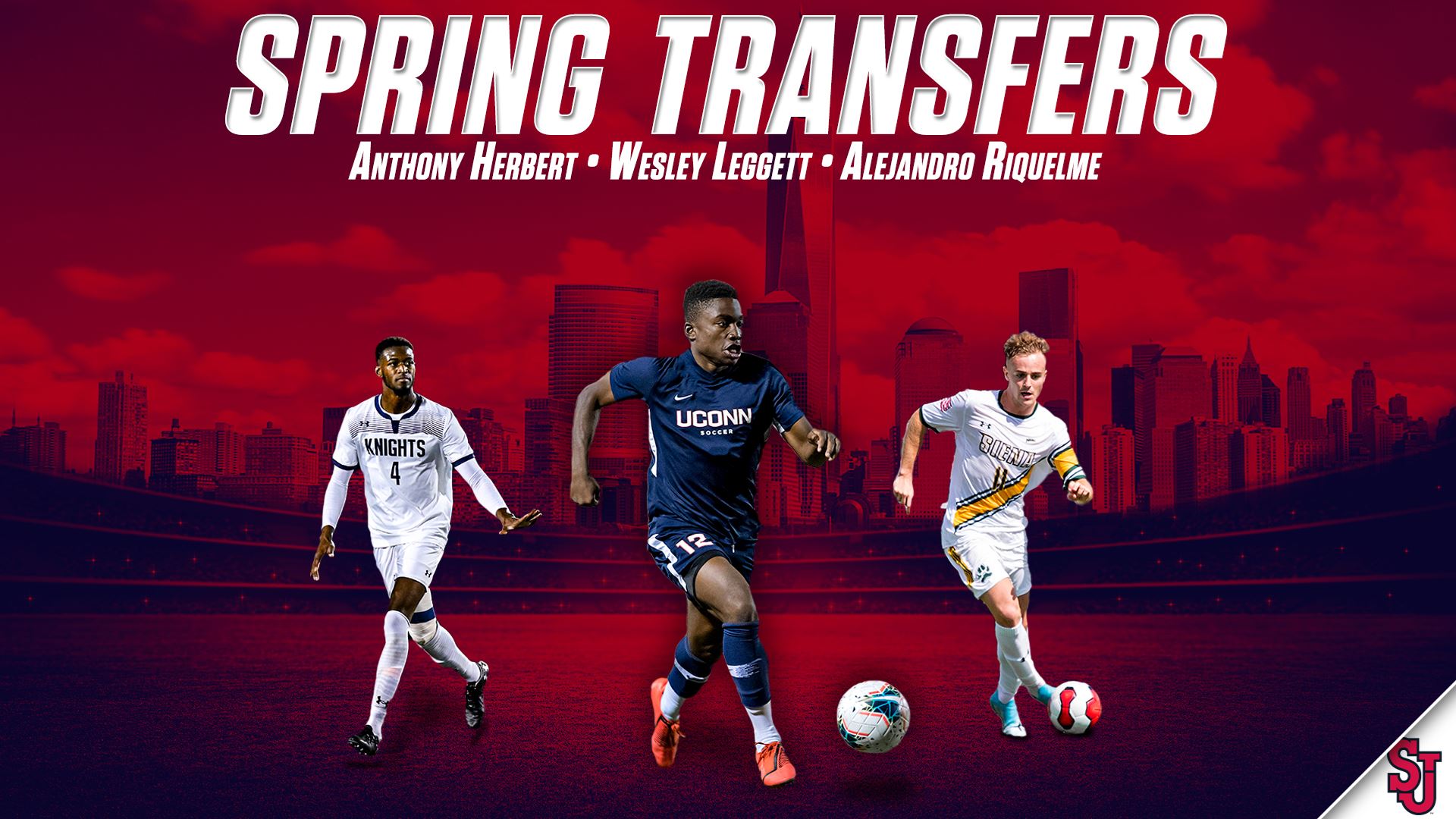 QUEENS, N.Y.  – Fresh off the program's 12th appearance in the NCAA Round of 16 this past fall, Dr. David Masur and the St. John's men's soccer team have welcomed three Division I transfers to campus for the spring semester, as Anthony Herbert, Wesley Leggett and Alejandro Riquelme will join the team for the 2020 campaign.
"We're excited to add three talented players who look like they can have an immediate impact on our program," said Masur.  "They strengthen our team at all three field positions and come with a variety of qualities that will add depth to our roster this fall."
Herbert, a defender out of Brooklyn, N.Y., recently wrapped his sophomore season at Fairleigh Dickinson.  During his two years in Teaneck, Herbert made appearances in all 38 of the team's matches, 37 of which were starts.  This past season, Herbert helped the Knights capture their ninth NEC title by upsetting top-seeded Saint Francis and second-seeded LIU in back-to-back outings during the conference tournament.  In the championship match, Herbert tallied his lone assist of the season on the Knights' second-half equalizer before FDU took home the title in penalty kicks.  For his efforts as a sophomore, he was named to the United Soccer Coaches All-Region Third Team and earned a spot on the All-NEC Second Team for the second straight season.
As a freshman, Herbert tallied his lone collegiate goal, the game-winner in a 2-1 victory over Central Connecticut.
Herbert has extensive experience outside the collegiate ranks as well, playing internationally for Trinidad and Tobago at the U15, U17 and U20 levels.  Herbert also saw action with New York Red Bulls Academy U17/18 team during the 2015-16 and 2016-17 campaigns.  He made 17 appearances with the team in 2016-17, including 11 starts.
A native of Lawrence, N.J., Leggett comes to St. John's after spending his freshman season at the University of Connecticut.  The 5-foot-9 forward played in six games for the Huskies, logging a season-high 22 minutes twice against SMU and Tulsa.
Before college, Leggett attended Princeton Country Day school and played four seasons with Match Fit Academy on the club circuit.  As a senior in high school, Leggett tallied 21 goals and five assists after posting 20 goal and four assists as a junior.
Rounding on the Red Storm's slew of spring arrivals is Riquelme, a native of Las Rozas, Spain, who played his first three collegiate seasons at Siena, where he scored 12 goals and dished out 11 assists.   This past fall, Riquelme garnered Second Team All-MAAC honors for the second time after leading the team with six goals and eight assists in 17 appearances, all of which were starts.  His eight helpers were tied for the second highest single-season total in program history and his 0.44 assists per game led the MAAC during regular season play.
Riquelme's best outing of the season came in early October against Canisius, as the 5-foot-9 midfielder scored three times in the span of just under seven minutes in a 3-1 win over the Golden Griffins.  He also tallied a goal and two assists against Saint Francis on Sept. 1 and a goal and an assist against Vermont on Sept. 16.
Riquelme made only seven appearances as a sophomore after playing and starting in all 18 matches as a freshman in 2017.  That year, he led the Saints with six goals and two assists, earning a spot on the All-MAAC Second Team and the MAAC All-Rookie Team.  He recorded 56 shots, 29 of which were on goal.
Prior to playing in college, Riquelme competed for Las Rozas Club de Futbol, which plays in the Juvenil Nacional Division alongside the likes of youth teams from Real Madrid and Atletico de Madrid.