Rutgers head coach, PDA Director of Coaching Mike O'Neill selected for NJYS Hall of Fame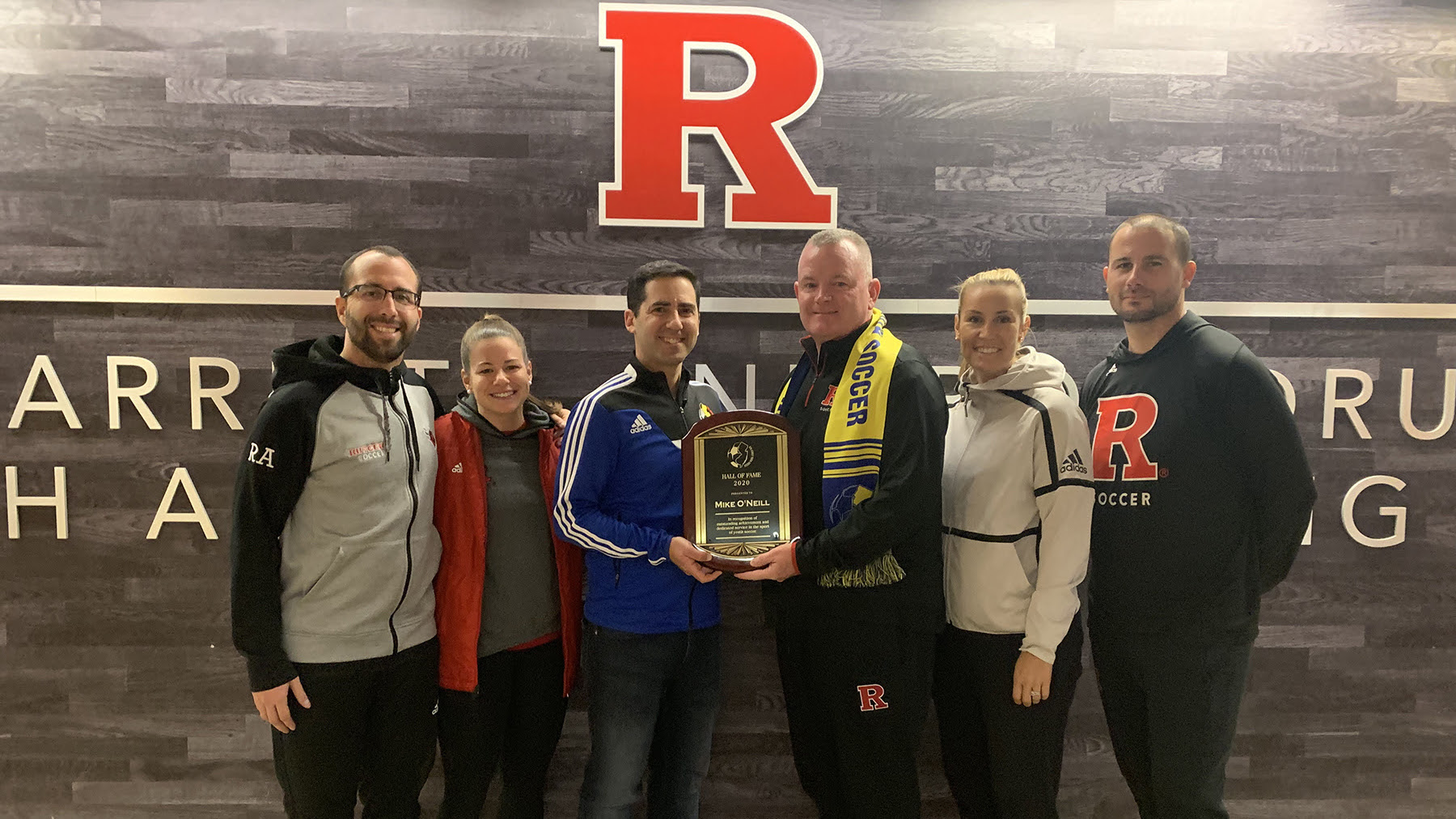 East Windsor, N.J. ― New Jersey Youth Soccer will be hosting the 32nd Annual NJYS Awards Dinner presented by RWJBarnabas Health on Friday night at the Pines Manor, where it will celebrate with players, coaches and other members of the soccer community. A very special part of the evening will take place when NJ Youth Soccer honors Mike O'Neill with his official induction into the NJYS Hall of Fame.
"To all the players I coached, thank you, as if not for you this award is not possible," said O'Neill. "To receive this honor, I am extremely humbled. To go into the New Jersey Youth Soccer Hall of Fame along with so many of the New Jersey greats, I am honored."
Growing up in the soccer hotbed of Kearny, Mike O'Neill first fell in love with the game while playing for the Kearny Thistle and then the Kearny Scots. He received the Coggins Award, which is given to the top high school player in New Jersey, after leading Kearny High School to the state championship in 1984. That team was undefeated at 24-0, and it also earned a number one national ranking. O'Neill was inducted into the Kearny High School Hall of Fame in 1990 and the Soccer Coaches Association of New Jersey (SCANJ) Hall of Fame this past March.
"It is our sincere honor to recognize Mike for his lifetime contributions to NJ Youth Soccer and the sport as a whole," said Evelyn Gill, NJYS President. "He joins a long list of men and women from our great state who gave so much and continue to give so much to create a fun and safe soccer experience at all ages and abilities for the youth soccer community."
O'Neill has made a huge impact on the development of soccer from a local, national and international perspective. In addition to leading several different NJYS clubs to state, regional and national championships, he was also a New Jersey ODP head coach from 1994-2000. Currently, he serves as the Girls Director of Coaching for the Players Development Academy. During his time with ODP and the Players Development Academy, he has helped produce many successful college and professional players such as U.S. Women's National Team standouts Tobin Heath and Heather O'Reilly.
"For me, it has always been about New Jersey soccer," said O'Neill. "I was fortunate enough to play and develop in the New Jersey Youth Soccer organization and compete in the ODP program with so many great players and coaches. My coaching career has always been in the great State of New Jersey, from club soccer, to ODP, to PDA and to Rutgers University. It has been an honor to help develop so many players and to have the opportunity to grow the game in my home state. I truly feel blessed."
Promoted to head coach of Rutgers Women's Soccer in 2014, O'Neill recently completing his sixth season in the position. He has been on the Rutgers sidelines for 20 years overall after serving on the staff of NJYS Hall of Famer Glenn Crooks prior to becoming head coach. During his time as an assistant coach, the Scarlet Knights produced accomplished players such as Canada internationals Jonelle Filigno, Shannon Woeller and two-time FIFA Player of the Year Carli Lloyd, who is currently an Ambassador for New Jersey Youth Soccer.
O'Neill led Rutgers to its most successful season in program history in 2015 when the team reached the Final Four of the NCAA Women's College Cup. Additionally, he is only head coach who has guided the Scarlet Knights to an NCAA Tournament appearance in each of his first six seasons. During his tenure, O'Neill has seen Rutgers produce 10 MAC Hermann Trophy candidates, 11 United Soccer Coaches All-Americans and 68 All Big East selections. Further, seven Rutgers alumnae have been drafted into the National Women's Soccer League over the past five years.
A graduate of Seton Hall University, O'Neill holds both a USSF "A" License and a KNVB Dutch International Badge.
Each year, New Jersey Youth Soccer hosts roughly 800 guests at its Annual Awards Dinner, honoring New Jersey players, teams, coaches, referees and volunteers for outstanding performances and contributions during the preceding year. The evening also acknowledges many of the state's boys and girls U.S. Youth Soccer National Championship Series, Presidents Cup and Commissioners Cup team champions, as well as players selected for the U.S. Youth Soccer East Region ODP pool team. Additionally, NJYS inducts a new member into the New Jersey Youth Soccer Hall of Fame, with previous inductees including Tony Meola, Christie Pearce Rampone, Tab Ramos, Carli Lloyd, John Harkes and Tobin Heath.