ECNL Phoenix National Event 2022: Club Competition Day 2 Recap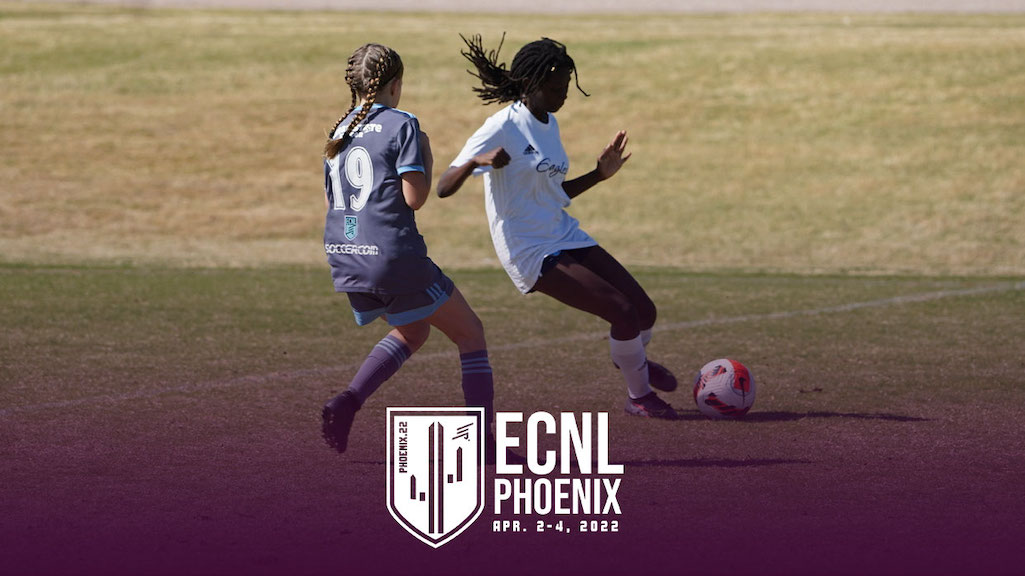 Competition breeds success. This belief is a cornerstone of the ECNL. Pushing yourself against the best, learning through trial and error, being tested day in and day out; by doing these things, you and everyone around you will become better and will continue to get better. And when you get better, new challenges arise.
At ECNL national events, especially at ECNL Phoenix, being challenged is an everyday occurrence. Eagles SC's U13 squad saw that first-hand.
Eagles SC headed to ECNL Phoenix in second place in the Mojave Division of the tough Southwest Conference and on the first day of competition, earned a 3-0 win against a talented MVLA team, and faced off against another equally difficult club in Seattle United Sunday afternoon.
Both sides were equally matched in the first half, potting a goal apiece in a back-and-forth opening frame. But it was in the second half where Eagles SC was able to blow the game open.
In that second half, Eagles SC came out of the break at full speed, jumping on the Seattle United defense and pressing early and often. The results were two quick goals to take a commanding lead. Those two goals gave Eagles SC confidence with the ball, dictating the pace and allowing them to impose their own game plan. The team converted a PK late in the half, giving the team a decidedly 4-1 victory.
"Today was a really good day, a really good game," said Klaren Jubilee, Eagles SC's U13 head coach. "We were playing some really quality soccer, against one of the best teams from Washington."
Now with two wins, Eagles SC will look to close out the weekend against FC Dallas. All three of their opponents this weekend are in a Champions League position, and their opponents have a combined 0.769 points percentage. Playing such a tough schedule is why Eagles SC come to national events such as ECNL Phoenix.
"Events like this allow us to compete and be challenged by different teams with different styles of play, who are organized differently than what we've seen before," Jubilee said. "It allows us exposure to different styles of soccer, which ultimately is going to make us a more rounded team."
That competition, the chess match between coaches and clubs, is what he loves about coaching in the ECNL.
"For me, it's firstly the level of play," Jubilee said. "The ECNL is made of the best players in and around the country. It's good fun to coach the very best and it always makes for quality soccer. The ECNL is a quality organization with quality fields and quality teams. And for me, those are the most things. Those are what makes good organizations great."
Testing themselves against the top competition only makes Eagles SC better, and with playoffs right around the corner, these types of games will be paying dividends come June.
"Coming out here and competing with other awesome teams, makes us a more rounded team," Jubilee said. "We face different styles of play and different ways they play the beautiful game. At ECNL Phoenix, we're getting three super competitive games, and that allows us to continue preparing for upcoming games and for playoffs."
Minnesota Thunder Academy is another club that has a tough schedule at ECNL Phoenix. The club had a tough game against Legends FC Saturday, falling 2-0, but bounced back in a big way against Strikers FC.
Determined to get the win, Minnesota Thunder opened the scoring in the third minute on a shot from the squad's NSG representative, Paige Kalal. That 1-0 lead set the tone for the rest of the contest, as Minnesota Thunder commanded the ball, while Strikers had a difficult time maintaining possession and establishing an offense.
As the half came to a close, Minnesota Thunder added another goal on a strike from Ava Grate to make it a 2-0 lead. The team then scored again in the 60th minute when Taylor Heimerl knocked home a shot to give her side a 3-0 lead. From there, goaltender Jordan Hecht was able to close out the match, earning the clean sheet.
"This was a nice game compared to the one yesterday," Hecht said. "We all played really well and our game plan came together today better than it did yesterday."
With a 1-1 record at ECNL Phoenix, Minnesota Thunder will now look to end the weekend on a high note with a contest against Pipelines SC. The Minnesota club relishes in opportunities like the ones presented at ECNL Phoenix though. The wins and losses are just highs and lows that happen throughout the season. What keeps the club going, what drives them, is the competition, knowing they're facing the best clubs in the nation and they want to show they can play with, and beat, whomever.
"The level of competition here is so good," said center midfielder Grace Pohlidal. "The competition pushes us to be our best at all times. In front of all the college coaches too, you have to have that mental toughness to go out and get the job done."