Dartmouth men's soccer reveals 9-player recruiting class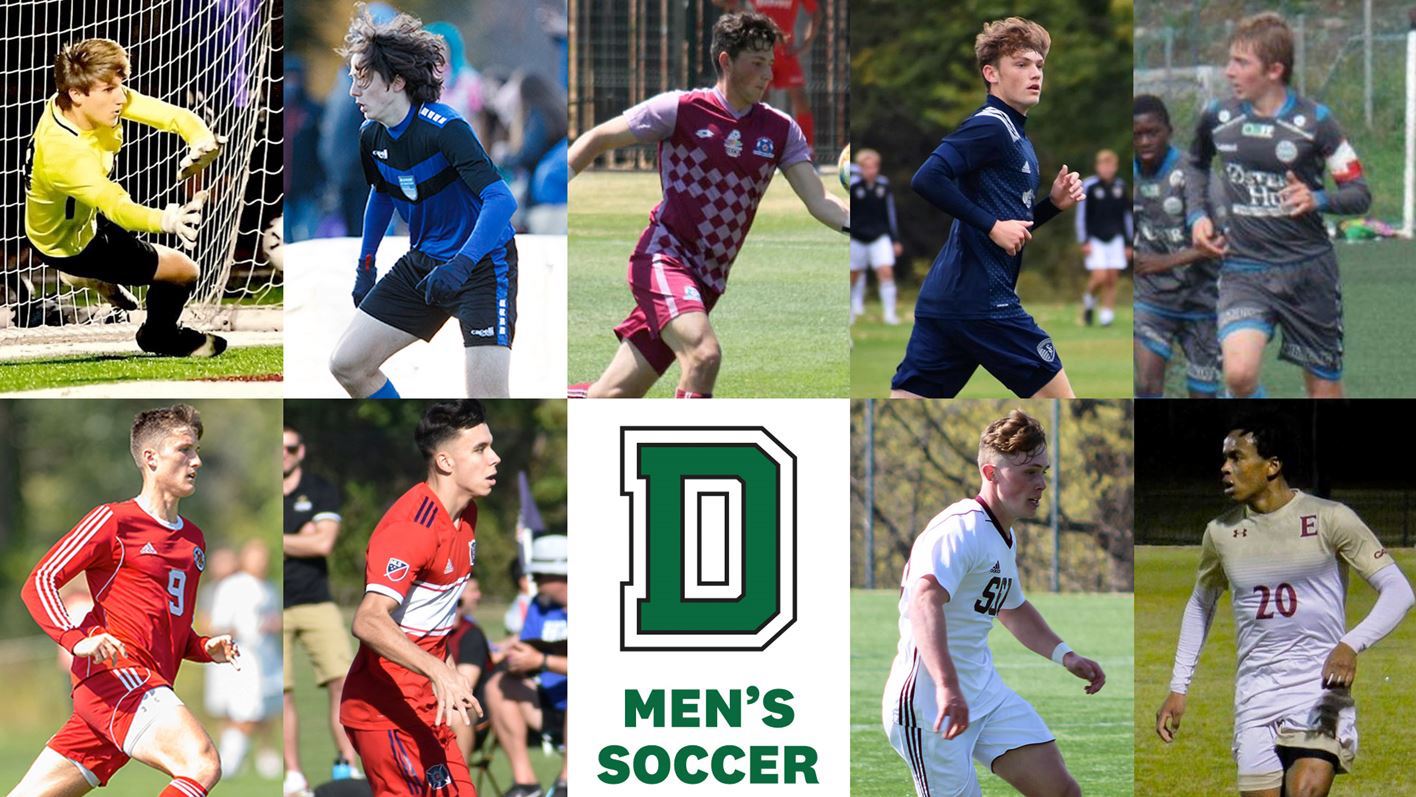 HANOVER, N.H. — Bo Oshoniyi, Dartmouth's Bobby Clark Head Coach of Men's Soccer, has announced that eight freshmen, two of whom are international student-athletes, along with a transfer will make up his recruiting class this fall.
Those joining the program are: Dylan Buchanan, Finn Callahan, Costi Christodoulou, Andrew Ellis, Kristian Feed, Ben Jenkins, David Mysiuk and Jonathan Preston, along with rising junior Trevor Gee from Elon University.
"We are really excited about this 2021 recruiting class," Oshoniyi said while out on the road, already recruiting his next class. Chad Duernberger and Stew Flaherty have worked tirelessly helping put this class together. This recruiting class of high character student athletes will make a positive impact on the field and in the Dartmouth and Hanover community."

Dylan Buchanan
Position: Goalkeeper | Height: 6-3 | Weight: 190
Hometown: Marietta, Ga. | High School: Walton
Club Team: AFC Lightning
Background: Class 7A First Team All-State and Region 3-7A All-Region for region championship team this past year … goalkeeper for Georgia state champions as a sophomore … participated in U.S. National Team Southeast Training Camp … President of Beta Club … Young Men's Service League Excellence in Service Award.
Oshoniyi on Buchanan: "A physically developed hard working goalkeeper. Dylan follows club teammate Orrett Maine Jr. to Hanover by way of the United Futbol Academy in Georgia. Dylan has shown himself to be a mature and consistent player who will add heavy depth and competition to our goalkeeping unit. As a goalkeeper myself, I believe there are elements of Dylan's game not yet at full potential, which makes him an exciting prospect."

Finn Callahan
Position: Midfielder | Height: 5-9 | Weight: 165
Hometown: Norwalk, Conn. | High School: Pierrepont School
Club Team: Beachside FC
Background: Four-year letter winner at Pierrepont … invited to U.S. Training Center and helped his team advance to the Development Academy playoffs as a sophomore.
Oshoniyi on Callahan: "We identified Finn early in the recruiting process as one of the best players in Connecticut, and he had an immediate connection with our staff and players during his visit. He is an extremely hard-working technical attacking midfielder, his ability to play in tight spaces in the attacking 1/3 allows him the opportunity to create mature scoring chances for his teammates. We are looking forward to working with Finn and helping him develop into the player and person that he wants to be!"

Costi Christodoulou
Position: Goalkeeper | Height: 6-2 | Weight: 190
Hometown: Sandton, Gauteng, South Africa | High School: Hilton College
Club Team: Mauritius SA
Background: Hilton College Head of Sport … South Africa U17 National Team captain … U17 Council of Southern Africa Football Associations Runner-Up in 2018 … two-time Pietermaritzburg High Schools' Football Association Goalkeeper of the Tournament to lead his team to the cup both times … received the highest academic award at Hilton College.
Oshoniyi on Christodoulou: "An impressive mental and physical presence. Costi has captained his National Team at the U17 Level and choose the U.S. college pathway after attracting interest and trial offers from notable European clubs. We are very proud of the past and present performance of our goalkeeping unit. We believe the future is equally exciting!"

Andrew Ellis
Position: Midfielder | Height: 6-1 | Weight: 170
Hometown: Minneapolis, Minn. | High School: Minneapolis Southwest
Club Team: Minnesota United FC
Background: Minnesota ODP First Team in 2018-19 … also Midwest ODP regional pool player that year … captained Minnesota United U17 squad … National Honor Society.
Oshoniyi on Ellis: "Andrew is a physically tough and versatile player who we believe has the ability to perform several roles effectively at the college level. As a former MLS Championship champion with the Sporting KC club, I am more than confident in the mindset and work ethic that they instill in their youth academy players, and I believe that Andrew will be no exception."

Kristian Feed
Position: Midfielder | Height: 6-0 | Weight: 175
Hometown: Sandnes, Norway | High School: Sandnes
Club Team: Sandnes Ulf
Background: Captained his U16 team to the national championship and was the top scorer on the squad … helped his U20 team finish third in the regional U20 league last year.
Oshoniyi on Feed: "From the first time we saw Kristian play, we hoped that he would choose to spend the next four years at Dartmouth! He is a very technical central midfielder. His ability to dictate the tempo of a match from the midfield position as a No. 6 or No. 8 really stood out to us immediately. His passing range and competence will allow us to keep the ball in tight areas and also spread the attack to different parts of the field."

Ben Jenkins
Position: Midfielder | Height: 6-3 | Weight: 195
Hometown: Newburyport, Mass. | High School: St. Paul's School (N.H.)
Club Team: New England FC
Background: Three-sport athlete in high school, running track as a freshman and wrestling for three years … key member of the 2019 ENPL U19 National Club Championship team at NEFC one year after finishing as the runner-up … two-time WNEPSSA and NEPSSA All-Star … New Hampshire Gatorade Player of the Year nominee in 2018 … went to wrestling nationals as a freshman.
Oshoniyi on Jenkins: "We are really excited to get Ben Jenkins on campus. He is a physical forward with all the necessary tools to score goals at the college level. His ability to hold up the ball and get his teammates involved is very good. With his height, he will give us an aerial presence as well! He is an unbelievable person; he cares about people and really wants the best for everyone he comes in contact with."
David Mysiuk
Position: Defender | Height: 6-0 | Weight: 165
Hometown: Bourbonnais, Ill. | High School: Bradley-Bourbonnais
Club Team: Chicago Fire
Background: Development Academy Central Conference champions in 2017-18 … center back for the Dallas Cup champions in 2018 … participated in the U.S. U14 Boys' National Team Camp … National Honor Society and Illinois State Scholar.
Oshoniyi on Mysiuk: "David is a hardworking, tough defender that leads by example. He comes from the Chicago Fire MLS Next Academy, and we are hoping that he is on the early steps of a similar pathway to Wyatt Omsberg '18, currently a starter for the Fire in MLS. Having represented the U.S. National Teams at the youth level as well, David is extremely mature on and off the field and is driven to reach his goal as a student and an athlete. We are really excited to work with David over the next four years."
Jonathan Preston
Position: Midfielder | Height: 6-0 | Weight: 165
Hometown: Brentwood, Tenn. | High School: Shattuck St Mary's Academy (Minn.)
Club Team: Shattuck St Mary's
Background: Has trained and played in Costa Rica and the Netherlands … prior to attending Shattuck St. Mary's, helped Tennessee SC U15 team win the Elite National Premier League National Championship in the summer of 2018 … also Brentwood High Rookie of the Year as the team won the Division II Class AAA title.
Oshoniyi on Preston: "Jonathan is a skilled and high-energy player who works both the offensive and defensive side of the ball. He and his family showed nothing but enthusiasm and desire to be at Dartmouth throughout the recruiting process. I knew of Jonathan as a high-level youth player when I was coaching in the state of Tennessee. He has already showed the ability to adapt to a new environment when he left Tennessee to excel at Shattuck. We are hoping that helps him make a fast transition from youth to college soccer."
Trevor Gee
Position: Midfielder | Height: 5-8 | Weight: 140
Hometown: Charlotte, N.C. | High School: Charlotte Latin | Previous School: Elon University
Club Team: Charlotte Soccer Academy DA
Background: Started six of the eight games this past spring for the Phoenix, scoring the only goal in a win over Charleston … member of the Charlotte Soccer Academy DA from the U14 to the U19 level.
Oshoniyi on Gee: "An incoming transfer from Elon, Trevor already has two years of Division I college playing experience. I believe that this will make his transition a little smoother than the average incoming player. Trevor shows pace and confidence and defensive work ethic, which are all traits that we look for in any player that wears a Dartmouth jersey."