Casey Sommers hired as Catholic University head women's soccer coach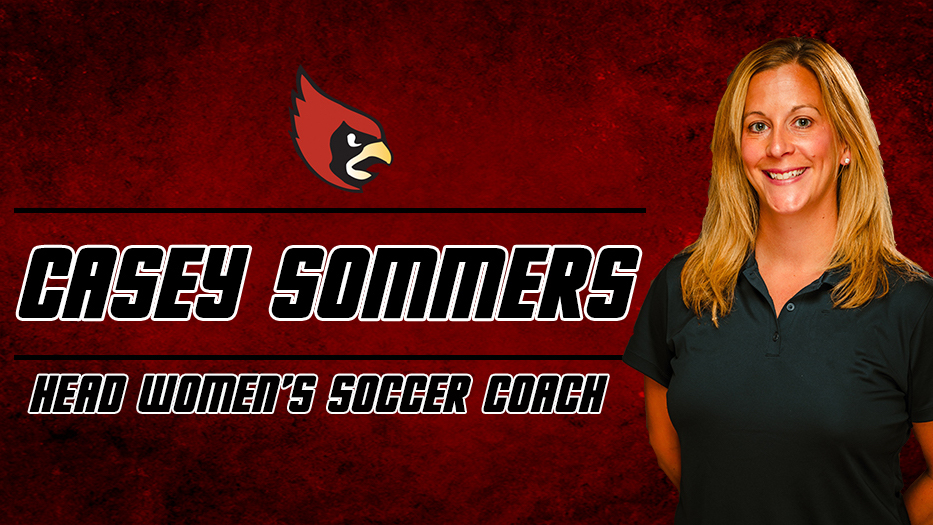 WASHINGTON, D.C. – Associate Vice President and Director of Athletics Sean Sullivan announced that Casey Sommers has been hired as the Head Women's Soccer Coach at Catholic University, replacing JP Sousa who retired in December after 16 seasons.
"As an NCAA tournament participant at a fellow Division III institution, it became readily apparent to the committee that Casey is well prepared to lead our program to the high levels of success we aspire to achieve," said Sullivan. "Her understanding of what is required to construct a championship-caliber team is perhaps only outdone by her commitment to the total development of her student-athletes. Her thoughtful approach to recruitment and team building will only add to the strong foundation that was developed by JP Sousa."
Sommers comes to Catholic after spending six seasons as the head coach at John Jay College of Criminal Justice where she was a two-time City University of New York Athletic Conference (CUNYAC) Coach of the Year. Over her last two seasons in New York City, she led the Bloodhounds to a record of 22-14-3, including a mark of 10-1-0 in the CUNYAC, back-to-back conference championship games and the program's first-ever appearance in the NCAA Division III Women's Soccer Championship.
John Jay also boasted 14 all-conference selections under Sommers, including the 2019 CUNYAC Player of the Year and the CUNYAC Rookie of the Year in 2017 and 2018.
"I would like to thank Director of Athletics Sean Sullivan, Vice President of Student Affairs Judi Biggs Garbuio and the entire search committee for welcoming me to the Catholic University community," said Sommers. "I am honored to have the opportunity to work with these elite student-athletes at such a prestigious academic institution. I am very excited to start working with the team, parents and alumni community and building on the program's success by bringing the Cardinals back to the top of the Landmark Conference."
Sommers led the Bloodhounds to a school record 12 wins in 2019, their first-ever CUNYAC championship and first-ever NCAA tournament appearance. She was named CUNYAC Coach of the Year after the team earned the top-seed in the conference tournament for the first time in program history with a perfect 5-0 record and had a league-best five players named All-CUNYAC.
In 2018, Sommers led John Jay to the CUNYAC championship game for the first time since 2011. The Bloodhounds finished the season with a 10-7-2 record after making their first-ever appearance in the ECAC Division III Women's Soccer Championship.
Sommers earned her first CUNYAC Coach of the Year award in 2017 as she led John Jay to the semifinals of the CUNYAC Women's Soccer Championship for the second time. The team also posted its first winning record in conference play with a mark of 4-1-1. The Bloodhounds had the CUNYAC Rookie of the Year as well as two first team all-conference selections.
"We at John Jay Athletics are very grateful to Casey for all that she has done to build our women's soccer program which, through her sheer force of will, tremendous sweat equity and complete passion, has risen to the top in the CUNYAC and has become a force to be reckoned with in the region," said former Director of Athletics Carol Kashow who retired in December 2019. "We wish Casey all of the success she deserves and which we know she will achieve at Catholic."
While at John Jay, Sommers also served as the Youth Program Coordinator for the NY Cosmos Training & Development Program and was the U16 Trainer for the Kosmos Football Club.
Sommers began her coaching career as an assistant at Division I Fordham, a fellow Catholic instituton and her alma mater, from 2005-13. With the Rams, she oversaw recruiting efforts and player development, assisted in the game and practice planning, organized social, marketing, networking and instructional events while creating the team's alumni program. During her nine seasons, Fordham made four appearances in the A-10 Women's Soccer Championship, advancing to the semifinals each time and playing in the championship game twice in 2006 and 2007.
Sommers played in 61 games for the Rams, primarily as a midfielder from 1999 to 2002. She made 56 starts and totaled 19 points with six goals and seven assists. She served as team captain as a junior and graduated with a bachelor's degree in political science and a minor in business in 2003.
Off the field, Sommers also served as the Business Development Manager for John Jay Athletics where she was handled all business development, human resources and other financial management responsibilities for the department.
Sommers' official start date is April 6.