Binghamton University women's soccer program announces coaching moves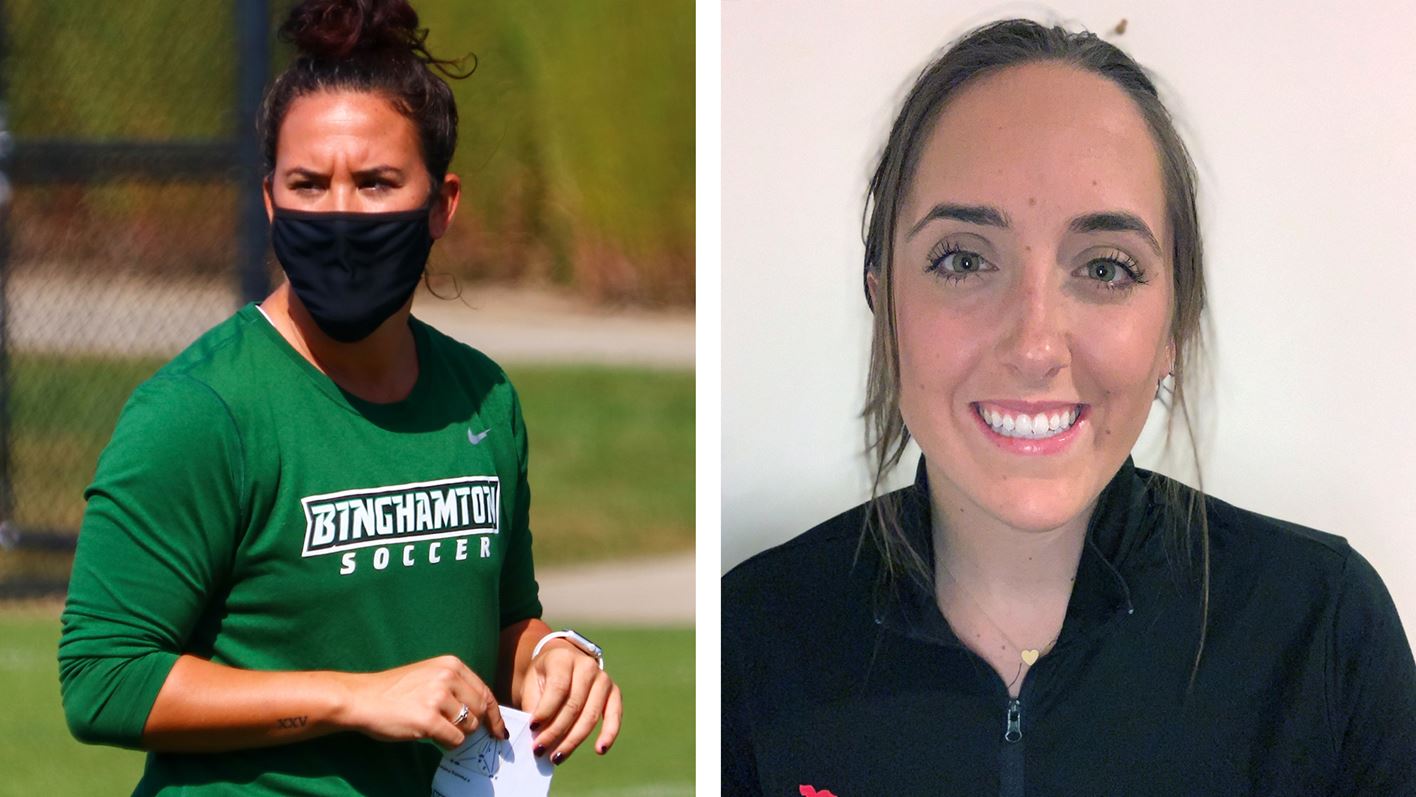 VESTAL, N.Y. – The Binghamton University women's soccer program announced a pair of coaching moves in preparation for the 2021 season and beyond.
Head coach Neel Bhattacharjee has promoted assistant Nicole Pacapelli to the lead assistant role and the Bearcats also welcome Shauny Alterisio to the coaching staff.
Pacapelli, who came to Binghamton last February, is preparing for her first season with the Bearcats this spring. She played an integral role in the team's offseason remote training and was instrumental again this fall with their on-field work.
"We are very pleased to elevate Nicole to her new position," Bhattacharjee said. "She already has made a significant mark in her first year with the team with her on-field presence and also with all of the many initiatives she has taken on within our program.  Her character, passion for the game, and positive demeanor are tremendous assets to our student-athletes and we look forward to her having even further impact within our team."
Alterisio, a native of Danbury, Conn., arrives in Binghamton after a stellar playing career at Central Connecticut State. A central defender, she led the Blue Devils to back-to-back NCAA tournament berths in 2018 and 2019 and graduated holding a 28-game home unbeaten streak. Alterisio was a two-year captain, two-time Northeast Conference Defensive Player of the Year and was twice named to the United Soccer Coaches All-North Region Team. Her senior season accolades were aplenty and included an invite to the NEWISA Senior Bowl. She led CCSU to a 9-1-1 conference record and a return spot in the NCAA tournament, where they advanced to the second round. Alterisio helped lock up seven shutouts and added a goal and three assists to the offense.
She graduated with a bachelor's degree in exercise science from CCSU in May 2020.
"Our program is excited to add Shauny Alterisio," Bhattacharjee said. "Shauny had a terrific playing career at one of the top mid-major programs at Central Connecticut State under Mick D'Arcy.  At CCSU she was a steady, no-nonsense defender and had terrific postseason NCAA experience our team will learn from.  She is an outstanding addition to our coaching staff.
"Binghamton Women's Soccer is ecstatic about the staff we have in place," Bhattacharjee added. "Nicole and Shauny will be positive role models for our student-athletes, embody the characteristics and values of what we seek here within our program culture, and elevate our level to continue to compete for America East championships."
The Bearcats are slated to begin their COVID-delayed 2020 season in March.