USWNT: Jill Ellis' journey reaches storybook World Cup title run – but more work awaits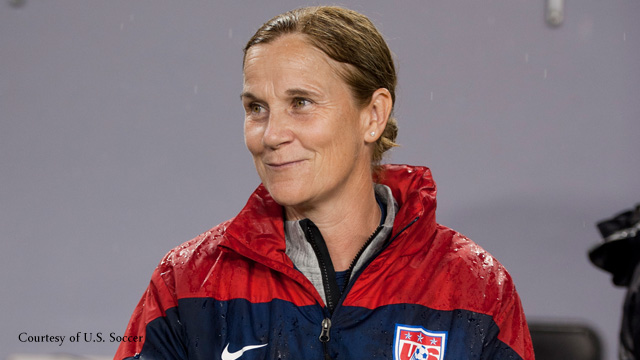 Say what you will about the U.S. Women's National Team: Its head coaching position is surely the most pressure-packed job in women's soccer.
Jill Ellis has sat in that hot seat in a number of iterations, from interim caretaker to interim hopeful and now to well-established incumbent. She recognized its stresses from early on, initially declining to grab that particular brass ring when Pia Sundhage left the role in 2012.
She's the boss now, and she's weathered the slings and arrows of public debate – which, while not yet at the insane level of the men's game, are not insubstantial – that accompany the post for more than a year during the business end of a World Cup. And on Sunday she led her team across the finish line that was always her explicit mission, finally getting American hands on the Women's World Cup trophy that first Germany (2003 and 2007), then Japan (2011) snatched out from under the USWNT's noses over the past three editions of the tournament.
+READ: USWNT defeats Japan 5-2 to claim third Women's World Cup title
After months of probing media coverage – informed largely by her team's so-so performances, it must be said – Ellis fulfilled her mission, and did so with some aplomb: Her squad was imperious in its confident defeats of mighty Germany in the semifinals, then title holders Japan in Sunday's final.
Ellis has been part of U.S. Soccer's coaching clan for many years, and in her first permanent opportunity with the program's top team, she's achieved what her predecessors April Heinrichs, Greg Ryan and Sundhage (her former boss) could not.
She has every right to feel vindicated. And even with her consistent and generally admirable commitment to composure, little glimpses of that could be detected in her remarks to the media on Saturday.
"As a coach you have to have resolve and you have to commit to what you believe in," said Ellis. "This is a seven-game tournament and it was never going to be perfect. You just have to commit to what you believe in."
The third world champions star just added to the USWNT's jerseys should only confirm the fact that this is a discerning soccer nation, however – one that is savvy enough to credit Ellis' good work without shirking from honest analysis of what she did well, and what she didn't.
+READ: Women's World Cup: A reassessment of USWNT coach Jill Ellis
After months of overriding caution in nearly every aspect of her job, from player selection to formation to tactical decisions, circumstances in Canada forced Ellis to take a few risks and adapt on the fly.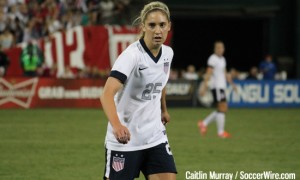 Many observers saw alarming reasons for multifold changes after the USWNT's uninspired performances of the group stage. Yet it would appear that she only pulled the trigger on a formation tweak and an investment of faith in her team's youngest but arguably smartest player, Morgan Brian, after yellow-card suspensions robbed her of Lauren Holiday and Megan Rapinoe for the quarterfinal v. China.
"Do I think the initial idea of a 4-4-2 [formation] was a good one? Maybe, but the personnel that were put into it just couldn't find their form," noted ESPN analyst and former USWNTer Kate Markgraf. "Other people stepped up, but it only happened because Jill Ellis was willing to fix what wasn't working, and be adaptable. And it was kind of a silver lining that Lauren Holiday got two yellow cards, because that meant that Morgan Brian had to come into the middle, and Ellis and the staff saw the quality that she brought.
"So the adaptability was something that was so needed, and it was good to see after the rigidity that we saw in the group stage."
That adaptability will be equally needed in the months and years ahead. It's conceivable that Ellis could carry on to next summer's Olympic Games with effectively the same group that she took to Canada.
+READ: Young technician Morgan Brian carries hopes for a better USWNT future
But given the rise of youth like Brian and her former U-20 colleague Julie Johnston, she might be better served by using the resources that her federation invests so much time and money in: The youth national team network, and the NWSL, the professional league explicitly founded to feed the USWNT talent pool.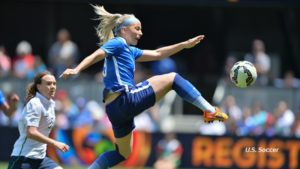 The YNT system constantly scouts the country's web of high-grade youth competitions like the Elite Clubs National League and the US Youth Soccer National League, the uppermost reaches of a US youth soccer scene with more participants than the rest of the world combined.
The NWSL's dozens of talented, committed pros work extremely hard for extremely modest wages to build their skills and prove their quality. Many of them are international-caliber players who will effectively be forced to leave the game entirely if they continue to be ignored by U.S. Soccer. And it's easy work to hold up the current USWNT roster alongside the list of the league's top performers and pick out a few switches that would give Ellis' side a boost.
The incumbent stars are dominating the headlines right now. But the heroes of tomorrow are the ones Ellis must identify and groom. There's ample time to celebrate this summer. But the work is out there, sitting on the coaches' desks, waiting to be done.
College Recruiting Commitment Tracker