LeBolt: Ten lessons from the women of the World Cup

I was schooled by the Girls of Summer 2015. Apparently, character development and life lessons aren't just for kids anymore. Here are 10 nuggets I want to remember from the dazzling performances at the 2015 World Cup.
Be the person who risks the own goal.
England central defender Laura Bassett toe-pokes the ball away from the charging Yuki Ogimi in the waning minutes of stoppage time, and it ricochets off the crossbar and into the England net for an own goal. Bassett sobs and pulls her jersey up around her face. In her devastation, she is comforted and supported by teammates, manager and the world at large. She's been a stalwart team member. We all know the devastation of tragic defeat. If I don't have the valor to risk everything in pursuit of victory, I'll never know its sweetness, even if I win every match.
Respect among competitors consists both of hugs and hard tackles.
Abby Wambach enters the World Cup final in the 79th minute and is greeted with a hug from her opponent, Homare Sawa. The two know each other well, and both recognize the significance of the moment. On nearly the next play, Sawa slide-tackles Abby from behind and is whistled for the foul. This, ironically, shows the highest level of respect. Respect recognizes greatness and then responds with its best. Nothing less will do.
.. and as I tweet Sawa takes out Wambach (unintentionally) for a yellow card!! #WWC2015 #wambach #sawa pic.twitter.com/WINHxUFcZH

— JSoccer Magazine (@JSoccerMagazine) July 6, 2015
Leadership is given, not taken.
Abby subs in when the work of winning is all but done. Carli Lloyd, who has worn the captain's band all match, wraps it around Wambach's arm in an expression that says, "you've gotten the team here, you deserve this."
.@CarliLloyd explains why she needed to give @AbbyWambach the captain's armband: http://t.co/ESDGyaZCpz pic.twitter.com/dwW6ejieO4

— USA TODAY Sports (@USATODAYsports) July 7, 2015
There will be plenty of time for passing the baton, but this is a moment of more than ceremonial significance. Abby did not ask for the band; it was given. We acknowledge and defer to true leadership. It is not something that is demanded or wrested from us. It is offered and accepted.
A slow start is forgiven when you finish well.
The group stage was painful to watch, but U.S. Women's National Team coach Jill Ellis and her players kept insisting that their best soccer lay ahead. As it turns out, they were right. They kept improving, and we tagged along with them as they did. Our iconic moments of finishing and celebration in '99, erased from our memories all that came before. The 120 minutes of scoreless tie which preceded that penalty shoot out are blotted out by the shirt-ripping, bra-exposing elation. While we'd all like to fast forward to the winner's podium, that's not how it works. Slow but sure sometimes wins the race. Finishing strong provides amnesia when necessary.
When you score your goal, thank a defender.
The iron-clad wall of defense, Krieger, Sauerbrunn, Johnston, Klingenberg (and Solo), oh my! The old adage "the best defense is a good offense" was turned on its ear. What a defensive display this back four put on while the attack took its time finding its footing. Defense may not win games, but it certainly can keep you in them. Unsung heroes, all of these ladies, and now household names. While we laud the Golden Boot and the Golden Glove, the workhorses of this team, end to end, side to side, up and down, quietly took their places on the winner's podium. Perhaps a better phrasing would be: The best offense is nothing without the best defense.
Sometimes, getting what you didn't want is exactly what you need.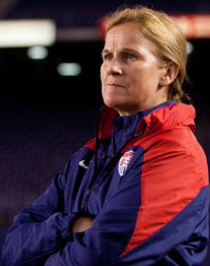 Megan Rapinoe and Lauren Holiday, with 2 yellow cards, and are suspended for the quarterfinal match against China. Looks like curtains, except…in come Morgan Brian and Kelley O'Hara to save the day. Well, look at that. Brian as defensive mid springs Lloyd to attacking mid and O'Hara is quite the spark plug to foil defenders down the final stretch! Isn't it interesting how sometimes a "back to the wall" moment which demands a bit of flexibility, creativity and discovery shows us something we wouldn't otherwise have seen? As Charles Darwin aptly states, "It is not the strongest of the species that survives, nor the most intelligent, but the one that is most responsive to change."
Pull the trigger and good things happen.
Oh, Carli. We women are cursed with the "get into just the right position, with the ball on the right foot, so we can shoot it just so" mentality. Thank you for the reminder that sometimes good things happen when we react with instinct and just pull the trigger.
Great perspective of @CarliLloyd's half field shot http://t.co/4qMypWcTe7 #USAmazing

— Gabriel J (@GabrielDJohnson) July 6, 2015
True, you had nothing to lose, but what a wonderful "chip" from midfield it was. How many times have I hesitated, just to be sure, when bold, beautiful and going for broke would have been better! Thanks for the reminder that is now etched on my memory.
Character is revealed by how players treat their teammates on the bench and how they respond when they are relegated there themselves.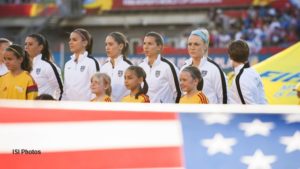 I kept rooting for the players who didn't get on the pitch. What about Engen, Harris and Naeher? and Buehler, Boxx and Rampone? And what does it feel like to be Wambach, relegated to the bench after starting for all these years?  Even stars, at some point, give way to the new generation, and, if they're lucky, get to adopt a new role: mentor. They had prepared and trained their replacements to do what they had done, only better. That, really, is what we're all meant to do. Mentor the next generation to be better than the last. HUGE admiration.
You can lead from the bench, but it'll rip your heart out. Be big enough to step aside when it's time.
Abby Wambach's honest account of how difficult it was to watch and not "be able to do anything" was both heart-wrenching and true. Every parent knows this moment. You want to do it for them, do it with them and stand behind them, but you're prevented. And so it was, for Sub Abby. Not even a super-sub, but more of a ceremonial sub these days. To want it more than anything, but have to leave it up to the talent, capability and caliber of the younger guns, was perhaps the most telling thing of all. As the USA Today article so aptly put it, Abby's greatest contribution was paving the way for the younger generation and then stepping aside. So few exhibit the wisdom and courtesy to defer to others when the time comes, to take on a new role, with additional responsibility but fewer injuries.
The past is a place of reference, not residence: 16 years can be undone in 16 minutes.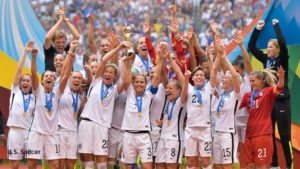 This team could have focused on what they have not yet accomplished, whether they were as good as the 99ers, or whether the footballing world had passed them by. They could have wallowed in their lackluster ties, licked their wounds from recent friendlies, or staggered under the weight of expectation and the pressure of prediction. Instead, they used  the demoralizing defeat to Japan in WWC 2011 as a reference point and rally cry. It will not end this way! Reference, yes, but we're a new team, with new responsibility and an opportunity to make our country proud. Second place was not an option. This was for all the marbles. "Wanting it" doesn't make it happen, but fearing it won't is a sorry place to land and a path that will never develop a champion. REDEMPTION is everything.
Thank you, Canada and the USWNT, for showing us what risk, respect, leadership, finishing, defending, confidence, character, depth, humility, and sweet redemption, look like on the world stage. Mission accomplished!
College Recruiting Commitment Tracker