ECNL: Nation's top girls soccer players are in Richmond this week – are you watching?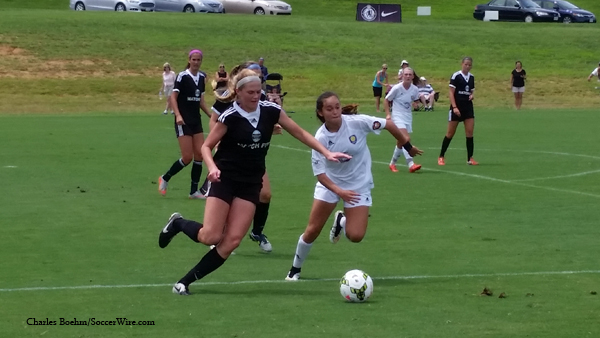 RICHMOND, Va. – First of all, let me address what I know what some of you are thinking after you read that headline.
There are lots of very, very good girls soccer players competing outside the Elite Clubs National League, which is holding its season-ending ECNL Finals event at the West Creek complex on Richmond's west side this week.
We can argue all day about which leagues, or tournaments, or regions, are home to the densest collection of top youth talent in this huge country and its alphabet soup of competitions and jurisdictions.
+READ: ECNL Playoffs: National titles, qualifiers decided in Seattle
The ECNL is one of the newest arrivals on the scene, and it isn't perfect. It can cost a great deal of money to take part in the league, especially when it comes to travel to its national events, and there are plenty of teams in other leagues who could beat a typical ECNL squad.
But even taking into account the enormous and keenly competitive US Youth Soccer National Championships, the 2015 edition of which kicks off in Tulsa, Oklahoma on July 21, I feel confident in saying that the ECNL Finals are the most selective competition on the female side of the youth game.
The 24 teams who qualified for this event (eight each in the Under-15, U-16 and U-17 divisions) proved themselves as among the best in their respective regions with sterling regular-season campaigns (where several national showcase events are interspersed among conference play), then survived last month's highly competitive playoff event outside Seattle, Washington.
Bold. Brilliant. Full of greatness. #ECNLFinals officially underway. pic.twitter.com/8Ha9LM6OgL

— ECNL (@theECNL) July 14, 2015
They're the best of the best in ECNL, and spending just a few minutes taking in this week's action at West Creek quickly reveals what that "top level" really looks like. (And thankfully, there was no shortage of U.S. Soccer Federation scouts in attendance.)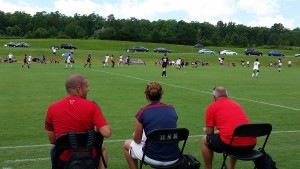 Most players show high levels of technical quality, athleticism and a tactical awareness that most players of their age simply didn't possess in this country just a few years ago. Stylistically, some are more direct and physical than others, but there are exquisite examples of advanced teams doing things that few other programs in this country could hope to master.
I came away most impressed by De Anza Force U-16s, a Northern California team which has become famous in elite youth circles for its imagination, fluidity, mastery of possession and comfort on the ball throughout the squad under the tutelage of Spanish coach Andres Deza.
Or consider a club like the Players Development Academy. This New Jersey powerhouse churns out blue-chip NCAA recruits, not to mention current and future national teamers like Tobin Heath and Heather O'Reilly, and they do so with most of their players and teams showcasing an overarching set of skills, traits and advantages. You will rarely be disappointed by a top PDA team.
These and other teams played group-stage matches on Tuesday, Wednesday and Friday, and will conclude their week with championship and consolation matches on Saturday. It's all on the lush, manicured fields of West Creek, and it's free to the public.
+READ: FC Virginia's talented elder crop wins ECNL U-23 national championship
Yet there doesn't seem to be all that much buzz about the ECNL Finals among the Virginia soccer scene.
Maybe that's because no D.C./Maryland/Virginia area teams involved, save for a few taking part in the much smaller ECNL U-23 competition.
Some blame Virginia's spring high-school soccer season for the relative lack of local teams reaching this stage of the ECNL calendar. Others think the cutthroat Northern Va. scene simply prevents a few big clubs from stockpiling enough talent to compete with national heavyweights like PDA and Chicago-area powerhouse Eclipse.
But regardless of where you stand on those or other issues, if you live anywhere near Richmond, I urge you to make it out for some of Saturday's action. (Find schedule information here.) There's simply too much quality soccer – the kind that can inspire and challenge those who haven't quite reached that lofty level – to miss.
PS: If you can't make it out in person, ECNL has made it easier to watch the action via live and archived streams of several matches via YouTube.
College Recruiting Commitment Tracker