Lauren Holiday's decision to retire carries a great message for all our lives

Lauren Holiday surprised most of us when she announced her retirement from professional soccer shortly after becoming a World Cup champion.
At 27 years old, she would most likely have had a few more years in her, probably enough to compete in World Cup 2019 and the 2020 Olympics.
This is a surprise announcement principally because we didn't expect it to come from her. We were waiting for Christie Rampone, Abby Wambach and Shannon Boxx to tell us their time was up.
+READ: LeBolt: Ten lessons from the women of the World Cup
While Abby is mute, Rampone says she'll stick around for the Olympics "if my body holds up." Boxx, at 38 years old, apparently will retire at the end of the year as expected.
But why in the world would the 2013 NWSL MVP and 2014 NWSL Championship MVP, who has 24 goals in 130 career appearances for the United States over 10 years, announce her impending retirement at 27? Sounds kind of abrupt, but it's not.
Apparently this is a decision that she has been pondering for quite some time. Jeff Kassouf shares her thought process:
"I've been praying about it for a couple years now and really just this last year, it was so clear to me," she said. "I had so much clarity about it. I knew that I wanted to give my all to the World Cup. I wanted to be able to say that I gave it my all to fulfill the final dream of winning the World Cup and I feel like I did that. Even if we wouldn't have won, I felt very comfortable in my decision. I feel like God had led me to that decision, so I was ready either way."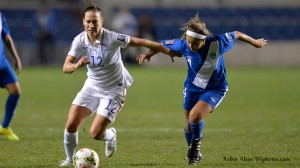 So after her team's Victory Tour, Holiday will be hanging her cleats up for good. Literally. She wants "to volunteer and help those less fortunate," something that her full-time dedication to the U.S. Women's National Team hasn't allowed up to now.
Her decision catches us off-guard because so few people, especially professional athletes, are able to step away from the "good life." Life in the limelight is so mesmerizing, not to mention financially rewarding.
Who doesn't like to be well-paid to practice their passion, day in and day out, surrounded by people who will push you to be your best, support you when things get tough and tell you exactly what to do to make things better?
+READ: LeBolt: The high cost of loyalty in today's youth soccer culture
The pinnacle of sport offers such a heady experience for the few who make it that it lures people back, even when it may be unwise or ill-considered. Michael Jordan, Magic Johnson, Alan Iverson, Muhammad Ali, Lance Armstrong, Tiger Woods, Roger Clemens, Brett Favre all come to mind.
It's not likely that Holiday will add her name to this list. Professional athletics is very "you-central," she says. She is choosing to retire.
"There's so much power in a choice," Holiday says.
She is not crying I quit, or I give up. Nor is she saying I can't go on or I'm giving out. She has said, simply, I choose to apply myself to a different pursuit so I can walk a new and different path.
This, in my experience, is a bit remarkable for a successful athlete, male or female, and I think it offers a tremendous teaching moment for kids in sports. In fact, I think Lauren Holiday supplies a perspective on life we might all do well to pause and consider.
+READ: USWNT: Enormous turnout as World Cup champs hit NYC for victory parade
Here are some things she has me thinking:
Endings offer us a chance to stop and assess what is really important, right now. We always have to give up things in order to take hold of other things. We have to let go to latch on. But stoppage time lets us re-assess and work out the balance sheet. This is hard work, an acquired skill, and no one else can do this for you.
Being "what the team needs" as Holiday has in her changeable role with the USWNT, says a lot about who you'll be in any situation. She began as a striker, moved to attacking midfield, then defensive midfield, putting the needs of the team literally before her. This approach prepares you well for the next thing because being versatile is valuable. As it's been said, it's often wise to specialize in being a generalist.
Allow time, space and energy to fulfill your obligations. Holiday will compete in the USWNT's 10-game "Victory Tour" and finish out the NWSL season with FC Kansas City.
Mentor your replacement, so you don't leave a gaping hole or an irresistible attraction when you go. If you've shared what you've learned to groom your replacement, you can even watch them play without you and have no regrets. What you leave behind is more than your stats. Intangibles are way more lasting. Leave a sweet smell behind.
Retirement is not being a quitter or giving up, it's simply a choice. We choose to stop doing one thing so we can start doing the next thing. What a great example Holiday has set by giving careful attention to this decision, before the do or die of the World Cup. Win or lose, she knew her plan. Complete clarity around this allowed her to compete fully without being distracted by doubts and indecisiveness.
To retire from, you need something to retire to. It's just easier to keep doing what you're doing and what you know. Giving thought and attention to what might be even better, even though it's hard to begin something new, is well worth it. Not just so you can answer the reporter's questions, but so you can answer them for yourself. What will I be doing when I am not doing this? If I'm okay with that, the letting go is a whole lot easier and healthier.
Never rest on your laurels. Fame is fleeting and definitely finite. We're meant to keep re-inventing ourselves.
We put a lot of pressure, sometimes unintentionally, on kids (and maybe ourselves) to continue doing what they have "always done." When that becomes their identity, it's really hard to shake. I'm a soccer player: I have to try out, have to make the team, have to play in college, have to accept that offer. Is a soccer player all that you are? all you can do?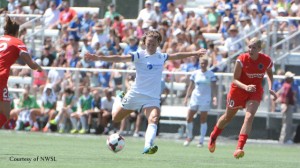 What a great subliminal message from Holiday. No, it isn't, so we don't have to. We are choosing to, which means we can choose to step away or step beyond so we can step into the next thing.
No one is calling her a quitter. And now that she's announced her retirement her "victory tour" will allow us to offer her a fond farewell. It's really more of a cool down lap to give us a chance to express our thanks and say our goodbyes. Announcing the decision to retire allows a graceful transition.
Thank you, Lauren Cheney Holiday.
Christie and Abby, are you listening?
College Recruiting Commitment Tracker