What's taken the U.S. Women's National Team so long to return to NWSL action?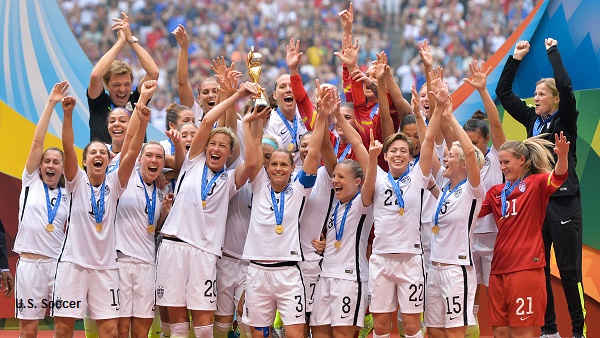 The U.S. Women's National Team clinched World Cup glory with that unforgettable 5-2 demolition of Japan in Vancouver on Sunday, July 5, triggering two weeks of whirlwind celebrations, commemorations, awards and appearances.
America's new sweethearts basked in the glow of unprecedented exposure – everything from a Manhattan ticker-tape parade to celebrity red-carpet strolls at ESPN's ESPY and Nickelodeon Kids' Choice Sports awards shows.
+READ: USWNT defeats Japan 5-2 to claim third Women's World Cup title
One location they haven't spent a great deal of time in during that stretch, however: on the field for their professional clubs in the National Women's Soccer League.
Their summer stardom has spiked interest in the league, with ticket sales booming across the board in the wake of the record-setting audiences for Women's World Cup action. Yet the players themselves have trickled back to their clubs without any clear order or schedule, and some will make their first post-WWC NWSL appearance this weekend.
Several arrived on-site less within a week of that big day at BC Place, to be honored by their clubs and fans for "Welcome Back Weekend" at three NWSL matches – some even donning match kits, but none with any intention to take part in match play. Others, like Alex Morgan and Sydney Leroux, announced surgeries and injuries that would keep them out for longer periods. And some did not rejoin their clubs for nearly two weeks, a few reporting late in the week leading up to NWSL games on July 18, 18 and 20.
"They're still crazy busy," Seattle Reign coach Laura Harvey said of her team's USWNT stars Megan Rapinoe and Hope Solo last week. The duo did not travel to Reign FC's match at the Washington Spirit on July 18 (a 3-0 loss).
+READ: Enormous turnout as World Cup champs hit NYC for victory parade
Said Spirit coach Mark Parsons of his USWNT duo, Ali Krieger and Ashlyn Harris, early last week: "We want players getting eight, nine hours of sleep. There's no way they've been getting that. There's no way they would have caught up. No way that they've trained."
Meanwhile, some players have used their turn in the mainstream spotlight to urge fans to support the league, while others did not do so explicitly, leaving some observers wondering if the so-called "World Cup bump" is being put to maximum use in promoting a league which is effectively a department of the U.S. Soccer Federation.
Some NWSL clubs were clearer than others about the status of their star players. Some came in for heavy criticism from the likes of ESPN business reporter Darren Rovell for supposedly misleading fans about the product on offer:
Carli Lloyd, Meghan Klingenberg & Julie Johnston didn't play last night for record crowd in Houston. Momentum killer for league.

— Darren Rovell (@darrenrovell) July 13, 2015
So let me get this straight: No U.S. women team members played in their comeback games last weekend & now Alex Morgan is out a month?

— Darren Rovell (@darrenrovell) July 18, 2015
The NWSL isn't in a position where World Cup players can miss their welcome back game. Not only bad faith, but ruins sampling environment

— Darren Rovell (@darrenrovell) July 13, 2015
Others pundits, noting that the core of the USWNT are full-time employees of the federation, pointed blame at USSF for not directing their players to report for duty.
It's safe to say that this was not the original plan.
Multiple knowledgeable NWSL sources tell SoccerWire.com that the federation and its club partners in NWSL had made a "rock-solid" agreement earlier this year, in writing, for USWNT players to report to their clubs within five days of their final Women's World Cup match. All declined to speak on the record, citing the confidentiality and sensitivity of the information in question.
It appears that the players – or at the very least, their agents and lawyers – had other ideas.
With an eye towards the expiration of the USWNTers' current collective bargaining agreement after next year, one source tells us that players' NWSL availability was used as a negotiating chip to nudge the federation into paying (or increasing) appearance fees to players making the media rounds in the wake of their triumph in Canada. Another source points to player agents advising their clients to maximize their marketing and media opportunities rather than rejoining the NWSL grind.
+READ: Good enough is good enough, but something amiss in USWNT Women's World Cup run
"Nothing in women's soccer is easy," said one NWSL insider. "It was mess, and USSF was actually doing everything in their power to even get players to venues.
"A lot of things were happening on players' and agents' side, but clubs did get the shaft a bit. Some players had some legit issues and USSF worked to resolve them."
Are the women's game's biggest stars prioritizing short-term stardom over the long-term sustainability of this country's third try at a pro league? Or have authority figures allowed a complex situation to fester via poor communication and lax leadership? 
In the larger picture, it's important to note the drastically different experiences and cultures of NWSL and the national team.
Three-time WWC champs, perennially ranked at or near the top of the FIFA World Rankings, the USWNT represents the pinnacle of the pyramid in every sense: Its players receive six-figure salaries topping out at nearly $300,000 a year and some have access to sponsorship deals that can push their earnings into seven figures. They train, travel and recover with industry-leading coaches and technologies, are housed in luxurious hotel accommodations and have earned trappings that perhaps no other women's team on earth enjoys.
The NWSL, on the other hand, is an openly hardscrabble operation, run on a shoestring and in perpetual fear of financial ruin. Non-allocated players (those whose salaries are not underwritten by the U.S., Canadian or Mexican federations as those countries' national-teamers) are paid as little as $6,842 per season (contracts generally run from April to October) and the league's maximum wage is $37,800.
+READ: Other USWNTers to follow Abby Wambach's lead, skip out on NWSL's summer schedule
Travel is done on the cheap, with long bus rides between all but the most far-flung locales, and most clubs can count their number of full-time employees on one or two hands. Outside of soccer-mad Portland, NWSL crowds rarely hit five figures and all but a handful of regular-season games are broadcast only on YouTube.com. For star players, it's often a jarring step down – even from their experiences at major NCAA college programs.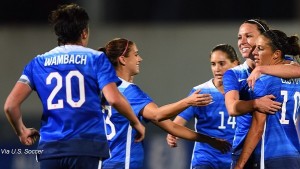 With such a precipitous drop in salary, treatment and atmosphere from country to club, it's little wonder that many doubt the USWNTers' devotion to NWSL, even though it's part of their contractual duty to the USSF. As Keeper Notes' Hal Kaiser noted in a column last week, Chicago Red Stars coach Rory Dames suggested during a roundtable discussion in January that USWNT players have little desire to compete in a league that could produce direct challengers to their place at the USSF table.
Even though the NWSL season runs into September and its championship match has been pushed back to October 1 due to the league's TV deal with Fox, the USWNTers' current window of availability is limited. The national team's 10-game victory kicks off in mid-August and will deny or disrupt the WNT players' availability for club play all the way down the season's home stretch, including the playoffs.
+READ: USWNT to play September games in Detroit, Birmingham
Nonetheless, USWNTers can be expected to prioritize the victory tour, which one source said stands to make them "hundreds of thousands of dollars over the next 18 months" via bonuses derived from bumper turnouts at those friendlies. That income is be over and above the WWC win bonus awarded by FIFA, and seems sure to push the 2015 wages of every member of the WNT's current 23-player into the $350-500,000 range.  
USSF's annual tax documents claim that each USWNT friendly reaps "between $210,000 and $322,000" in revenue, which sounds low for the post-world championship occasions ahead. Many of those games will take place at NFL-sized stadiums – though there have been no tie-ins with NWSL as yet – and ticket sales have been brisk thus far.
College Recruiting Commitment Tracker