Case for bio-banding? Man United academy research finds late bloomers overlooked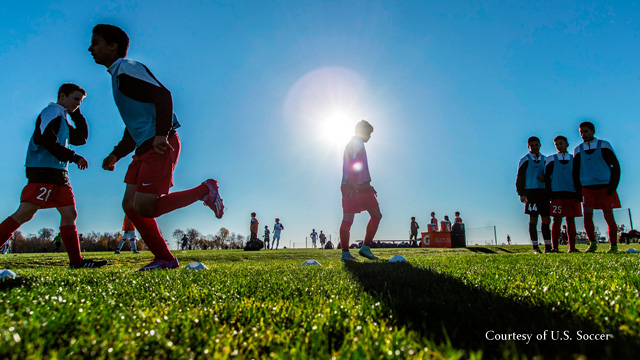 It's long been seen as a fact of life in U.S. youth soccer: The bigger kids are at an advantage, and thus disproportionately identified as promising players.
But new research suggests that even world-renowned professional academies may be overlooking talented but undersized players.
Dr. Amanda Johnson worked at Manchester United's youth academy for a decade and has recently co-authored a research paper with Rod Whiteley and Abdulaziz Farooq at the Aspetar orthopedic and sports medicine hospital in Doha, Qatar. It tracked 293 players ages 9 to 16 in United's youth system and found that boys who physically developed earlier in adolescence were some 20 times more likely to be selected and promoted upward.
Originally commissioned by legendary Red Devils boss Alex Ferguson, the study found that among the Under-9s age group, 14 per cent were early developers, 65 percent normal and 21 percent late, while by U-16 level, 35 percent had grown at a normal rate and 63 percent had developed earlier.
"Masses of potentially good players are slipping through the net," Dr. Johnson told The Times in a feature story published this week.
"Sir Alex was very, very concerned about injuries in schoolboy players and very keen that nobody did slip through due to size. For that reason at Manchester United we were not looking for the biggest players, so it just shows that you can take that approach and it can still happen – perhaps due to the scouts – so it is probably happening even more at other clubs.
"If you are a late maturing player you have 20 times less chance of being there at the end of the selection process at 16."
Skeletal development appears to be a key factor, with some 9-year-olds at the level normally charted for a 6-year-old, while others were as far ahead as 12-year-old level despite being the same age.
The study cites the risk of ejecting promising players from advanced training environments before they'd hit the growth spurts that might put them in contention for higher performance levels.
The findings may build the case for bio-banding, a new method that attempts to group players and teams by their "biological age" in order to match players of comparable size, strength and physicality and thus improve the overall process of identifying and nurturing talent.
College Recruiting Commitment Tracker