Test passed: Reborn USWNT show excellence in evolution as they solve rugged Canada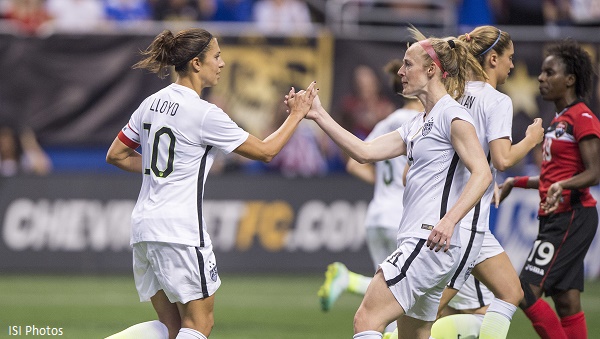 HOUSTON – The new-look U.S. Women's National Team met the first real challenge of their new era on a cloudy Sunday afternoon in South Texas, and conquered it with class and sophistication.
Even as they marched to the 2015 Women's World Cup trophy, there's been plenty of fodder for criticism with this team, starting with over-reliance on aging veterans and direct, simplistic tactics. And even though the first few games of this year have featured impressive performances, the rank inferiority of the opposition has made it difficult to judge the true quality.
But by facing, solving and then confidently vanquishing a spirited challenge from a hard-edged, motivated Canada side in the CONCACAF Olympic qualifying final, a USWNT full of youth and savvy showed a refreshing new approach to the game.
+READ: U.S. Women keep border bragging rights with gutsy 2-0 win over Canada in CONCACAF Oly final
"Canada had a plan and it was obviously very direct. I think we just stayed with it and were persistent in trying to play. And then I think we started to move the ball very well, and I think we deserved the win tonight," said coach Jill Ellis after what she called a "competitive and combative" occasion.
"It was a good step in where we want to go with this team."
But the USWNT did more than that. They've shown just what is possible from the team that represents the world's leading women's soccer nation.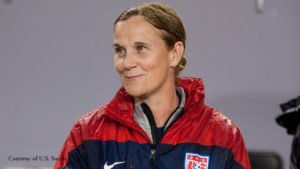 "We're constantly evolving, and we all feel it, and we all see it," said center back Becky Sauerbrunn postgame. "There were moments today against Canada that we played some amazing soccer, and we don't want it to be every other play – we want it to be every single play, something special is happening."
Though she's not one of the youngsters pushing their way – and their cultured way of play – into the team, Sauerbrunn's ferocious intellect has suddenly come to epitomize the USWNT's new way of life. As usual, she rarely ventured into the attacking third, but still managed to grab the game-winning assist (only her third ever for this team) by lofting in the teasing delivery that Lindsey Horan finished for the opening goal.
Afterwards, she was effusive about her team's fluid mastery of passing and movement – and the brighter future it promises.
"We're getting there, and I still think we have a few levels left to go. I think our potential, we have not even come close to reaching it yet," she said on the special occasion of her 100th U.S. cap.
"Sophistication," she added when asked to elaborate. "I'm talking about taking care of the ball, I'm talking about tempo, I'm talking about runs off the ball, runs with the ball, seams that we play through, runs in the back, all sorts of things. I think we're just scratching the surface on a lot of different areas that we can really master and become experts at."
+READ: USWNT: Cerebral youngsters Brian, Horan take control of world champions' midfield on Olympic road to Rio
Cutting a frustrated figure at his press conference, Canada coach John Herdman felt his team kept within striking distance of the U.S., only to break down just before he brought on veterans Christine Sinclair, Diana Matheson and Sophie Schmidt on the hour mark as planned. But even he had to spare a few words of praise for a Yanks squad that came to grips with his tactics, then solved them down the stretch.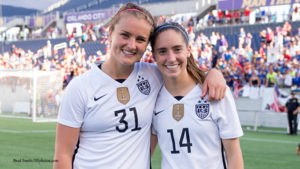 "They're trying to get rotation in around their midfield and they're getting players in front of your back four," said Herdman. "Our forwards ran out of gas tonight, and once we got a little bit slow, we couldn't get tight enough to Horan and [Morgan] Brian, and they just started to get a little bit of tempo.
"I think the U.S., they definitely under Jill have changed their style, for sure. They used to be very direct, and work off [Abby] Wambach. They're using other strengths."
The USWNT's beating heart is now the central duo of Brian and Horan, longtime friends and teammates in the youth national team system and vanguards of a new, more technical generation. Targeted by Canada's pressing in a rowdy, frenetic opening to the match, they adapted as necessary and bossed the midfield.
+READ: Young technician Morgan Brian carries hopes for a better Women's World Cup future – and present
"They [Canada] played too high as forwards and we wanted to outplay those two," Brian, who won the Golden Ball as the tournament's MVP, said. "It's all about feeling it out. As players, especially in the midfield, you have to use your brain a lot and realize what is happening, and then you have to adjust to it. So for us, I think we did a really good job after the first 10, 15 minutes of seeing what was happening in the game and outplaying those forwards. And then once we did, we had success going forward in the final third."
The U.S. will now move on to this spring's new "SheBelieves Cup" with a spring in their step, carrying even more swagger than their world champions title would suggest. It will be another useful exam for a youth movement that is already forcing everyone around them to re-adjust their expectations upward.
"We're bringing in some of the top teams in the world to play, because we've got to continue to grow and evolve in terms of experience," said Ellis. "We've got new leadership, we've got new players, so I think those things have to continue to come together.
"I think they are in a good place and the next step for us will be these games against England, France and Germany."
College Recruiting Commitment Tracker