Dure: Is U.S. Soccer trying to fix what isn't broken?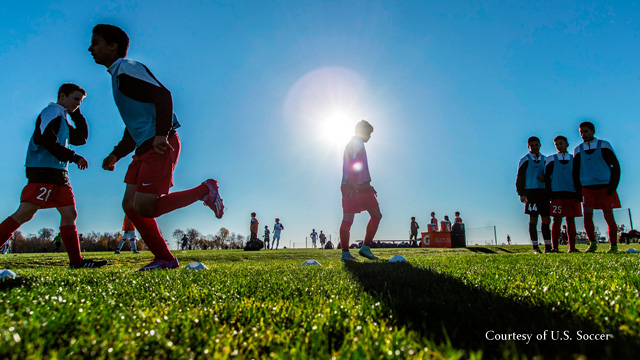 Youth soccer in the USA has plenty of problems. It's expensive. Winning has more incentives than development. Egomaniacal coaches insist they know better than the conventional wisdom — sometimes with good reason, sometimes out of ignorance of any research done in the past 20 years.
The laissez-faire, deregulated youth soccer model is in tatters
The U.S. Soccer Federation's intervention is long overdue. The laissez-faire, deregulated youth soccer model is in tatters. But the issues the federation has chosen are curious, to put it mildly.
Instead of launching initiatives to find players who can afford high school soccer but not club soccer, USSF is funneling players into competing "national leagues."
Instead of enabling coaches to get better education, USSF is ending waiver programs and making its licenses logistically difficult to obtain. (The exception: the excellent online F license.)
+READ | Dure: U.S. Soccer coaching curriculum leaves parent coaches in a jam
Instead of listening to parents who are wavering in their desire to sign their kids up for youth soccer, USSF is insisting on (but thankfully not policing) birth-year age groups that will reduce the likelihood of kids seeing familiar faces as they tentatively step onto a soccer field.
Indeed, the question now is whether the federation is listening at all. U.S. youth soccer groups have issued a rare joint statement saying the federation isn't communicating effectively at a time of great change, and U.S. Club Soccer's Elite Clubs National League had a fruitless summit meeting with USSF officials before today's formal announcement of a Development Academy for girls.
+LISTEN | ECNL president Christian Lavers on ECNL and launch of girls Development Academy
The federation's intentions are good. But when we look at these changes and the way they're being communicated, they come across as tone-deaf.
One example: the outright war on high-school soccer. Eric Wynalda got a huge ovation at the NSCAA convention when he blasted the notion of keeping elite players out of scholastic play. But U.S. Soccer had a very low profile at the convention, and they don't hear the applause. Instead, U.S. Women's Technical Director April Heinrichs offered a blunt take on high school play on a conference call on the Development Academy:
"They're still going to have that choice [to play high school] if they want to," Heinrichs said. "But girls that want to play on a college track aren't going to be able to do that."
Regardless of where you fall on the debate over high school soccer, that's absurd. No academy is going to be able to round up all of the talented players in the country. The USA is simply too big of a land mass.
And the Development Academy offers shallow promises on keeping costs down. The USSF officials on the conference call said they'll try. But national leagues require a lot of travel.
That's especially true when we consider that U.S. girls already have national competitions. The ECNL is doing what the DA hopes to do. Clubs outside the ECNL play for other national titles and face each other regularly.
Here's how the landscape already looks: When the U.S. Youth Soccer National Championships were in Maryland, I watched a couple of clubs separated by several hundred miles in an intense battle. I asked parents if they expected anything so tough. "Oh yeah," they said. "We've played them five times already."
So now the USA will essentially have at least three national title-track competitions for girls — the Development Academy, the ECNL, and the clubs that are in neither but still produce a lot of good players to ascend the US Youth Soccer's National Championships Series structure. And that'll drive up the costs, whether they're being paid by parents or sponsors. We'll see good clubs only 20 miles or so apart traveling great distances to play within their own leagues instead of facing each other.
+READ | All US Youth Soccer National Championships News
And everything rolls downhill from there. Clubs that aren't in the national programs end up forming their own "elite" leagues, driving past each other to compete in distant venues.
What was so wrong with teams being promoted and relegated to find their level in regional leagues? Why isn't U.S. Soccer stepping in with league standards so parents know what to expect when they sign their kids up for "elite" leagues?
And why are we creating a girls' Development Academy without re-evaluating the boys' Academy? At one point in the conference call, a USSF official referred to a "proven method" on the boys' side. In what sense? Which youth national teams have excelled? What players have been produced?
A couple of USSF initiatives are worthwhile — the aforementioned F license online, guidelines on heading, the push for small-sided games. Youth soccer is chaotic in this country, and the federation is long overdue in offering some clarity.
But the federation also needs to listen. Talk to parents or walk the halls at the NSCAA convention, and you'll hear plenty of legitimate questions and concerns. Those discussions need to reach the top somehow.
Will a ban on high school soccer stop a majority of top girls from joining USSF Girls DA?

— SoccerWire.com (@TheSoccerWire) February 24, 2016
College Recruiting Commitment Tracker