Guest columnist: Kris Ward on abusive youth coaches and how to steer your kid clear of them
By Kris Ward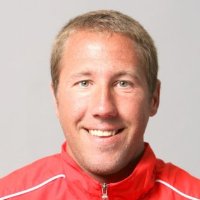 Editor's note: Kris Ward worked as a coach in Washington, D.C., Northern Virginia and Maryland for 15 years. He most recently served as Director of Recreational Soccer at D.C. Stoddert in the nation's capital. Previously, he worked in D.C. United's youth academy, NWSL, Maryland ODP and for several youth clubs in the D.C. metro area. Recently relocated to Los Angeles, he now works as a coach for FCLA in West LA and is studying sociology and communication in sport.
As I sat on the bench this weekend for my team's match in Southern California's National Cup (better known as State Cup for those on the East Coast), the match behind us had started and so had the normal communication that goes along with it: Players competing, and coaches "coaching."
+READ: U.S. Soccer announces coaching course changes, license upgrades
I put "coaching" in quotation marks because I don't think it is correct to label what was being said as actual coaching. The team whose bench was directly behind mine had a particularly vocal coach. The game was not yet 10 minutes old before I heard, "You're a r*tard if you think that was a good idea!"
I spun around thinking that maybe it was a conflict between coaches or the referee. Then I heard, "Are you kidding me, Joe? You're a f***ing idiot."
These comments were directed at 12- and 13-year-old boys.
"Parents need to be invested in this the same way they are invested in their child's school. Parents need to ask questions of the club and the coach."
I was stunned. I looked around and saw there was a parent manager on the bench, but he acted like it was nothing new – barely shifting in his seat as he looked on. I looked at the referee, who did not seem to have heard the outburst. I looked down at the SoCal staff member there to scout the game; he just shrugged at me, like "What am I supposed to do?"
I asked the players on my team, "Are a lot of coaches here like this?" A few of them said no. The last player agreed, before adding, "Well, some of them are. More than a little."
Sadly, the abuse did not end there. The coach continued to berate, belittle and demean his team throughout the half, stopping only to take a call on his cell phone. When it got to be halftime of my game, I let my players drink some water and take a breath before I ask questions and make my points. While they were getting water, I looked over and saw that the team behind me with the abusive coach now had another coach on the sideline.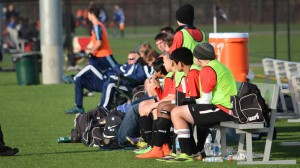 I waited and hoped that he might bring some civility to this situation. I was wrong. Now they had two coaches screaming at them, telling them they were "sh*t," telling them how bad they were and how every action they made on the field was only getting them closer to being on the bench.
When the final whistle blew, all the abuse had seemingly paid off: The abusive coach's team won 2-1. Yet there were no high fives, no backslapping. Instead, the players were told that "they needed to be a lot f***ing better tomorrow" and to "think about their performances tonight."
+READ: US Club Soccer announces details of first-ever "La Liga Formation Methodology" coaching ed course
I wish I could say this was a one-off occasion. I've been coaching for well over a decade now and I've seen a lot of coaches. I've listened and watched as similar things have happened at all levels. I've heard racist, homophobic and misogynistic comments leveled at boys and girls of all ages, down to 6-year-olds. I have also seen good coaches. Patient coaches who understand the need to connect, who understand their responsibility as teachers and role models.
Unfortunately the patient, responsible coaches are few and far between.
The last section of Daniel Coyle's tremendous book "The Talent Code" focuses on "Master Coaches." It is a fascinating look at what master coaches are and possibly more importantly, what they are not. This passage dissects the difference well:
"Master coaches aren't like heads of state. They aren't like captains who steer us across the unmarked sea, or preachers on a pulpit, ringing out the good news. Their personality – their core skill circuit – is to be more like farmers: careful, deliberate cultivators of myelin, like Hans Jensen. They're down-to-earth and disciplined. They possess vast, deep frame works of knowledge, which they apply to the steady, incremental work of growing skill circuits, which they ultimately don't control."
Now think about your own team. What kind of coach do you have? How is their overall demeanor? What kind of communication style do they employ? Are practices planned and executed smoothly? What is the gameday experience like? Does your coach constantly bicker with referees? How often do they seem to be frustrated?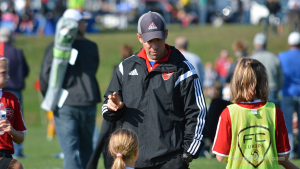 Listen to the players. Are they constantly frustrated? Do they make comments like "I just don't know what coach wants" on a consistent basis? How do the players react to mistakes? How do they react to perceived injustices? Answering these questions can tell you quite a bit about whether or not the environment you are in is one that is beneficial to your player.
When I think of the best coaches that I know, two things stand out. First, they are crystal-clear on their vision of the game. From training sessions to managing players and personalities to an overarching development plan, the best coaches know exactly what they want and how to achieve it. It is undoubtedly clear when speaking to them that there is a well-thought-out plan for each and every aspect of their program.
Second, not one of them focused on wins. Not a single one mentioned success in terms of wins and losses. Rather, the focus was on the team achieving a perfect performance. The goal was the continuous improvement of the individual and the group. I know many coaches who can tell me exactly how many games they've won, how many State Cup titles they have attained, and so on. The best coaches generally avoid the question and shift the attention back to their team. Even in that moment, the focus is always on how to improve the next performance.
So what do we do? How do we get away from the coaches who think it is acceptable to verbally and emotionally abuse children? How do we prepare coaches to handle all facets of the educational experience that is youth sports? How do we curb the exodus of players from organized sports? I think it is very simple: it is down to education.
+READ: Poaching vs. Coaching: Can you tell the difference?
I do not like the stance which says the parents are only present to sign checks and deliver kids to practices and games. No, that won't work. Parents need to be invested in this the same way they are invested in their child's school. Parents need to ask questions of the club and the coach. Some clubs have policies in place whereby they mandate that their coaches must do some kind of coaching education each year. Does yours? Most clubs offer financial assistance to coaches to attain coaching licenses, does yours?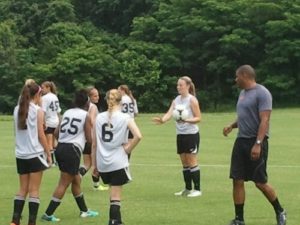 Ask your coach about the last coaching education objective they met. Ask them what they are reading now or what podcast they are listening to. There is so much free information available at this point in time that it is criminal not to take advantage of it.
For no money whatsoever, you can listen to a four-star general talk about communication, management and team building. You can listen to the best strength coaches in the world discuss training methodologies. You can find several different tactical breakdowns of the Champions League game on that week. You can watch a TED Talk on introverts and how they interact with the world. Ask your coach about one of these. Chances are, if they are really serious about being a quality coach, there will be a topic they want to talk about. You will see them light up and it might be difficult to get them to stop talking. That's when you know.
Being a coach is not easy, but it is rewarding. It is a complex journey and there are many challenging moments. My goal has always been to leave something better off than when I found it. I am not perfect. I haven't always connected with everyone the way that I wanted. I have detractors. That doesn't stop me from aiming for perfection. In fact, it is what drives me on.
College Recruiting Commitment Tracker