Border brawl: U.S., Canada women set for another "bloodbath" as rivalry resumes in CONCACAF Oly final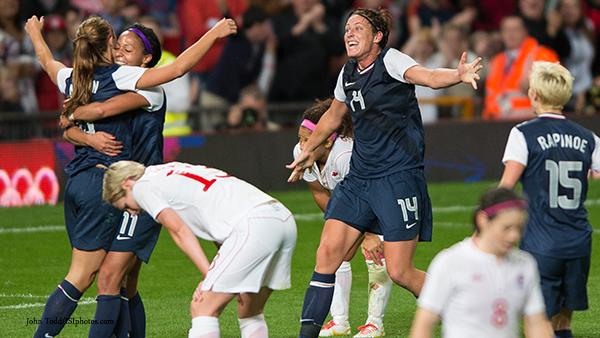 HOUSTON – Let's start with the most important part: You're going to want to tune in to NBC Universo or NBC Live Extra at 5 p.m. ET on Sunday afternoon.
The 2016 CONCACAF women's Olympic qualifying tournament has reached its climax, and it's been nearly 100 percent "chalk" to date: Regional bullies the U.S. and Canada have swept away the minnows and booked their places at the Summer Games in Rio de Janeiro. Now these old adversaries will meet in the tournament final on Sunday, in the latest installment of a bitter rivalry that somehow still flies under the radar, even in some hard-core soccer circles.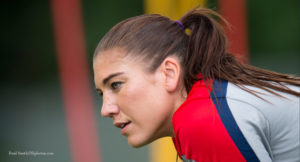 If you think the intensity has ebbed now that both sides are assured of another Olympic adventure, think again.
"I love playing Canada. It always tends to be a bloodbath," said USWNT goalkeeper Hope Solo after Friday's 5-0 mauling of Trinidad & Tobago, an occasion where the action rarely came her way. "It's a physical game, I get to be involved a little bit more. So I don't necessarily think it's the most prettiest of games when we play Canada.
"But hopefully with this new group of players, we'll find a way around that, we'll find a way around their American football-style of play – we'll try to move the ball more around them and not get into that blood match that we tend to do against Canada."
"We're looking forward to it – that's the unexpected, that's what all Canadians look forward to, that's why everyone tunes in," CanWNT head coach John Herdman said after his team's confident 3-1 defeat of Costa Rica in Friday's opener. "The expected was done tonight and that wasn't easy, but we're going to be ready for a hell of a fight."
+READ: Canada WNT book tickets to Rio with 3-1 defeat of Costa Rica in CONCACAF Olympic qualifying semifinal
A skilled motivator, Herdman said he's used U.S. President John F. Kennedy's iconic 1962 speech at Houston's Rice University – the "We choose to go to the moon" speech that sparked the Space Race – to inspire his troops.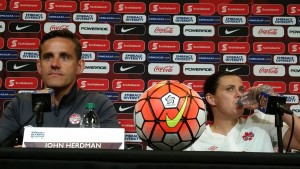 "We used the analogy of being in Houston, and great things can happen here – we used Kennedy's speech as a bit of motivation to do the unthinkable and the unachievable," he explained. "We said there was one group going to put us on the moon and there's a group in two days time [that's] going to take us home safely. There's a group ready, hungry, ready to play against the U.S. We're going to give them one hell of a fight, as we always do."
The USWNT have usually had the last laugh in this matchup. These two sides met at the same stage of the 2012 Olympic cycle and thumped Les Rouges 4-0 on their own soil, in front of a record crowd at BC Place in Vancouver. But they would meet again in the Olympic semifinals in England, and the story was much different at the legendary Old Trafford ground in Manchester.
Canada battered their southern neighbors and led on three occasions, only to be gut-punched by a late Abby Wambach penalty kick that sent the match to extra time, where Alex Morgan's injury-time winner capped an instant classic that ended 4-3 (pictured above). The Yanks moved on to eventual gold-medal glory, while Canada would a bronze medal as a consolation prize.
"I think they have more of a rivalry with us than we do with them," said Solo, slyly landing an artful dig. "They're growing the game in their country and they've come a long way, but I think they want to be the best and they want to beat the Americans. But I think we get frustrated because it tends to be such a physical game that it takes it out of the quality of soccer that we want to play.
"So it is definitely a rivalry for us in that respect, because we want to play great soccer and we never play our best game against Canada, because it is such a physical game."
As with many of the most ill-tempered rivalries, the asymmetry of results has only hardened the underdogs' enmity. Though he himself is English, sources tell SoccerWire.com that Herdman has for years stoked those feelings to drive his team onward.
+READ: USWNT: Cerebral youngsters Brian, Horan take control of world champions' midfield on Olympic road to Rio
"The U.S. is always a game that Canadians get up for – any sport, men or women, Canada vs. the U.S. is exciting," said Les Rouges midfielder Diana Matheson. "John understands Canadians pretty well, and he understands that.
"And I think it adds even more fuel to the fire because they're the No. 1 team in the world, current World Cup champs."
Matheson believes Canada are "a much better team" than four years ago, with more variety and quality at Herdman's disposal. Conversely, Solo raved about the "incredible possession style of soccer" the USWNT are playing at the moment.
"That'll be interesting, to see if we can outplay them in that respect, because previously we kind of get into that physical match," said the controversial 'keeper. "We'll have creative players on the field and keep possession and put them in their place."
Something's got to give on Sunday. And the rest of us might be treated to another barnburner along the way.
College Recruiting Commitment Tracker