USWNT: Cerebral youngsters Brian, Horan take control of world champions' midfield on Olympic road to Rio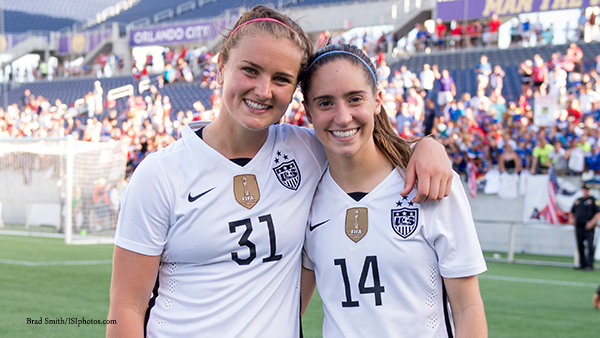 HOUSTON – The U.S. Women's National Team has long been a veteran-dominated squad, a product of their success, star power, well-entrenched locker-room culture and stout collective bargaining agreement with U.S. Soccer.
The likes of Carli Lloyd, Hope Solo and Alex Morgan continue to dominate the promotional materials and media coverage – with ample justification. Yet in the meantime, head coach Jill Ellis has quietly entrusted two of her team's most pivotal roles to two of the youngest players on the roster.
Judging her player pool to have a dearth of box-to-box midfield options, Ellis has converted striker Lindsey Horan into an all-action center mid and paired her with Morgan Brian – the key to last year's Women's World Cup title run – at the heart of a flexible 4-2-3-1 formation that has crushed opponents to the tune of 21-0 over four games in 2016. With Horan and Brian's brainpower complementing the speed and fitness of their buzzing teammates, a high-pressing, high-tempo approach has left the opposition breathless and bunkered.
+READ: USWNT faces Trinidad & Tobago for 2016 Olympic berth
That's a 21-year-old and a 22-year-old performing the technical and tactical heavy lifting that allows the 33-year-old Lloyd, the reigning FIFA World Player of the Year, to roam free, able to wreak havoc in the attack without the defensive responsibilities that bedeviled her earlier in her career.
That stable foundation also liberates attackers like Crystal Dunn, Christen Press and even the long-out-of-form Morgan to conjure up increased dynamism in an attack which is expected to rain more goals down upon heavy underdogs Trinidad & Tobago in Friday evening's CONCACAF Olympic qualifying semifinal at BBVA Compass Stadium (8:30 p.m. ET, broadcast on NBCSN and NBC Universo).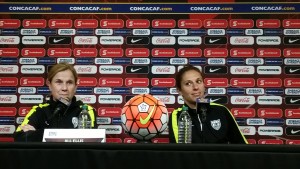 "I think trust is the big word. They've done very, very well," Ellis said of Brian and Horan in Thursday's pregame press conference.
"Their movements, they just find spaces and create angles and it's just very fluid in there. Lindsey's range of passing, I've said it before, I think it's exceptional. Her vision, short or long passing, is very good."
+READ: Trinidad & Tobago overmatched as USWNT play Goliath role again with Olympic ticket at hand
A section of hard-core USWNT supporters have long bemoaned Ellis' seeming allergy to selecting a true holding midfielder, or "No. 6." Brian was a cultured attacking midfielder when she arrived in the USWNT setup, but thanks to maturity and soccer intellect beyond her years, mastered a deeper role in record time and sparked a dramatic improvement in the Yanks' form in Canada last summer.
Now Horan – who was generally seen as a No. 9 when she moved straight from her Colorado high school to French powerhouse Paris St-Germain in 2012 – is undergoing a similar re-purposing to fill the shoes of Lauren Holiday, who herself was an attacking-minded player before Ellis shifted her into midfield. While it could be argued that true 6s actually are available to Ellis, and Horan may yet prove to be this team's striker of the future, it's intriguing to watch the coach's concerted efforts to find places for her most technical, intelligent players.
"With Lindsey, it was a big hole to fill with Holiday retiring," said Ellis. "She's naturally played higher up the park. But just watching in training, her skillset and her brain, we felt like she could play as an 8, meaning she could [both] help us defend and she could get forward and help us build out. She's just so natural.
"It was predicated by need and then seeing if she could do it. Obviously the defensive side of it is different for her, but already in training and in some of the games, she's aggressive. She's willing to do the work and if need be, go to ground. So the willingness is there to defend, which obviously in central positions, is critical."
+READ: Young technician Morgan Brian carries hopes for a better Women's World Cup future – and present
The Brian-Horan axis has yet to be truly tested against elite opposition, which should change in Sunday's tournament final if the U.S. and border rivals Canada (who meet Costa Rica in the first half of Friday's doubleheader) dispatch their overmatched semifinal opponents as expected.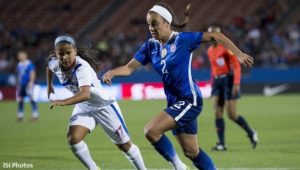 But the duo's promising work thus far suggests more than just another canny bit of jerry-rigging by Ellis, who has also entrusted 17-year-old attacking wunderkind Mallory Pugh with a far bigger role than anyone expected at this point. It could well signal a sea change in the sophistication of the players being produced by the upper echelons of the country's development system.
"There's a lot of technical players coming up and I think the game is changing," Brian told me at the USWNT's media day before their departure for the 2015 World Cup. On that same day, her since-retired teammate Shannon Boxx marveled at the rising quality of younger generations who've spent more time in more advanced training environments than their elders, admitting that she probably wouldn't make the national team if her younger self had to compete with them.
The pipeline remains imperfect, of course – physical, direct play remains the norm in both youth and collegiate soccer at large. But if Brian and Horan are a sign of things to come, then Boxx won't be the last veteran to step aside and let a more cultured cohort take center stage.
College Recruiting Commitment Tracker