Players That Impressed: May 2021 (Girls)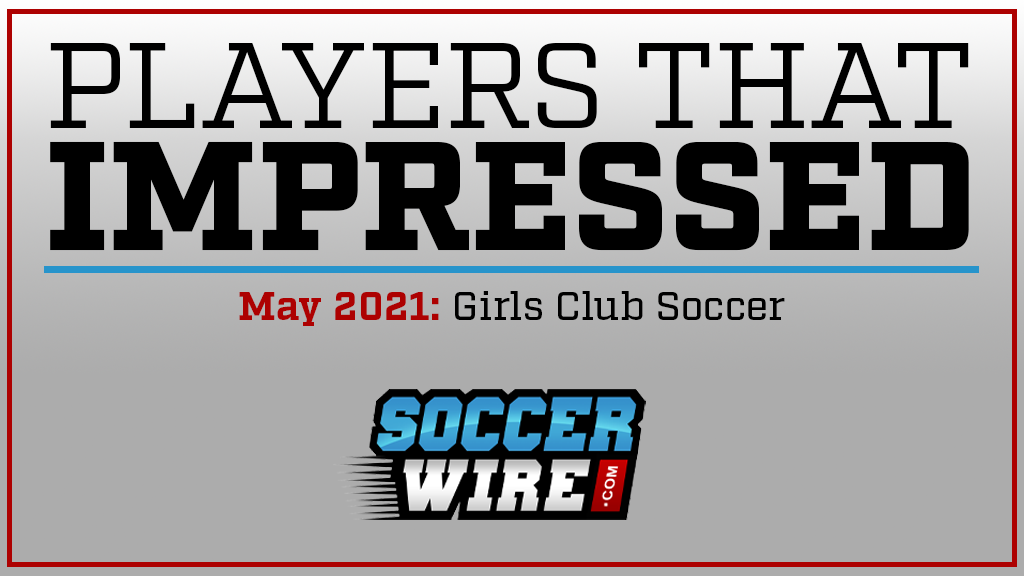 Each month, SoccerWire recognizes 'Players That Impressed' from across the country, honoring top performances in high-level youth soccer competitions.
Players who stood out for their teams in showcase tournaments and league action are highlighted on a rolling basis. Coaches, parents and athletes are invited to submit nominations for up to two (2) players per team in a given month.
See below for a listing of Girls Players That Impressed so far in May 2021.
[Submit Your 'Players That Impressed']
Jordyn Heathcock | Midfielder
Oklahoma Energy U-13 (OK)
Named player of the week by her club, Heathcock put on an impressive performance at the Girls Academy Round Rock showcase, helping her team take down a previously undefeated Utah Royals AZ squad 3-2.
———————
Rylie Morse | Midfielder
Cincinnati United Premier U-14 (OH)
Showing up at the Girls Academy Round Rock event, Morse scored the eventual game-winner against Oklahoma Energy on a beautiful upper 90 strike off a set piece.
———————
Jasmin Outao | Forward
STA Soccer U-14 (NJ)
Scored 3 goals in a comeback win on the road in New Hampshire after falling behind 2-0 early in the Girls Academy league match.
———————
Rory Murry | Goalkeeper
Washington Premier U-15 (NJ)
Helped guide her team toward potential qualification for the ECNL Champions League Playoffs with a strong clean sheet effort against a tough PacNW SC side, as Washington Premier won 2-0.
———————
Carsyn Boyer | Midfielder
PA Classics U-15 (PA)
Had three assists in a 3-0 win against Baltimore Armour. Her unselfish style of play and ability to create opportunities for her teammates helped her team secure the win in a Mid-Atlantic Region match.
———————
Skye Bierker | Defender
Beadling SC U-16 (PA)
A constant presence in the Beadling back line, Bierker played a vital role in helping her team secure a pair of clean sheets during a single weekend of Girls Academy competition.
———————
Delaney Evers | Forward
Beadling SC U-16 (PA)
Showed her exceptional scoring ability during a 3-0 victory in GA action against Salvo SC as she led the offense with a brace, including an impressive left-footed shot from outside the 18.
———————
Samantha Cortez | Midfielder
FC Dallas U-16 (TX)
With her goal in a May 2nd game against Classics Elite, Cortez is helping her club solidify a spot in the ECNL Girls Champions League as they enter the final month of the season.
———————
Lexi Grundler | Goalkeeper
Tennessee SC U-16 (TN)
Came through with several tough saves to preserve a clean sheet in ECNL competition against Ohio Elite as Tennessee SC earned a 2-0 victory. TSC held both opponents scoreless on the opening weekend of May.
———————
Bella Macaso | Forward
Tennessee SC U-16 (TN)
Netted both goals for Tennessee SC on Saturday, May 1 as they kicked off the month with a 2-0 win against Ohio Elite in ECNL Ohio Valley Conference action.
———————
Emma Radoncic | Midfielder
STA Soccer U-16 (NJ)
Racked up 3 goals and 1 assist this month to help STA earn a spot in the GA playoffs, which are being held in late June in California.
———————
Kyla Holmes | Goalkeeper
STA Soccer U-16 (NJ)
Posted 6 shutouts over 6 games in May to help her team qualify for the upcoming GA playoffs.
———————
Abigail Maier | Midfielder
Ohio Elite U-17 (OH)
Scoring the lone goal in her club's 1-0 victory over FC Alliance on May 2nd, and contributing to her team's shutout of Tennessee SC a day prior, Maier looks to help her team keep ahold of the 2nd place spot in the Ohio Valley Conference, and a spot in ECNL Champions League that comes along with it.
———————
Ashley Economopoulos | Forward
Penn FC U-17 (PA)
Playing in the 2004 age group as a 2007, Ashley helped Penn FC Lightning win 3 games in the championship bracket at the FC Delco Players Cup. She scored 3 and assisted on 3 more over the weekend.
———————
Naomi Splittorff | Forward
FC Pride U-17 (IN)
Purdue University class of 2022 recruit played a key role in the offense during FC Pride's 5-0 rout of Internationals SC in ECNL league play, recording a goal and an assist.
———————
Madison Foxhoven | Forward
Real So Cal U-17 (CA)
In a game with playoff implications, Foxhoven – playing up with the ECNL U17 team as a forward – scored the winning goal with a spectacular header in the final minutes, to give Real So Cal a 2-1 victory over San Diego Surf.
———————
Jamie Campbell | Goalkeeper
Real So Cal U-17 (CA)
Playing up with the Real So Cal U17 team, Campbell was instrumental in keeping San Diego Surf from scoring. Her performance helped keep Real So Cal in playoff contention.
———————
Hailey Gordon | Forward
Players SC U-18 (NV)
Outstanding performance at the Las Vegas Mayor's Cup tournament. Playing 3 years up, she scored in every game, including two headers. She helped lead her team to the championship.
———————
Kailyn Dudukovich | Forward
Ohio Elite U-19 (OH)
In her team's 5-0 victory over FC Alliance on May 2nd, the future Ohio State Buckeye put on a show, scoring a brace to help her team to victory.
———————
Mary Whitaker Buchanan | Forward
Tennessee SC U-18/19 (TN)
Ole Miss class of 2021 recruit racked up three goals over the first weekend of May, during a pair of ECNL wins over Ohio Elite and Racing Louisville.
———————
Mackenzie Gress | Goalkeeper
STA Soccer U-19 (NJ)
Turned in a standout performance on May 14 against South Shore and was instrumental with her 15 saves, including 3 "super saves" according to InStat, to help her team win 3-0.
College Recruiting Commitment Tracker