LeBolt: Is the USWNT too old to win a Women's World Cup?

 "Old age and treachery," it has been said, "will always beat youthful exuberance."
The U.S. Women's National Team certainly hopes so. The oldest team in the 2015 Women's World Cup, with an average age of 29.5 (and rising: Christie Rampone will turn 40 on June 24), are going to have to pull out some magic if they are to give Rampone the birthday present she is hoping for.
Still, if you scratch your heads like I do when you hear the ages of other World Cup competitors and wonder how an almost 40-year-old can compete against a 17-year-old from Norway, you're not alone. And USWNT coach Jill Ellis has certainly taken a hammering for keeping the veterans around. To Rampone, she adds Shannon Boxx, 37, Abby Wambach, 35, Hope Solo, 33, Carli Lloyd, 32, Lori Chalupny, 31, and a trio of 30s: Ali Krieger, Heather O'Reilly and Becky Sauerbrunn, who just had a birthday.
+READ: Megan Rapinoe nets two as USWNT claims top spot in Group D with 3-1 win over Australia
What's age got to do with it? Well, actually quite a lot. It may not come as a complete surprise to you that physical performance of all types declines past a certain age. With some exceptions, we peak in our early 20s. By 25-30, the changes are beginning. Here's just a partial list of what starts to slide in our third decade:
Muscular strength
Muscular endurance
Speed
Power
Quickness
Coordination
Perception
Elasticity of tissues
Joint flexibility
Aerobic capacity
These are what youthful exuberance is made of; training just heaps one on top of the other while skill gets to select from the menu.
But time stands still for no man (or woman). Thanks to changes inside of the cells of those muscles, tendons, and nerves, things begin to slow, ever so slightly. This decline goes unnoticed, for the most part, in the 20s and even early 30s in athletes who work their muscles hard and demand a lot from their bodies. And while in this holding pattern, the rest of their game takes shape.
The split second she might lose in quickness, she gains in vision, or field sense, anticipation or rigor. The technical, tactical and mental side of the game can more than make up for the small physical decline in the very fit players. The older athletes just have to work a bit harder to stay fit to keep up with their younger competitors.
+READ: Dure: USWNT beat Australia with fitness, and why not?
The one thing physical training cannot do much about is time to recovery. While kids seem to recover in no time, the older player takes extra time. Older bodies just cannot recover as quickly from illness, injury, wear and tear or exhaustion. What used to bounce back easily the next day, now may take two days or even three. Rebuilding, replenishing, and restoring will be a focus, but it can't be rushed.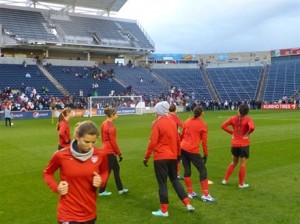 If that's not enough, the artificial turf for the 2015 Cup presents an extra challenge. While there is still some debate about whether injuries are increased on the artificial surface, there is little doubt that the game is more fatiguing. Faster and more physically demanding, the work rate and the work load go up.
Add to this the potential for very high temperatures on the pitch (measured at 130 degrees for Norway's midday match vs Thailand) and the ever-present risk of turf burns (that Sydney Leroux made famous by Tweet) and well…Nobody recovers fast from that.
This is why soccer should be played on grass! pic.twitter.com/fsNGi27oRY

— Sydney Leroux Dwyer (@sydneyleroux) April 15, 2013

Abby went the full 90 minutes last night on fresh legs and plenty of rest. She certainly looked the elder statesman in the contest, missing several "classic Abby" header attempts, with leaps that were a split-second behind or a tad bit lower than they once were. She is clearly out there more for leadership, organization and experience than to score, as she didn't pose much of a threat.
Full credit to Wambach, though: She's finally heeding my advice to tone it down a notch in order to make it last. This run she's got to make last through seven games if she's gonna hoist that World Cup trophy.
+READ: Abby is hurt again; is time for her to play smarter?
At least the USWNT win last night and the convenient Sweden-Nigeria tie beforehand increase the chances for the U.S. to win the group and avoid the extra travel mileage the lower-finishing teams will have to invest to advance through the second round. Travel, while recreational for most of us, is killer for athletes, as it is time they can't spend recuperating. Every waking (and for that matter, sleeping) moment is going to have to be choreographed for this team to go all the way.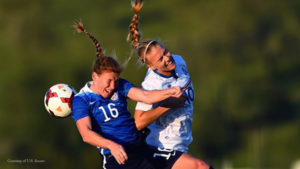 They'll have to pace themselves. Fortunately, pacing is one thing that time and experience does teach, if you're smart about it. Youthful exuberance often comes out too fast and burns out before hitting the finish line, and beginners adjustments frequently leave some of their best play untapped. It's the experience of seniority that settles us into a pace that we know we can sustain. We teach ourselves to run in such a way that we can win.
Mind over matter: youth doesn't give it a second thought. Just past our prime, matter starts to catch up. There's no denying it, but we all dream of delaying it. These ladies have put in the work to push back the clock, but fitness will only get them so far.
Are they past their prime? Or is it prime time? We'll have to see how much treachery they have in store.
College Recruiting Commitment Tracker