Dougherty: Women's World Cup preview and predictions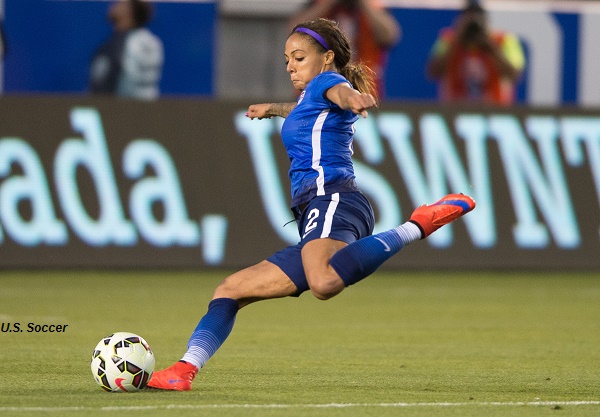 You know you've hit the big time when the Google Doodle features your event.
And the Women's World Cup is certainly a big-time event. From its inaugural 12-team tournament in China in 1991 – won by the United States – the Women's World Cup has become a global affair with 24 nations represented.
Canada serves as this year's host, and one of my favorites to advance to the semifinals. The tournament begins Saturday when the hosts take on China 6 p.m. ET at Commonwealth Stadium in Edmonton, and concludes Sunday, July 5 at 7 p.m. ET at BC Place Stadium in Vancouver.
Fox Sports will broadcast all 52 games. Go here for a cool match schedule (it's a FIFA website, but still, I don't think the link is corrupted.)
The six groups are:
Group A: Canada, China, New Zealand, Netherlands
Group B: Germany, Ivory Coast, Norway, Thailand
Group C: Japan, Switzerland, Cameroon, Ecuador
Group D: United States, Australia, Sweden, Nigeria
Group E: Brazil, South Korea, Spain, Costa Rica
Group F: France, England, Colombia, Mexico
Here's how I see things playing out:
Group A: Canada wins, China takes second, Netherlands third, New Zealand goes home early (and that hurts, because I love "The Lord of the Rings" and "The Hobbit" movies, so therefore I love New Zealand).
Group B: German wins, Norway takes second, Ivory Coast takes third, Thailand goes home early.
Group C: Japan wins, Cameroon takes second, Switzerland finishes third, goodbye Ecuador.
Group D: United States wins the group, Sweden takes second, the Aussies are third and Nigeria departs early.
Group E: Brazil is first, Spain second (I'll get grief for that pick), South Korea third and Costa Rica misses out.
Group F: England wins the group, France finishes second, Mexico eeks out Colombia for third, Colombia heads home.
Semifinals and Finals prediction: that will have to wait, for the most part because of  injuries. The United States and Brazil can carry on without a key player or two, but the likes of Sweden, England and Canada cannot. I'll make my predictions once the qualifiers are over.
Things to look for:
Will Abby Wambach win her first World Cup? While she has two Olympic titles to her credit, the one-time world's best forward has not had the same success at the World Cup. I've never met a more competitive woman, and if she has any opportunity to influence the outcome, Wambach will do so. (That said, I am not confident that will happen. More on that in another column.)
Watch the different styles of play from the various national teams. Brazil, Mexico, Ecuador and Colombia, for example, will look to move the ball quickly and crisply, possessing it as much as possible. While Brazil is athletic enough to compete with the United States and the Europeans player for player, the other three teams generally are not. They need the ball to do the work.
Japan may be the most enjoyable team to watch. Combining individual quickness and tremendous technical skill, the Japanese will make life difficult for every opponent.
The European teams will be tactically simple, I suspect, and generally technically clean. They'll be tough to break down defensively. It all sounds cliché, I know, but sometimes clichés are spot-on. As much as Japan and Brazil will be fun to watch, with the exception of England and France, the rest of the Europeans – along with New Zealand and Australia – will not be.
I'm looking forward to watching the United States, mostly because I simply don't know how they will perform. Coach Jill Ellis is strongly influenced by the European game – more direct, less possession – which could mean plenty of goal-scoring chances for Wambach and Company. The United States also possesses some of the best player in the world in their respective positions: Ali Krieger at right back, Alex Morgan at forward, and Hope Solo in goal. On paper, the United States appears good enough to compete for the title. But if championships were won on paper, the Pittsburgh Steelers would be undefeated. (Yeah, I said that!)
Lastly, watch to determine if the women's game has progressed. The United States, China, Sweden and Norway have dominated the game for decades. Will smaller soccer nations like Australia, Ivory Coast, Mexico and Colombia surprise us with their quality of play?
The fact that every game will be televised is a strong indicator that women's soccer has, in fact, progressed over the years. The efforts of Michelle Akers, Mia Hamm, April Heinrichs and Carin Jennings paved the way for today's Alex Morgan, Becky Sauerbrunn and Alyssa Naeher. And for all of our daughters who now enjoy the Beautiful Game.
College Recruiting Commitment Tracker