LeBolt: Hope Solo needs us to try and understand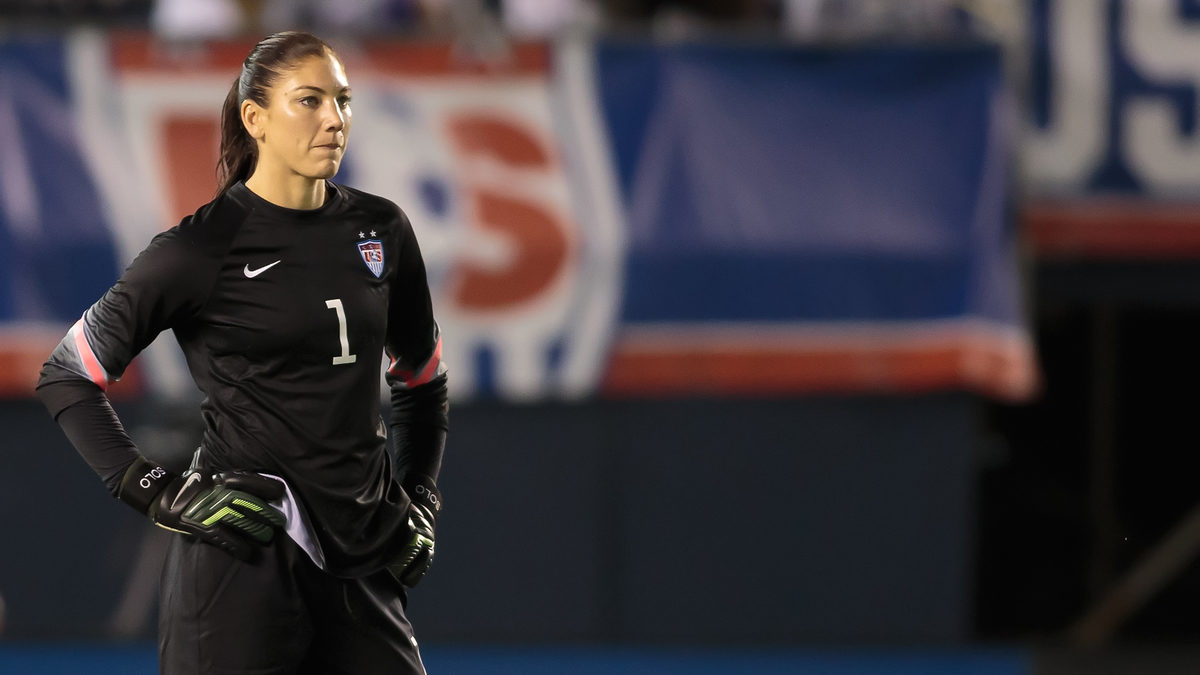 Hope Solo appeared in court on Monday to plead not guilty to the two domestic violence charges after her arrest early on Saturday morning. Police responded to her sister's home in Kirkwood, Wash. after receiving a call that a woman was hitting people and refused to leave. According to the police report, Solo was intoxicated and upset, her sister and 17-year-old nephew were injured and witnesses said Hope was the primary aggressor.
[ +READ: Solo's lawyer to Associated Press: 'Hope was assaulted']
Solo was held over the weekend after pleading not guilty to the charges and was released on the conditions she avoid contact with her half-sister and nephew, and that she not drink alcohol. She is set to appear in court again on August 11.
The news of Solo's arrest scrolled through my Twitter feed and my kids noticed it trending on Facebook. We're shocked: how can the star goalkeeper for the US Women's National Team, two World Cups, two Olympics, with a record-tying 71 shutouts for her country, have this happen? We're not sure, but when it does, it's news.
Solo is not a stranger to controversy or public display. Her sizzling remarks, after being replaced by US head coach Greg Ryan in the 2007 Women's World Cup semi-final, made headlines. That earned her a shunning by USWNT players. Solo wasn't allowed to play, train or even take her meals with the team. On the tradition-laden U.S. Women's National Team, Solo's outburst was unacceptable. Kristine Lilly, the spokesperson, indicated it was a team decision that Solo not be allowed to play in Sunday's third-place game against Norway, which they won 4-1.
[ +READ: LeBolt – Top 10 reasons for World Cup injury attrition]
But Solo's arrest, especially coming as the world is at fever pitch over the Men's World Cup, has unearthed a landslide of publicity about Solo's checkered, and very public, history.
A stint on Dancing with the Stars that went sour amid contentions that her partner was "man-handling" her
Posing for various magazines, most notably the "Body Issue" of ESPN The Magazine

Her fiancé's arrest on domestic violence charges right before they were wed
A positive, but disputed, drug test leading up to the summer Olympics
Various tweet rants including a harsh tweet criticizing Olympic soccer commentator Brandi Chastain for her negative commentary during the 2012 London games.
An appearance on the NBC Today Show after the US Olympic team won gold which she later admitted she was drunk on the air. (printed in a 2012 article appearing in ESPN The Magazine)
And, in light of the alcohol which seems to have been a factor in her current misfortune, this admission should perhaps have signaled the trouble ahead.
[ +READ: Hope Solo engaged to, involved in domestic violence charges with former NFL star Jerramy Stevens]
"I don't expect any of the media to be positive," Solo told CNN in 2012. "But I know that I'm doing wonderful things for the sport of soccer, and I know I'm doing amazing things for female athletes. So I can take it."
Solo sounds a bit lost and confused. A woman clearly with some demons to conquer. We'd like to write her off except that she's the best female goalkeeper in the world. Her daytime job attests to that as do her awards. In 2009 she was named the WPS Goalkeeper of the Year, and became the first goalkeeper to be named US Soccer Female Athlete of the Year, the highest honor awarded to a female soccer player in the United States.

So, what does it take to be a great goal keeper? Lightning reflexes, great hands, power, explosiveness, fire, passion, emotion, aggressiveness, confidence, athleticism, skill, smarts and a bit of reckless abandon. Hope Solo has it all, mixed with a very irreverent form of 'I don't care what anybody thinks about me.'
[ +READ: Luis Suarez bite ban could be up to two years, FIFA announces]
So, what do we do with our Hope Solos? The superlative, but pretty much untamed and perhaps 'uncoachable', talent we have on our rosters?
Coaching education programs like those created by the Positive Coaching Alliance and the USYS include brief sections on the subject of "what to do with misbehavior." Kids act out for all kinds of reasons. It is likely too simplistic just to write it off as attention-getting behavior. Their advice: don't let these kids be a distraction. Attention re-enforces the behavior, so don't give it to them.
When the behavior turns aggressive or destructive, action is necessary, but this gets messy. Aggression breeds retaliation and perpetuates misunderstanding. Many of these kids get written off as unmanageable. Hopeless. They get shunned by peers and teammates and come to think of themselves as irredeemable. So afraid of the passion inside them, it becomes hard to think any other way. They believe the world cannot possibly understand them since no one else does. I have known these kids. They need us to try and understand them.
Hope's parents divorced when she was 6. Her father, Jeffrey Solo, a Vietnam veteran, was charged with kidnapping her and her brother when she was 7. It was an estranged relationship, rekindled while Hope was in college. Jeffrey Solo died of heart failure June 15, 2007 at the age of 69, just months before the World Cup. Hope sprinkled her father's ashes in the goal box before every World Cup game on a mission to take him with her to a world championship.
"The only one who really knew me was my father," she says.
Perhaps he helped her channel that fierceness so she could put it into play. On a field where leaping into a fracas intending to punch with both fists was acceptable behavior. Where dismissing what the world says in favor of your own inner voice is a survival skill and may actually be a pre-requisite. Where the crowd roars its approval for what you have to offer.
[READ: LeBolt – We have a broken system when it comes to dealing with head injuries]
Apparently, Solo's college head coach at the University of Washington, Lesle Gallimore and goalkeeper coach, Amy Griffin, also got her. Solo described the transition in her memoir, "In high school, I had been the forward who won games. It was a huge mental adjustment to learn that my job was to save games. To anticipate what was needed. Before, I would stand in goal, the ball would come toward me, and I'd use my athletic ability to make the save… I learned how to read my opponents' runs toward goal, how to position my defenders, how to see the angles… It wasn't just ninety minutes of waiting for my defense to make a mistake. It was ninety minutes of tactics and strategy. The personality traits that had been shaped by my childhood—resilience and toughness—were assets at the position."

Solo's alleged behavior and subsequent arrest are a sad day for sport, and especially for women's sport. They are a sad day for Hope. But can we pause a minute in our tweeting, messaging and glowering to see an individual who longs to fit in, but can't? Who is outspoken, even when she shouldn't be? Whose passion is celebrated in public, but embarrassing in private?
Good girls don't act like that. Good girls quietly do as they're told. Hope Solo would be the first to say she is no good girl and that some times girls have to be a little bad. Just to be sure that when their real selves show up someone will still love them, or at least forgive them.
How much better is it when girls who comply even when they don't agree or keep silent when a wrong is being committed in order to keep the peace?  If this is what "good girls" do, then maybe the rest of us are pretending. We all need to learn to manage our differences in ways that neither denigrate nor lead to violence. To attend to our inner demons before they rear their ugly heads. And then, get on with it.
I guess that's why I was particularly touched by this moment after the 2011 Women's World Cup victory over Brazil. Abby hugging Hope in a moment of delight. A moment of redemption. Hope is no longer solo.
Let's remember that Solo has not been pronounced guilty. "In fact, our investigation reveals that Hope was assaulted and injured during this unfortunate incident," her lawyer, Todd Maybrown, wrote in an email to The Associated Press on Saturday. "We look forward to the opportunity to present the true facts in court and to having this matter behind Hope very soon."
It is typical, where anger issues are in play, to justify our behaviors by pointing at the one who wronged us. He did it, so I had to retaliate. She said it, so I had to set the record straight. He's in the wrong so I must argue him down. Our need to justify our behavior is strong so we can manage to live with ourselves.

Perhaps Solo reminds us a bit of ourselves. And if we're going to write the story, there's one thing we know about protagonists. If you make them too perfect, no one can relate to them. She's got nearly 800,000 followers on Twitter. I expect she cares more about what people think than she lets on.
College Recruiting Commitment Tracker