Youth Coaches: How to keep from raising the next Luis Suarez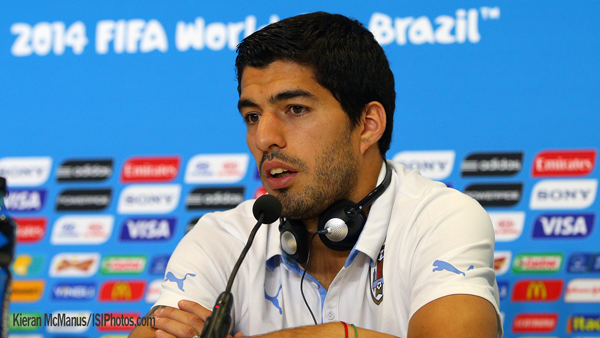 Prior to the World Cup, the Toronto Star newspaper ran quite a prophetic feature story on Uruguay striker Luis Suarez. Discussing the conundrum that is one of the world's most talented, and most hated soccer players, it described the striker as follows: "North of his feet, there is nothing good about Suarez."
And second, prophetically, the Star stated "He will do something insane at this summer's World Cup — mark it down… Eventually, he'll punch a baby." Not quite, but close.
[ +READ: Five life lessons the World Cup can teach your kids]
This past Tuesday, in Suarez and Italy's Mario Balotelli we had on display two on the planet's most talented and immature soccer players. Both players have the ability to turn a game on its head, to create something out of nothing, and to win a game single handedly (as Suarez did against England). We also have players who are just as likely to do something rash, to get thrown out of a game and let down their teams at a crucial moment. Balotelli was subbed at halftime of the game after completely losing the plot and contributing nothing to the Italian effort. Suarez should have been red carded for his culinary misdeed of biting Italy defender Gerogio Chiellini, and will likely face a very lengthy ban for a selfish and downright disgusting act.
But what was the fall out from his team?
"This is a football World Cup, not about cheap morality."
I was so sad to read those words from Uruguay coach Oscar Tabarez, uttered when asked about Luis Suarez's bite on Chiellini. Why? Because it is exactly an attitude like that which has allowed Luis Suarez to become the type of player he is: incredibly talented, and massively flawed.
As a person who has been involved in coaching youth sports for the last two decades, incidents like this cause me to wonder "how did these players get to be like this?" More importantly, how many coaches over the years have tuned a blind eye to the bad behavior of these two because of their immense talent?
[ +READ: O'Sullivan: The mindset of high performers]
This will be Suarez's third ban for biting an opponent, and fourth lengthy ban when you include his recent ten-game suspension for racially abusing Manchester United's Patrice Evra. There is even evidence that as a 16-year-old youth star, he head butted a referee in Uruguay, breaking the referee's nose in a case that led to an attempt on the life of a journalist who reported the incident (check out this fascinating article by Wright Thompson from ESPN). Yet immediately after his bite on Chiellini, his teammate Diego Lugano came to his defense, saying Chiellini was not being a man about it. Suarez's lawyer Alejandro Balbi stated it was a European plot to disparage Suarez.
Really? Did you watch the video? Did you see the bite marks? Did you see Chiellini react in an unnatural, surprised way to contact between mouth and shoulder? Aren't you supposed to be the people helping the guy?
In Balotelli's case, coaches from Jose Mourhino to Roberto Mancini have banished him from training, sent him to the reserve team, and suspended him for behavior detrimental to the cause, yet due to his talent always allowed him back when they needed to get a result. Suarez has served multiple suspensions, yet clubs such as Barcelona and Real Madrid were lining up multi-million dollar bids for his services, again because of his immense talent.
The really sad part is that none of this behavior helps these players perform better. There have been many passionate, feisty, aggressive players in the Suarez mold through the years, but none of them have resorted to biting people during games. To say that is who he is as a player is a total cop out. To claim, as many of his supporters have done, that this is part of the game is completely outrageous. Suarez will never go down as one of the games greats, not because of his talent and performances, but because of bad character.
[ +READ: LeBolt – Hope Solo needs us to try and understand]
Now I realize that professional sports is about results, but the reason that these players act this way is because for all their formative years, numerous coaches have ignored this behavior. There have not been repercussions that made Suarez and Ballotelli ever stop to think "Is this the best path to becoming a pro?" The message they have been sent over and over is a far different one: You are so talented that it matters not how you behave or act out. We have a spot for you.
How many coaches have abdicated their duty as a coach? Why do so many coaches think that developing people with class is not equally as important as developing players with class?
I believe this is changing. From the NBA to the NFL, and soon to be in soccer, character is beginning to matter more and more. Suarez has cost himself millions of dollars by seconds of madness, and I am curious to see the reaction of Liverpool's American owner John Henry, who has often talked about the history and legacy of the club being bigger than one person. Teams, and certainly corporate sponsors, are starting to look much more closely at who they employ. This is a great thing, but we need more at the grassroots level.
Youth coaches, it is not our responsibility how a player enters our team or program, but it is most definitely our responsibility what kind of person a player is when he or she leaves. We have a duty to deal with poor character, lousy attitudes, and lack of effort, and the younger we start the more likely we can make a difference. Every time we pass on that responsibility, or refuse to sit a player because it might prevent us from winning an "important" game, we are failing our players!
The chances are minuscule that any of us will ever coach a player as talented as a Suarez or Balotelli, who have made millions and should be financially set for life. The fact is as youth coaches, 99.9 percent of our players will not make their living from sports, and thus need us to teach them life skills, character, integrity and the like. This will serve them well on and off the field. If we fail to do this, and we tell them its OK because you happen to be able to kick the ball a little better than the other guys, we are setting them up for failure in LIFE!
I BELIEVE THAT NO GREAT COACH SETS UP HIS OR HER PLAYERS TO FAIL AS A PERSON! IF YOU WANT TO BE GREAT, YOU MUST PRODUCE BOTH BETTER PLAYERS AND PEOPLE.
The Suarez incident is a great teachable moment for us coaches and parents. It is a way to show our players that character matters. As such, I for one hope three things happen.
First, I hope that FIFA comes down hard on Suarez, with a lengthy ban lasting far beyond this World Cup, and hopefully affecting his ability to play for Liverpool as well. That will send a message not only to current players, but future ones: poor character will cost you and your team dearly.
[Update: Luis Suarez has been suspended four months from all football activity]
I also hope that Uruguay goes crashing out of this World Cup in their next game. Their accomplishments on the field from a pure soccer sense are extraordinary, as such a small country continues to go toe to toe with the giants of the soccer world. Yet their utter lack of class is appalling, and very bad for the game. I hope they lose, and that Suarez becomes known as a player who let down an entire nation through his selfishness.
And finally, I hope this incident causes clubs to double down on their effort to produce not only classy players, but classy people. I hope it causes organizations to hold coaches accountable for the players and the people they produce. The game needs players with the brilliance of Balotelli and Suarez, but can do without the extra curricular stuff that takes away from its beauty.
So far, Suarez has not punched a baby, as the Toronto Star has predicted, but would you bet your mortgage that he won't someday?
Coaches, we can all work hard to teach character, mentor young coaches on the importance of teaching life skills, and make sure we never graduate a biting, selfish, reckless player from one of our teams. That is not exactly a high bar, but certainly one worth attaining.
College Recruiting Commitment Tracker