In praise of Dawn Scott, the USWNT's "24th Woman"

When U.S. Women's National Team players say "anyone can hang with us for 60 minutes, but after that we have the advantage," they have Dawn Scott to thank.
Scott is the USWNT's fitness coach, responsible for the delivery, coordination and monitoring of strength and conditioning training as well as nutrition and exercise science strategies. And she's finally getting some well-deserved attention.
Anyone who can keep Abby Wambach physically prepared and the "ancient," by professional soccer standards, Christie Rampone (who turns 40 on Wednesday) in international performance shape is working miracles. But it's way more than that.
+READ: Is the USWNT too old to win a Women's World Cup?
Scott's got a 23 player roster to attend to, and that has meant full focus on the physical details of 30 or so individuals over the pre-Cup ramp up and now complete attention to "The 23" over a month of grueling performances that carry the Women's World Cup hopes of this nation.
Scott, a native of Newcastle England, speaks the game with that wonderful English accent that makes her sound more proficient than the rest of us, but she speaks the science even better. The data she is accumulating about every player on the team is astounding. And match days, even more so.
She will collect data on nutrition, hydration, sleep and performance on every player. And it's not just weight, heart rate, and hours of lights-out time. She knows EVERYTHING: caloric composition and meal plans, hydration status, sleep patterns, muscle strength, power and endurance, cardio-fitness status, joint flexibility and range of motion, plus intangibles like quality of movement, mental preparation, emotional state, signs of illness and injury indicators. And that's before they ever take the field.
On game days there is a whole new collection of sport science information to assess, thanks to GPS and heart rate technology. For each player who enters the match Scott will know the distance they covered, at what speed, in what direction and how many times. She will have "heat maps" that track running patterns and probably most importantly, the demand or load on each body. How many stops, starts, accelerations and decelerations, jumps, landings, lateral movements and collisions. She has the numbers to show just how much punishment those bodies have undergone.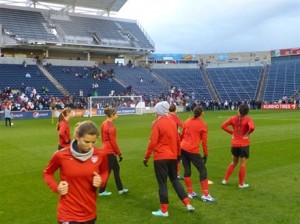 That's where her toughest job begins: rest and recovery modalities to return these ladies to full force for training and full form when they take the field again.
But wait, there's more. While our starting 11 are pummeled, the players on the bench are not enduring the grueling 90 minutes (or more) on the gameday pitch.
On the day after, the subs and bench players need a completely different training regimen to stay fit and ready to be called upon by head coach Jill Ellis, just in case she switches things up (just in case) or, if, by happenstance, a player is shown two yellow cards and has to sit for the next match. Or even two players.
That's when the depth of the US bench can make or break the team's march toward a World Cup title. That next player, even if technically skilled, is worthless if she's not also mentally prepared and physically ready to endure international play. It's not Scott's job to question whether Tobin Heath and Christen Press should start, or Abby Wambach should go 90 minutes, it's her job to be sure they can.
She must be certain these players are fully available for Ellis and the US coaching staff to spend in the team effort. As the tournament progresses, this becomes a taller order and most likely, an essential quantity. It's the edge a well-resourced U.S. team is able to put into play.
The U.S. Women began World Cup play fresh and at the top of their physical game, with only Alex Morgan a question mark. By the numbers, the rest were as good as they could be. Scott had every physical detail managed in the 20 or so areas in her control, confident that, while the game is played on the big stage, it may very well be decided in the minutiae.
+READ: LeBolt: Are national team players born or made?
Underneath the big performance we see, and our kids would like to emulate, are 23 lifetimes' worth of training, preparation, diligence and dedication to physically, mentally and psychologically preparing to bring their best technique and tactics to this game, and then the next one. If their timing is slightly off, their jump not quite high enough, their muscle strength imbalanced, their range of motion lacking or their touch infinitesimally effected, they may miss the one opportunity that would win or lose the game.
Dawn Scott is committed to making sure that doesn't happen. Her attention to the details underneath the game may go unnoticed by the random fan, but it does not by the players or their coaches. Many, if not all, will say they owe everything to this woman who is the eyes, ears, and hands-on know-how behind the GPS and heart rate monitors. She has the U.S. coaching staff's full attention.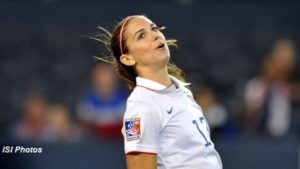 Oh, and who gave the go-ahead on Morgan's return to play? You bet it was Dawn Scott.
I do love a soccer coach who listens to the voice of reason, experience and science. It's clear the U.S. women are going to need every bit of that as they move deeper into the tournament. It hasn't been pretty, but it's hard to argue with their fitness.
And as Dawn told me when she came to work with the Washington Spirit in the inaugural NWSL year, "the professional players have been bred in the U.S. college system. It's so competitive that it creates a mental toughness in these athletes that I haven't seen anywhere else in the world."
Dawn Scott has seen the world. Let's hope she's right.
College Recruiting Commitment Tracker