Dougherty: USWNT no longer the world's best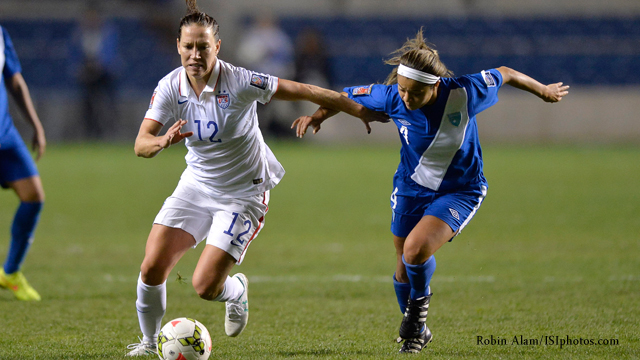 Count me among the growing number of people who are concerned about the apparent regression in the tactics displayed by the U.S. Women's National Team during the World Cup now underway.
And the list is long.
"The final score says the U.S. women's national team won 2-0 Monday night at Commonwealth Stadium, but it was the upstarts from the 28th-ranked team in the world who earned a different kind of victory — and maybe one that points to changes the U.S. will have to consider if it wants to reclaim its reputation as the most powerful team in women's soccer," Laura Vecsey wrote in Sporting News.
"Through the first half …the Americans looked more like the underdogs," wrote Bleacher Report's Joseph Zucker. "Rather than controlling the match on the ground and dictating the flow with sustained possession, they instead relied on the sort of long-ball tactics often utilized by teams in an effort to bridge a talent gap."
"Without that ability to work the ball through the middle of the field, the U.S. has resorted to launching long balls aimed at any convenient forward, mostly Abby Wambach," wrote Jon Marthaler, soccer columnist for the Minneapolis Star-Tribune. "This is what U.S. players have always done; they've leaned on Wambach winning the long ball as their ultimate trump card for years."
+Read: Good enough is good enough, but something amiss in Women's World Cup run
Douglas Smith of Rant Sports lays it out clearly: "The tactics are bland, midfield is overwhelmed and coaching is lacking. If the team keeps moving on in the 2015 Women's World Cup, then survive and advance is fine, but this is not what everyone was expecting."
Perhaps the most vocal is former national team standout Michelle Akers: "If she [Jill Ellis] is pleased with the way we played tonight then, what …is she doing coaching our U.S. team?"
The optimist might say that the fact that the U.S. team is being criticized even though they are winning is an indication of how far soccer has come in the United States. In most countries, outside of Brazil and Germany perhaps, winning is what matters. Playing attractive soccer is secondary.
But this is the U.S. team, the world's most successful program since the first women's championship in 1991. The United States was once decades ahead of most of the world. Simply winning isn't enough.
The Colombia match was certainly disturbing. But the telling factor for me was when the final whistle blew. Collectively, the United States did not look like a team that knew it had dominated its opponent. Instead, the players' faces offered a mix of concerned relief, as if to say, "thank goodness that's over with."
Had that been a one-off disappointing performance, I'd understand. But at no point during this World Cup has the U.S. team looked better than its opponent for a significant length of time.
The U.S. beat Australia because Megan Rapinoe was athletically better than the right outside back who was assigned to stop her. Sweden offered no such weakness, and for long stretches of the game was tactically better. (My @JoeDoc2112 Twitter post that night: "Sweden > U.S."). A 0-0 tie was fair.
Nigeria played much of the second half down a player, and it hurt them. The United States got through it, but is that all we can expect? Does Nigeria have anything even remotely close to the state association technical directors, elite soccer academies, high-level regional leagues, Olympic Development Programs, year-round college programs, and emerald turf fields we have in the United States?
We're talking about a nation that is battling Boko Haram, a radical Islamic group, each day just to exist. And we eked out a 1-0 win?
Then there's Colombia, the world's 28th ranked team that looked technically better than every U.S. player except for Tobin Heath. Even down a player in the second half, Colombia managed to scare the U.S. team with forays to goal on several occasions. A near-post mistake by Colombia goalkeeper Stefany Castano – c'mon, you know Alex Morgan mis-hit her cross! – and a poor tackle in the box on Rapinoe were the difference.
What I found interesting was the way Colombia played – which was exactly like their men's team. Lots of short passing in tight spaces, highlighted by clever (and sometimes ill-advised) flicks and feints. The combination play – even while down a player! – brought cheers from many in the crowd.
The United States? I think the team's dismaying tactics are best represented by Ali Krieger, the world's best right back. Excellent on overlapping runs down the flank and a good passer of the ball (she was a midfielder with her club team and at Penn State), Krieger has been doing little but lofting long, high 50-50 balls into the box, hoping for Wambach (or somebody) to flick it on.
It's the worst of Route 1, kick-and-hope soccer.
Krieger is better than that. But it's clear she has her role – defend the right side, get the ball forward.
International soccer has surpassed the 4-4-2 formation, in which the four backs sit back, the midfielders run a lot, and the two targets cause enough chaos to score a goal. Today, a team's best passers need to be the center backs, for they need to find the feet of their midfielders tucked away in tight spaces. Outside backs play like wingers, getting forward and taking on the opposition's outside backs one vs. one.
On the men's side, just watch Barcelona and Real Madrid (La Liga), Arsenal, Southampton and Manchester City (Premier League), and Juventus (Series A).
At this World Cup, look no farther than Germany, Japan and China, teams that are both technically clean and tactically sophisticated. They are a pleasure to watch. Oh, and they win.
The United States team can certainly defend. Krieger, Julie Johnston, Becky Sauerbrunn and Meghan Klingenberg are smart, athletic defenders, and Hope Solo remains the world's best goalkeeper. They are good enough to keep any team at bay for long periods of time.
But time is not in their favor. Offensively, the U.S. team is often … well, offensive. Player movement away from the ball is predictable. Passing technique ranges from solid to awful (Morgan Brian's giveaways against Colombia were mind-blowing). While teams like Japan, Brazil, Germany and England have clear passing angles – the diamond shape – the United States is often flat and easily defended.
Beginning with Friday's quarterfinals, the United States will play teams that can defend as well as, if not better, than the U.S. can attack.
As a youth coach who has watched so many technically and tactically sophisticated players and teams over the last 25 years, I don't understand how the U.S. team is in this position.
A soccer friend who follows the sport closely sent me some observations I think are worth considering:
· Coach Jill Ellis is not setting up the correct tactical match ups. Instead of preparing for a given opponent, the U.S. is going with the same approach each game.
· Ellis does not have the ability to inspire players to compete at their peak performance.
· Set pieces are abysmal. The set plays look rehearsed, and everything else is a long ball into the penalty area.
· With so much talent on the bench, Ellis is not going deep enough for such a long tournament. If it wasn't for forced sit-outs as a result of accumulated yellow cards, Rapinoe and Carli Lloyd would likely play every minute.
As good as the U.S. defense is, I disagree with former U.S. National Team coach and Fox commentator Tony DiCicco – it's not good enough to win it all. I suspect the Americans will lose against China, their opponent in Friday's quarterfinal match. If they get past that match, and Germany beats France as expected, I fear the Germans will embarrass the Americans.
I hope I'm wrong. I want to be wrong. But unless Ellis makes a dramatic change to the way she prepares her team, the U.S. team is heading toward the type of result that could significantly alter the U.S. women's national team program from top to bottom.
College Recruiting Commitment Tracker