Hope Solo, Carli Lloyd, NWSL and the problem with USWNT narratives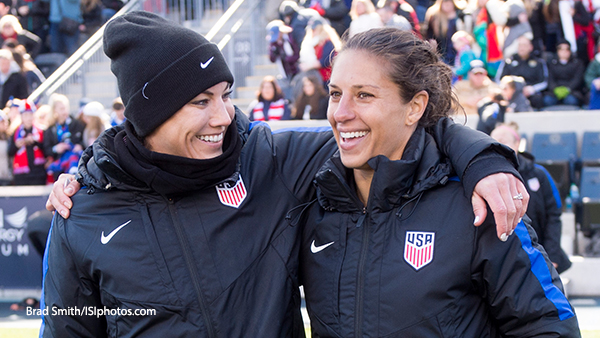 "Carli Lloyd could give classless Hope Solo a lesson on handling defeat"
"U.S. women follow calm leadership of Carli Lloyd…"
"Carli Lloyd silences her critics to become key to U.S. women's soccer success"
"Carli Lloyd dreams big as she chases third Olympic gold"
I occasionally hear dedicated soccer watchers express frustration at the U.S. media's propensity to focus their coverage of the sport here, especially that of the U.S. Women's National Team, on drama and moralizing rather than what happens on the field.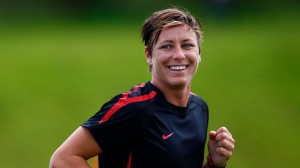 The problem with turning soccer players into clamshell-packaged paragons of virtue and success is that they're still human inside that blister wrap. And the longer they live and work in the public eye, the more likely they are to do something that antagonizes a segment of the audience they're charged with growing and maintaining 24/7/365.
Play, coach or commentate long enough and well enough, and you might just irritate millions eventually – just ask Abby Wambach, or Michelle Akers, or Landon Donovan or Eric Wynalda.
Undoubtedly progress has been made since the days of the "Ponytail Posse" nearly two decades ago, when the team that charmed a nation with its 1999 Women's World Cup run lived and played with a corset of wholesomeness cinched tightly around them. Yet the pearl-clutching that dominated the public reactions to Hope Solo's Olympic heel act – followed by the six-month ban and contract termination slapped on her by U.S. Soccer this week – drive home the gloomy truth.
You or a loved one have #RPF? Embrace it w/my new @Represent tee & support @GirlUp! https://t.co/xGdN1ZSApu pic.twitter.com/2boJuonQS6

— Hope Solo (@hopesolo) August 8, 2016

As if the simple fact that "resting pitch face" is an actual thing doesn't make it obvious, female stars are held to a different and higher standard of comportment. And those passing the loudest and harshest judgment can often barely be bothered to pay attention to the sport or team in question for more than one tournament at a time.
But as with their male counterparts, some women undoubtedly live and work under a stronger microscope than others.
Carli Lloyd is currently the brightest star in the USWNT firmament, and understandably so. The midfielder re-dedicated herself to her craft after falling into a rut of mid-career stagnancy a few years ago, and was rewarded with a hat trick for the ages in last year's Women's World Cup final victory over Japan. FIFA's 2015 World Player of the Year award rightly followed, and she has duly banked fiscal rewards as well, in the form of marketing and promotional opportunities.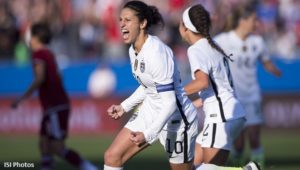 Lloyd's is the kind of story most everyone in America, soccer fans or not, can easily get their heads around and get behind: No-BS Jersey girl grinds her way to all-world status and wins the big game for her country. It's a hell of a lot more appealing to the casual than Solo's gray-shaded path of childhood chaos, legal run-ins and confrontation, "Dancing With The Stars" or not.
Funny, then, that while Solo was getting tied to the whipping post (justifiably, to an extent) over the use of the word "cowards," America's No. 10™ breezily took an unscheduled vacation from the part of her job that involves wearing the orange kit of her club team, the Houston Dash.
Dash coach Randy Waldrum said Carli Lloyd told him she will be back with team Monday. That is 17 days after USA Olympic team was eliminated.

— Corey Roepken (@RipSports) August 23, 2016

In a depressing but all too predictable repeat of what happened after last summer's World Cup, the timetable and expectations of the USWNT's post-Olympic return to their NWSL clubs has been marked by suspense and confusion among fans, media and even clubs and coaches themselves.
Lloyd isn't the only national teamer to take her time getting over the understandable disappointment of missing out on a medal. But her leisurely return to Houston stands at the far end of a spectrum marked at the other end by veteran defender Ali Krieger, who returned to her Washington Spirit side in order to help them win a makeup match vs. the Dash less than a week after the USWNT's quarterfinal loss to Sweden.
"She's got some engagements that are on her plate, so we'll see," a clearly exasperated Randy Waldrum, the Dash's plain-spoken coach, said of Lloyd after the makeup game. "We have not heard from the league, or from U.S. Soccer … And it does make it difficult.
"I know it's really lame to sit up here and be a coach in this league and not be able to give you something more concrete than that. But honestly, this is what I deal with on a daily basis."
Post-game comments from Randy Waldrum on Friday paint an unflattering picture of #NWSL/#USWNT communication. pic.twitter.com/4ksrdaH0p2

— John D. Halloran (@JohnDHalloran) August 21, 2016

That includes other national teams, too. Though they made it all the way to the gold-medal match, members of Sweden's squad stepped back into domestic play almost immediately after their Brazilian adventure, and some of Lloyd's Canadian and Brazilian Dash teammates are already back in the Houston fold despite playing a week longer in the Olympics.
As usual, there's a backstory here. Lloyd spent the first two seasons of NWSL's existence with the Western New York Flash, whom she led to the league's best regular-season record and a spot in the 2013 title game, which they lost to the Portland Thorns. But the Flash missed out on the 2014 playoffs and the arrival of the expansion Dash prompted roster moves across the league, including a blockbuster trade that sent Lloyd to Houston that October in exchange for Becky Edwards, Whitney Engen and a 2016 third-round pick .
Lloyd's disgruntlement with the move, which removed her from her Mid-Atlantic roots and sentenced her to a season of expansion struggle, quickly became an open secret in women's soccer. In fact, multiple sources told SoccerWire.com at the time that Lloyd had threatened to retire from the game entirely rather than report to Houston. In the end, she relented, and thank goodness, because she went on to make history for herself, her team and her country.
It would appear, however, that those famous competitive fires don't burn quite as brightly for her while wearing orange. Due mostly to injury, Lloyd has played just two NWSL games this year, adding up to 103 minutes and one goal (she hurt her knee in the second game of the season and returned to health just in time for the Olympics). Last season she played 12 games, logging four goals over 1,080 minutes as the Dash finished in fifth place, missing out on a playoff place by six points. That's a marked step down from her production with Western New York, where she averaged nearly a goal every other game.
Even those of us who were never good enough to play this sport at anywhere near Lloyd's level can probably relate to this at least a bit. Sometimes new bosses just aren't as fun to work for as old ones, especially when you've been transferred against your wishes to an unfamiliar new city.
The USWNT are basically women's soccer's only A-list celebrities and they get four-star amenities and red-carpet treatment everywhere they go. NWSL teams, on the other hand, generally run on threadbare budgets and are more modest in nearly every way. Playing Sky Blue FC front of a thousand or so people on a hot summer night might well feel like a pickup game for Lloyd compared to the rare rush of a World Cup final at a sold-out BC Place in Vancouver.
But that jaded ambivalence, however human, just doesn't quite mesh with the waves of glowing profiles and hagiographies of Lloyd that we've read for the last year or three.
"This month was also about her legacy," intoned the fawning tribute by NJ.com's Steve Politi at the top of the list above. "Lloyd doesn't want to just be the greatest women's soccer player of this generation, a title she confirmed with her epic performance in leading the U.S. Women's National Team to a victory in the World Cup. She wants to be remembered as one of the best of all time."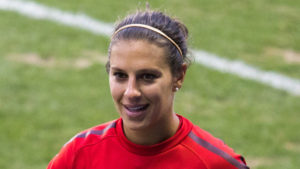 What would the best player of all time do if plunked down in the midst of an NWSL stretch run in a sweltering Houston summer? It's hard to answer that question, but Lloyd appears uninclined to even try. The Dash are languishing in second-to-last place, 15 points back of the final playoff slot, and she may well have logically concluded that the last few games of the year are dead rubbers. What's the rush to get back to that cul de sac?
The simple, if pedantic, answer: She's one of the biggest stars in the league – and best-paid, though the checks come from USSF coffers, not Houston's, which is proving more problematic that first thought at the league's inception. Regardless, those checks should be predicated on showing up to her club's training sessions, at the bare minimum. But the current situation leaves clubs with almost no leverage or input in the status, or even the location, of their top players.
Hope Solo showed a glimpse of her engorged id, her mean and nasty side, when she shot her mouth off in the bitter aftermath of the USWNT's shock Olympic loss to Sweden. It's not hard to understand why calling the less-talented team that just beat you "cowards" is a dumb decision, and some form of punishment was always coming from the federation. It was the Olympics, after all. Certain appearances must be kept up, even if you – like, say, Ryan Lochte, or most of Russia's sporting infrastructure – are not all that into the whole honest, fresh-faced amateur ideal.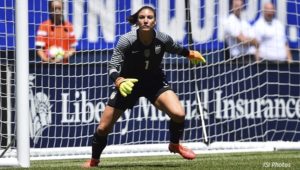 But don't fool yourself, or the admiring adolescent soccer fans in your household. Lloyd's ego, ambitions and competitive edge are every bit as big and sharp as Solo's. Neither are dummies, and neither are entirely altruistic in their outlook. Goalscorers always get the plaudits first, yet Hope has been every bit as pivotal to the USWNT's tournament triumphs as Carli, even if the narratives surrounding them are vastly different.
Which is "worse," calling your opponents cowards vs. no-showing on your club teammates?  I'll leave it to the online arbiters of taste and morality to crowd-source that one. Your judgment is your own to make.
It's too bad the Dash probably won't reach the postseason. They're hosting the NWSL championship match in October, just the sort of big occasion that big-game players like Carli Lloyd get up for.
College Recruiting Commitment Tracker