Dure: Survey says status quo in youth soccer isn't satisfactory

Soccer leagues are proliferating like milkweed in the mid-Atlantic. Are they meeting unserved needs, or just getting in each other's way?
To find out, I asked 102 local coaches, technical directors and club administrators a series of multiple-choice and short answer questions. Eighteen answered. That's not statistically significant, but at least it will start a conversation.
The survey was anonymous, though I wanted to get a sense of which leagues were represented. I asked the respondents to check off all leagues in which their top teams play. In several cases, that's more than one.
+ READ: Dure: Mapping the chaotic youth soccer scene
The answers:
8: NCSL/WAGS
6: EDP
5: ODSL
4: U.S. Youth Soccer National League or Region I
3: CCL
3: ECNL
3: VPL
The rest of the multiple choice responses: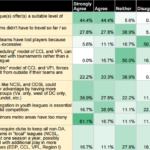 A few of the short answers:
What do you like about your current league(s)?
(ODSL respondent.) The administrators are easy to work with and flexible. The travel has not been that bad and they try to do a good job with promotion/relegation to ensure that teams are within correct division.
(CCL, strongly disagrees that "club scheduling" can be accomplished with tournaments.) Competitive level (generally speaking), club v. club model allows for club spirit and unity at games.
(VPL and other leagues, strongly disagrees on pro/rel being necessary.) Technical Director is in charge of player movement with discussions with his Age group Directors' of Coaching. This makes the club a player development club. Our club has no interest in winning league titles. As a club we play enough games we try to win, a league where players have the opportunity to play is far more essential.
(VPL, strongly agrees with wishing teams didn't have to travel so far/so often.) It allows for me to see all my top teams play in one location. It creates an environment for our younger and older players to become familiar and fans for each other in the club.
What would make you consider withdrawing from your current league(s)?
(NCSL/WAGS/ODSL) Lack of flexibility for rescheduling. Distances the younger players go for games.
(CCL) Extreme travel for certain games at younger age groups (e.g., Under-11 and U-12), which may be changed in the near future.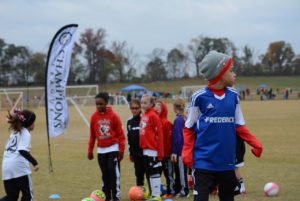 (CCL and US Youth leagues) CCL Clubs admitted in DA (Arlington/Loudoun/McLean) shouldn't be allowed to play in CCL because their top teams aren't playing our top teams and those clubs go after all the top players in the area (recruiting). Either all in CCL or all in DA. Shouldn't be allowed to do both.
(EDP/US Youth leagues, strongly disagrees pro/rel is essential.) NCSL's continued stupidity and naivete to rule the soccer world. Too many clubs and too many divisions. This is largely a glorified recreational league. It is not high-level.
If you had all-encompassing power over soccer in the Mid-Atlantic, what would you do?
(EDP/USYSA, strongly agrees teams didn't have to travel as far/often.) Bring all teams U9-12 back to local leagues (ie. NCSL) and structure the teams in competitively appropriate divisions from U9. League admin evaluates competitiveness by working with TDs. U13+ teams that win or show very well in the local leagues would progress to a regional league option where there are not 10 divisions. Teams from Region league could advance to national league/tournaments.
(An NCSL/WAGS/ODSL respondent had a similar idea, as did an ODSL respondent.)
(NCSL/WAGS, strongly agrees pro/rel is essential to creating solid competition.) Too many leagues pushing too many teams to be elite at cost of players and family pocketbooks, for what a few a chance to play in college, really how many get a scholarship. Things are working for the people making money on these dreams of the parents and children. Players would have better chances of scholarships if they studied and got academic scholarships. The recruiting process is just lining pockets of way too many people who are just greedy. Parents are pushing kids too far and hard for their dreams.
(NCSL/WAGS, strongly agrees area has too many leagues.) Create a club-centric league for all clubs with relegation. The league would have the flexibility and openness to make sure each team plays meaningful competition.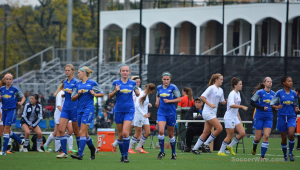 (NCSL/WAGS, strongly agrees that CCL/VPL model forces overmatched teams to recruit from outside.) Truly rank the leagues and have a formalized ranking of which is a higher quality and then have clubs feed into it accordingly.
(EDP and US Youth) Keep the leagues but make them more regional. Clusters of 6-8 regional clubs/groups seems smarter. A champions-league format from each of the competing leagues would be interesting. With the top teams from each, getting together for play in March. Get rid of promotion and relegation through age 13. It's stupid and pointless. Disallow clubs to have voting power in more than 2 leagues in which they are a member. Too many clubs (In the D.C. Metro area) have voting power in too many leagues, which is very disruptive. Clubs should have to choose in which 2 leagues they could vote.
(EDP) Make it free for all players. Soccer in our area is a "rich-kids" sport.
Conclusions
Most people seem content with the level of competition. But that doesn't mean everyone's happy with the status quo.
The respondents in this survey seem only slightly concerned with the amount of travel their teams must do. Worth noting: Most of the respondents here are not parents. Anecdotally, I know plenty of families choosing between an NCSL team, an EDP team or a CCL team, and you'd better believe the travel times are a major consideration.
That said, one league isn't necessarily better than another. An NCSL division may send teams from the western suburbs to the eastern suburbs, or it might be clustered in one area. An EDP division might stretch into Pennsylvania or Delaware, or it might not. CCL and VPL require a couple of distant trips within Virginia each year, but at least families know what they'll be.
The CCL/VPL "club-centric" model has fans and skeptics. Technical directors love being able to see all of their "A" teams in one place. The "B" and "C" team parents and coaches in those clubs might have other thoughts. And so far, no one has told me what alternatives a club would have if a team is simply overmatched. If a club isn't up to CCL/VPL level at U-12, is it simply doomed to frustration all the way through U-19?
And several respondents would like to see a clearly defined hierarchy of leagues. That could mean local leagues feed into higher-level regional leagues (or "Champions Leagues"), or it could mean an outside entity (USSF? VYSA?) designates which leagues are truly "elite."
Are you a local soccer parent? What do you think? Leave a comment below or fill out a similar survey.
—
Beau Dure is a longtime sports writer in Northern Virginia who has written three books on soccer: Long-Range Goals (a history of Major League Soccer), Enduring Spirit (a chronicle of the Washington Spirit's first season) and Single-Digit Soccer (a guide and call to action for youth soccer).
College Recruiting Commitment Tracker