Dure: Defending NWSL champs FC Kansas City down, but not out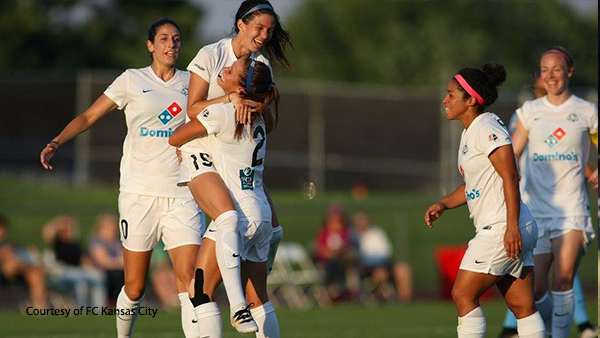 GERMANTOWN, Md. — Count out the two-time defending NWSL champions at your own peril.
FC Kansas City is in eighth place, with just two wins and 10 points to show from 11 games. That's not a shock given the upheaval in personnel in the offseason. Core defenders Leigh Ann Brown and Amy LePeilbet retired. Midfielder Lauren Holiday joined them. Fellow national teamer Amy Rodriguez just gave birth and will miss the season. The Blues traded for another U.S. forward, Sydney Leroux, but she also is expecting and not playing.
+READ: NWSL Championship: Small moments lead to greatness for Lauren Holiday, FC Kansas City
But even in a 2-0 loss at Washington on Saturday, FCKC showed why they're not going to be anyone's pushover the rest of the way. The Blues hung tough with the Spirit, arguably getting the better of play in stretches of the first half in particular, before conceding two late goals.
"We've been getting better as the season goes on," KC's Yael Averbuch said. "I don't think the score reflects the majority of the game."
Those who've watched FCKC build one of the young league's most stable and successful club cultures would be in any hurry to count them out.
With national team players called away for Olympic preparations, the Blues benefit from having some former U.S. national teamers who aren't going to Rio but are still near their primes.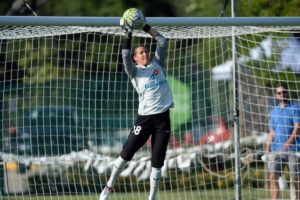 Former midfielder Averbuch has converted quickly to central defense, pairing well with veteran defender Brittany Taylor. Erika Tymrak was the most dangerous player on the field, unlucky to see a couple of shots go just wide. Goalkeeper Nicole Barnhart made two spectacular saves against the Spirit.
"With Barnie in there, you've got to get a lot of shots, because she's going to save about 90 percent of them," Spirit coach Jim Gabarra said.
Kansas City also has collected a solid core of players by drafting well beyond the first round. Tymrak was a second-round pick in the league's first draft in 2013. Current starters Mandy Laddish and Frances Silva were third-rounders in 2014. Front-line speedster Shea Groom was a 2015 second-rounder.
Saturday's starting outside backs, Katie Bowen and Brianne Reed, are both rookies taken in the 2016 second round. They locked down their defensive duties and took turns marauding forward while Averbuch and Taylor swung from side to side to cover, almost morphing to a three-back system on the fly.
"Our team has a really good system and a really clear philosophy, and I think all the rookies and all the new players have fit in to what we're trying to do," Averbuch said. "We really trust each other a lot."
Head coach Vlatko Andonovski has had plenty of time to implement that system — he's one of only three coaches to remain in an NWSL club's head coaching position for a fourth season.
"He's passionate, but as a coach, he's very even-keeled," Tymrak said.
+READ: Six NWSL clubs enter U.S. Soccer Girls Development Academy
Andonovski is indeed being patient with this team, quick to praise his new players' efforts.
"This game can be cruel," Andonovski said. "One bad clearance or one bad pass, when you play teams like Washington, you're going to get punished. I feel sorry for the players because they left it all on the field.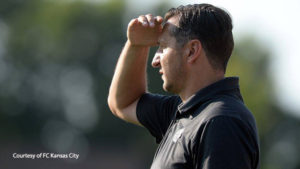 "It's difficult, but at the same time, I think it's a good learning experience for us. I think this season, defensively, we've been a lot more disciplined and organized than the season before. The difference is this year when those little breakdowns happen, we got punished."
The short NWSL season leaves the Blues little time to balance out their bad luck. They have nine games remaining to make up an eight-point gap to reach the fourth playoff spot.
But the team has faith that their effort will pay off at some point.
"You'll see a new FCKC as the season goes on," Averbuch said.
—
Beau Dure is a longtime sports writer in Northern Virginia who has written three books on soccer: Long-Range Goals (a history of Major League Soccer), Enduring Spirit (a chronicle of the Washington Spirit's first season) and Single-Digit Soccer (a guide and call to action for youth soccer).
College Recruiting Commitment Tracker