Boehm: Soccer fans should second-guess their hate for Hope Solo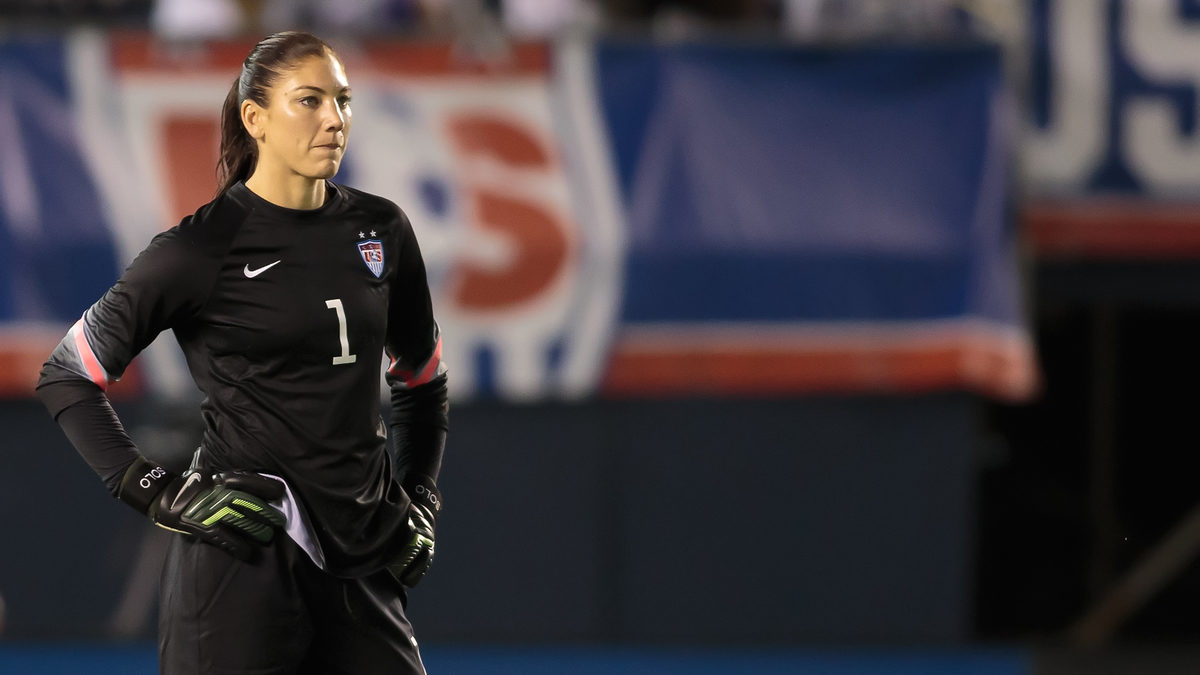 Every time I get the opportunity to write about the U.S. Women's National Team, I can't help but notice the markedly different tones of the conversations about this team compared to its male counterparts.
Though it's improving with each passing year, women's players are still often treated as role models or walking backstories rather than elite athletes. A gauzy lens of storybook moralizing obscures the fact that they're complicated, three-dimensional human beings who've climbed to the top of a keenly competitive sport and fended off those who try to unseat them.
+READ: USWNT defeats France 1-0 in second Olympic match
The players and coaches themselves are almost always polite and patient on these matters. They usually do their best to answer even the silly or patronizing questions and welcome most any opportunity to spread the word about their sport and their team. So it is with this month's Olympic soccer tournament as well.
But one USWNTer takes a sledgehammer to all that, both by choice and by simply being herself. She topples incumbent narratives and inflames opinion like no other women's soccer player on earth. She also happens to be the very best at what she does, both now and maybe for all time.
Hope Solo.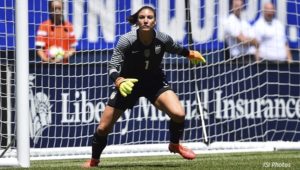 The mere name triggers grimaces and sneers among millions. They see an unhinged egotist whose abilities on the field shouldn't distract us from the domestic violence charges that continue to dog her from a tussle with her nephew and half-sister, along with multiple other incidents of questionable judgment.
There was her outspoken criticism of her coach and teammate after she was suddenly benched for a 2007 Women's World Cup semifinal vs. Brazil (the USWNT lost in stunning and one-sided fashion). There was the 2012 altercation with her now-husband, scandal-plagued former NFL player Jerramy Stevens, that led to his arrest on suspicion of assault just one day before their marriage.
That matter was soon dropped. But in January 2015 Stevens was pulled over in Manhattan Beach, California and charged with DUI with Solo in the passenger's seat – of a USWNT team van, late at night during a team training camp. Solo was suspended from the team for 30 days as a result.
Hope Solo's husband, Jerramy Stevens, has been sentenced to 30 days in jail for DUI. http://t.co/kWenSwgZI7 pic.twitter.com/4fod1bmaxT

— Sporting News (@sportingnews) May 9, 2015
Then there were her saucy revelations about the USWNT's hard partying after their 2008 Olympic gold-medal triumph, when she said they appeared on "The Today Show" still drunk after a boozy all-nighter. Some take issue with her decision to appear nude in ESPN Magazine's "The Body Issue" in 2011, though dozens of other top athletes have done the same, including some of her teammates.
+READ: Solo back in legal trouble as Wash. court re-opens domestic violence case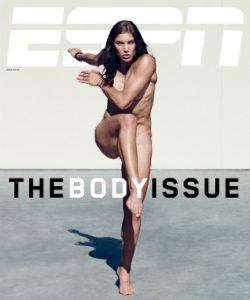 Most recently, she's been showered with boos and jeering chants during Olympic matches by Brazilian fans angry with her outspoken remarks and social-media posts about the dangers of the Zika virus and her discomfort with being potentially exposed by competing in the tournament.
Solo more or less says she doesn't give a damn about the peanut gallery, and it's not hard to believe her.
"What's important to me is that I played the best quality of football that I can play, and that hopefully our team makes it to the final," Solo told the Associated Press after Saturday's 1-0 win over France, where her saves rescued her teammates from an off-color performance. "If [the fans] are having fun, great. I like a loud stadium. But it really doesn't mean anything to me.
"I'm just being myself playing soccer. They can love me or hate me, I'm just going to continue doing the same things."
That's a pretty professional response to a situation of her own making. But for some, it just adds to that checkered past, and her polarizing effect on those who watch the USWNT.
Her fans – and they are legion, and devoted – see a driven, resilient survivor who's overcome a dysfunctional childhood to reach greatness. Others – seemingly many more – see something much darker and more troubling, a selfish star whose skills have allowed her to dodge accountability for bad choices.
+READ: Dure: Will Twitter and TMZ swamp women's soccer?
There might well be something to that last part, even if the "hot take" columns drawing false equivalencies between her and the likes of Ray Rice are ludicrously misleading and ill-advised. The United States is a place where sports icons routinely get second chances and benefits of doubt that rank-and-file citizens can only dream of. Many of the same Olympics watchers thrilled by gold-medal-winning US swimmer Lilly King's outspoken condemnation of banned-substance-using "dopers" will soon cheer for track stars Justin Gatlin and Tyson Gay, both of whom served doping suspensions in the past.
Solo's list of transgressions, though dramatically longer than those of the typical women's international soccer player, are right in line with what we've seen from top-tier athletes for decades. Michael Jordan has a revered place as basketball's all-time great – along with a well-documented proclivity for gambling. Babe Ruth was by all accounts a womanizing, booze-guzzling libertine, but remains the eternal demigod of baseball (let's not even get started on Ty Cobb).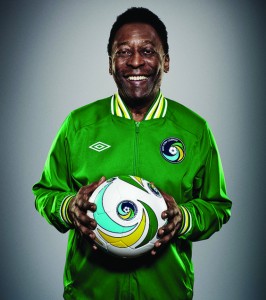 Even the incomparable Pelé has become something of a caricature in his latter life, due to his overweening fondness for, shall we say, any and all lucrative commercial opportunities. Diego Maradona has grappled with drug abuse and myriad other scandals for most of his life (and was disqualified from the 1994 World Cup after testing positive for a banned substance). The legendary George Best let fast living distract him from even reaching the achievement levels of those two in the first place.
Many of us regret the flaws of those men, but they often serve to add to their legend, too. The deep, consuming alcoholism of Best's latter years has only marginally marred his image as a swinging '60s/'70s bon vivant and devil-may-care maverick of the pitch.
Hope Solo is rarely cut any such slack. The overriding impression I get from rank-and-file soccer fans is smoldering bitterness towards a "bad girl," a player who's stepped out of line repeatedly and hasn't been punished as she should be. There's undoubtedly a healthy dose of chauvinism – perhaps even outright misogyny – lurking in that complex public perception. With our collective perspective on women's sports so in flux, so rapidly evolving, it's not shocking that most of us simply don't know how to process what and who she is.
Our rooting proclivities rarely make total sense, and I don't expect them to. But in Solo's case, the conventional wisdom has traveled so far down the pike that it's become jarring to behold.
I see a complex, flawed person who's a product of her environment – regardless of how much stock you put in her own depictions of a chaotic childhood with her star-crossed father Jeffrey, a Vietnam veteran and convicted embezzler who spent the later years of his life living in a tent. Yes, I will readily admit to being influenced by Solo's relentless greatness on the field. How can anyone who's watched the sum of her career call her anything but the best 'keeper in women's soccer history?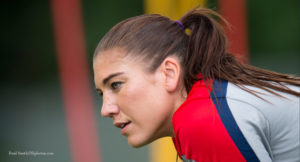 As with the great heroes mentioned earlier, it's futile to try and separate Solo's demons from her abilities. Her "Hope stans," the devotees who often cluster to attack her detractors online, do her – and themselves – a disservice when they deny her flaws and missteps. She's reached her current level both because of, and in spite of who she is. It's what makes her one of the most fascinating personalities in world soccer, and it's what draws us to tune in by the millions to her games, or her appearances on "Dancing With The Stars," or click on reports of her latest controversy.
She's simply the best at what she does, even – or maybe especially – at age 35. She's done it in a way that perhaps no female athlete ever has before. And like it or not, we'll miss her when she's gone.
College Recruiting Commitment Tracker