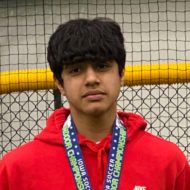 Abdullah Iqbal
Position:
Forward, Midfielder
Birth Date: Jan, 2006
Graduation Year: 2024
Location: Urbandale, IA, United States
Dominant Foot: Both
Teams:
1) Forward in 2006 B Premier Vision Soccer Academy Waukee
2)Forward in Olympic Development program central Iowa 2019-2021
About: Exciting forward. Team player and understands the game situation very well. Superb ball control, shooting and speed. Play well under pressure and always hungry for scoring goals & winning games.
Video: