Western Michigan University adds 11 to women's soccer roster for 2022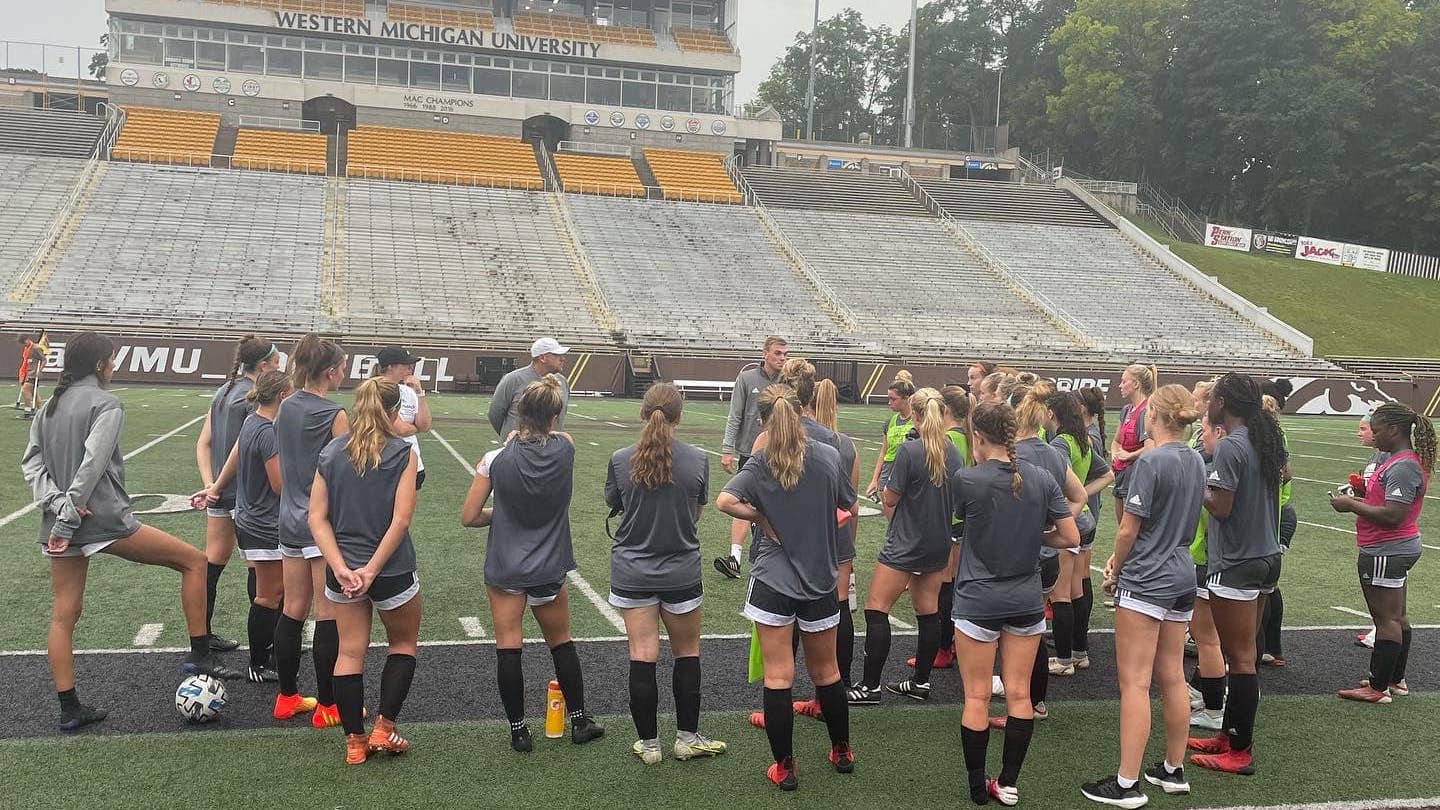 KALAMAZOO, Mich. – Western Michigan women's soccer team and head coach Lewis Robinson have announced the addition of 11 student-athletes for the 2022 season.
WMU welcomes Abby Baldridge, Olivia Brunink, Madi Canada, Mackenzie James, Drew Martin, Shelby Moore, Frankie Mudd, Jaden Peck, Alice Spiegel, Bria Telemaque and Heidi Thomasma to the program.
Abby Baldridge | So. | D | 5'10 | Elmhurst, Ill./Louisville
Baldridge transfers to Western Michigan after a season at Louisville. She appeared in all 16 games with the Cardinals, making seven starts along the back line. She recorded her first career assist off of a free kick in a 3-0 win over Northern Kentucky. Baldridge played her high school soccer for York Community High School in Elmhurst, Ill., serving as team captain. She also played her club ball for FC United Academy.
Olivia Brunink | Fr. | F | 5'9 | Grand Rapids, Mich./ Grand Rapids Christian/Midwest United FC
Brunink was a three-sport star at Grand Rapids Christian High School, competing in basketball, track and field and soccer. She was All-Conference, All-District, All-Region and honorable mention All-State as a freshman. She also was a two-time All-Conference selection in basketball In track and field she helped her team win conference and regional championships and finish runner up in the state championship. Brunink was a standout in her club soccer for Midwest United FC in the ECNL.
Madi Canada | Fr. | MF | 5'7 | Fenton, Mich./Fenton/Michigan Hawks
Canada led her club team to four ECNL Midwest Conference Championships, losing only one game in conference play in four years. During the 2021-22 season they advanced to the Elite Eight of the ECNL Playoffs. She was also the captain of her club squad Michigan Hawks and a leader in the prestigious program.
Mackenzie James | Fr. | D | 5'8 | O'Fallon, Ill./O'Fallon Township/St. Louis Scott Gallagher
James starred at O'Fallon Township High School, winning three regional championships, two conference championships and a 3A State Championship in 2021.  As a defender she tallied four goals and five assists in her three seasons of high school soccer (one season canceled due to COVID-19). She was a two-time All-Conference selection and was named the 2022 St. Louis Dispatch Student-Athlete of the Year in 2022. James played her club soccer for St. Louis Scott Gallagher.
Drew Martin | Fr. | MF | 5'4 | Bloomfield Hills, Mich./Bloomfield Hills/Liverpool FC
Martin captained Bloomfield Hills High School during her junior and senior seasons, where she was a Third Team All-State selection in 2021 and a First Team All-State selection in 2022. She also earned All-District, All-OAA Red, and All-Region honors during those two seasons. Martin led the Black Hawks to a Michigan Division I State Championship in 2022. She played her club soccer for Liverpool FC out of Pontiac, Mich.
Shelby Moore | Fr. | D | 5'6 | Jamestown, Ohio/Beavercreek/Ohio Premier
Moore was a two-time All-Greater West Ohio Conference selection in 2019 and 2020. As a sophomore she led Beavercreek High School to an undefeated regular season winning both conference and district championships. Moore also starred for Ohio Premiere in the ECNL, spending time in the Olympic Development Program.
Frankie Mudd | Fr. | F | 5'3 | Clinton Township, Mich./Chippewa Valley/Nationals Girls Academy
Mudd is another leading goal-scoring standout in the state of Michigan and played her club call with Nationals Girls Academy. She helped her Nationals Girls Academy team to a National Championship in 2021.
Jaden Peck | So. | F | 5'3 | Sycamore, Ill./Minnesota
Peck transfers from Minnesota after one season with the Golden Gophers. She played in six games and 171 minutes. Prior to that she was a member of the Illinois ODP Select State Team where she played in  2015, 2017, 2018 and 2019. In 2019, she was named a Top Drawer Soccer Girls Winter Cup Standout and was a top scorer in 2020. She played club ball with FC United in the academy league.
Alice Spiegel | Fr. | D | 5'6 | West Bloomfield, Mich./Bloomfield Hills/Vardar
Spiegel was a First Team All-State, All-District, All-Conference and All-Region selection in 2022, winning the Division State Championship this spring. Spiegel also played her club soccer for Vardar and Liverpool FC.
Bria Telemaque | Jr. | MF | 5'7 | Okemos, Mich./Indiana
Telemaque played three seasons at Indiana before transferring to Western Michigan. With the Hoosiers she appeared in 33 total games, scoring one goal. Prior to her time at Indiana she starred for Okemos High School and played her club soccer for Midwest United FC, where she competed in the Youth National Team Camp and the Olympic Development Program.
Heidi Thomasma | Fr. | MF | 5'3 | Grandville, Mich./ Calvin Christian/Midwest United FC
Thomasma helped Calvin Christian High School to a state semifinals appearance in 2021, earning district and regional titles along the way. She was a Second Team All-State selection as a junior, while also earning All-District and All-Region honors twice. Also lettered in basketball, earning All-Conference honors twice. Heidi played her club ball with Midwest United FC in the ECNL as another local standout.
"We are really excited about this talented class of 2022 that has been put together over the last couple of years, along with some additions this summer. We expect this class to bring a lot of high-level experience at the youth levels, and is a group of great young leaders that will be able to impact and lead our program over the next few years."
Western Michigan kicks off its 2022 campaign on Saturday, Aug. 6 in an exhibition match against Valparaiso at 12 p.m. at the WMU Soccer Complex. Admission is free.