Virginia Tech introduces class of 2022 recruit Natalie Mitchell from San Diego Surf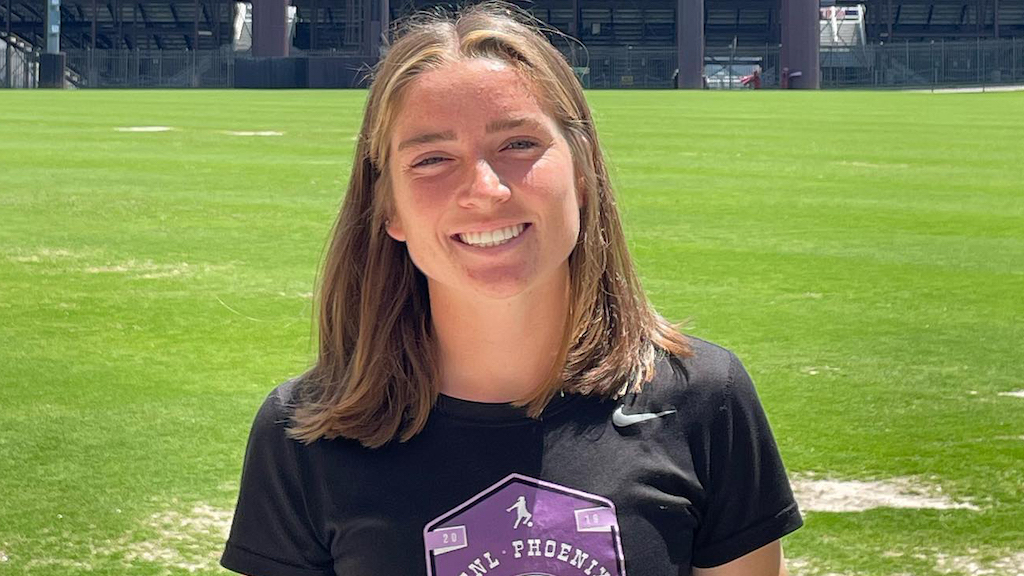 BLACKSBURG – Building off its run to the second round of the 2021 NCAA tournament, the Virginia Tech women's soccer team is introducing each member of its 2022 signing class. Joining the Hokies this season is  Natalie Mitchell, a five-foot-seven attacker who hails from Temecula, California, where she was an elite varsity goal scorer, captain and state champion at Temecula Valley High School.
Named the 2022 California Interscholastic Federation (CIF) Southern Section Division 1 Player of the Year, Mitchell is an established attack-finisher with a winning mindset who makes her way to Virginia Tech to pursue her degree in criminology.
"We are extremely excited to add Natalie to our 2022 recruiting class," said head coach Chugger Adair. "She is a proven goal scorer, is attacking-minded and can play numerous positions."
"Natalie has grown leaps and bounds over the last few years in her game," Adair continued. "She is somebody who is hungry to be successful both for this team and for herself. We are excited to add her to our group and are looking forward to the impact she will have on the Virginia Tech women's soccer program."
A two-sport student-athlete at Temecula Valley, Mitchell combined to earn seven varsity letters in girls' soccer and track & field, twice garnering team Most Valuable Player honors during her senior seasons. In soccer, Temecula Valley's 2022 Female Athlete of the Year paired 70 career goals with 35 career assists, setting the Golden Bears' single-season records in goals (35) and points (87) during their run to the CIF section and state championships.
With Mitchell atop its form, Temecula Valley (24-1-1) went undefeated during its 2022 conference slate (10-0-0), finishing the winter season ranked No. 2 nationally per United Soccer Coaches.
On the club scene, Mitchell flexed her attacking prowess with San Diego Surf (San Diego, California), scoring 33 goals across 22 Elite Clubs National League (ECNL) matches, including five hat tricks and one five-goal performance. She also paced Arsenal FC Sporting (Murrieta, California) in scoring during four consecutive club campaigns, winning a number of cup titles while becoming an ECNL "Player to Watch."
Q&A with Natalie Mitchell
What schools did you consider?  "Boise State, Coastal Carolina, East Carolina, Gonzaga, Lehigh, Mississippi State, Seattle, VCU and Virginia Tech."
Why Virginia Tech?  "I wanted a school where I could train and play against the best players in the nation. Virginia Tech, an ACC member, is a school that allows me to do both."
What was your favorite takeaway from your visit to Blacksburg?  "I loved how beautiful the campus is, the Hokie Stone buildings, the training facilities and seeing the Drillfield in person."
What do you like about the Tech women's soccer program?  "This program will allow me to grow as a person and as a player inside a competitive environment."
What are your soccer strengths?  "I would say my strengths are my ability to attack and to finish around the net."
Who is your favorite professional player?  "My favorite professional player is Rose Lavelle."
What is your most memorable soccer moment?  "My most memorable soccer moment would be winning the 2022 CIF Southern Section Division 1 championship with Temecula Valley. We won the highest level of competition in southern California. Our team's goal was to win the 2022 title, as we were knocked out during the quarterfinal round in 2021."
What are you interested in studying at Virginia Tech?  "I am planning to study criminology at Virginia Tech. I am interested in pursuing a career at the FBI."
What is one thing you would want Tech fans to know about you?  "I love to compete and would love to assist in making the Thompson Field lights strobe as often as possible!"