USMNT kicking off 2020 campaign with friendly against Costa Rica on Saturday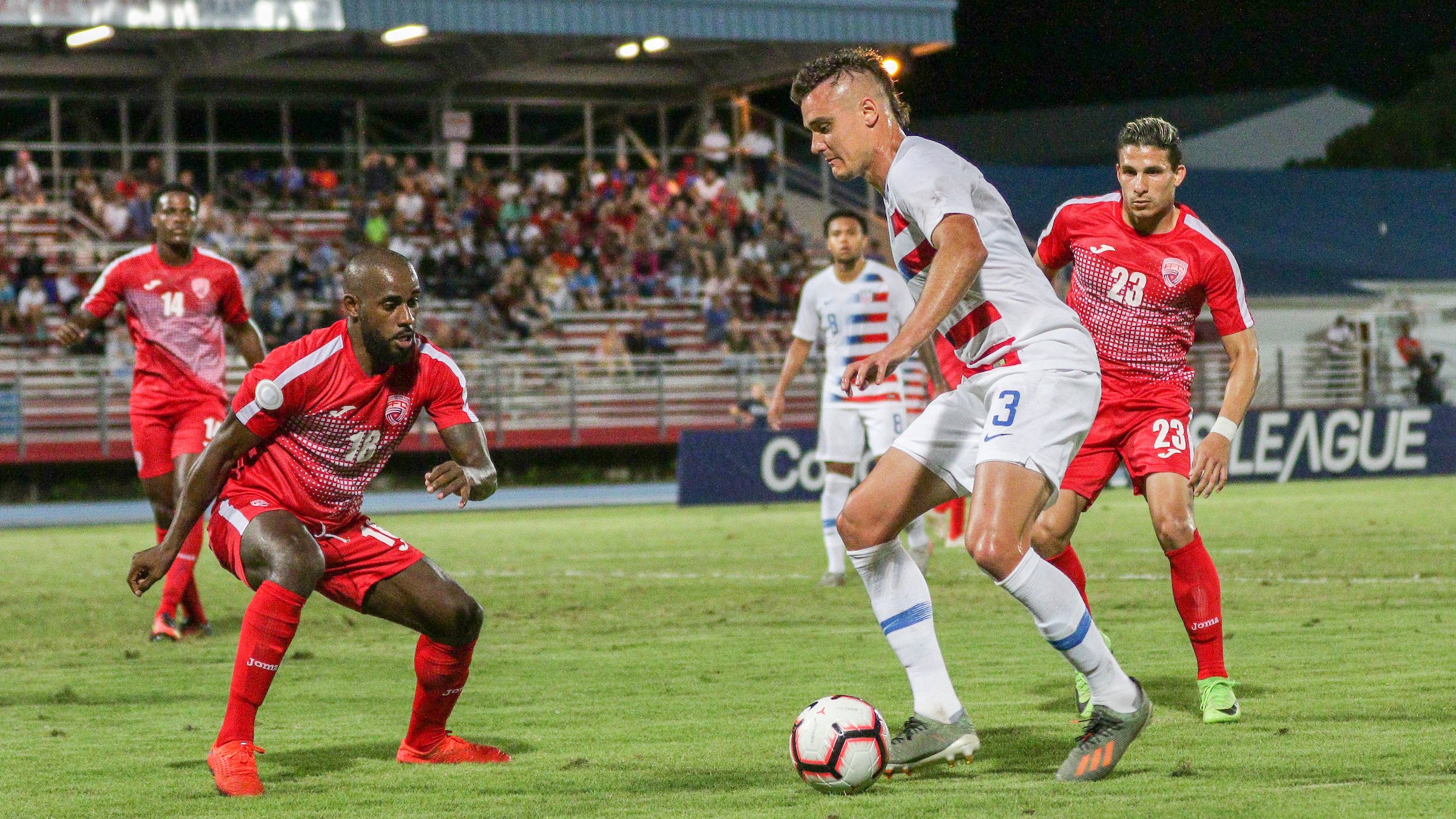 CHICAGO – Kicking off a big year for the U.S. Men's National Team program, a young USMNT squad wraps up the month-long January Camp when it faces confederation foe Costa Rica on Saturday, Feb. 1 in Carson, Calif. Coverage of USA-Costa Rica from Dignity Health Sports Park begins at 3:55 p.m. ET on ESPNNews, UniMás and TUDN.
Fans can also follow along via U.S. Soccer's official Facebook, Twitter (@USMNT) and Instagram (@USMNT) accounts.
USA DETAILED ROSTER BY POSITION (CLUB; CAPS/GOALS):
GOALKEEPERS (3): 1-Sean Johnson (New York City FC; 8/0), 24-Bill Hamid (D.C. United; 6/0), 22-Matt Turner (New England Revolution; 0/0)
DEFENDERS (8): 20-Julian Araujo (LA Galaxy; 0/0), 2-Reggie Cannon (FC Dallas; 10/0), 21-Chase Gasper (Minnesota United FC; 0/0), 15-Justen Glad (Real Salt Lake; 0/0), 3-Aaron Long (New York Red Bulls; 16/3), 4-Mark McKenzie (Philadelphia Union; 0/0), 13-Sam Vines (Colorado Rapids; 0/0), 5-Walker Zimmerman (LAFC; 11/2)
MIDFIELDERS (6): 8-Brenden Aaronson (Philadelphia Union; 0/0), 18-Christian Cappis (Hobro/DEN; 0/0), 23-Bryang Kayo (Unattached; 0/0), 17-Sebastian Lletget (LA Galaxy; 13/2), 16-Brandon Servania (FC Dallas; 0/0), 6-Jackson Yueill (San Jose Earthquakes; 6/0)
FORWARDS (5): 7-Paul Arriola (D.C. United; 32/5), 10-Jesús Ferreira (FC Dallas; 0/0), 11-Jonathan Lewis (Colorado Rapids; 5/0), 19-Ulysses Llanez (Wolfsburg/GER; 0/0), 9-Gyasi Zardes (Columbus Crew SC; 55/12)
STAKE YOUR CLAIM
Every camp is a chance to make an impression, but for up-and-coming players the extended January Camp has served as a proving ground for players to work their way into the USMNT picture going forward. From Pablo Mastroeni and DaMarcus Beasley to Maurice Edu and Matt Besler, the January Camp success stories are numerous.
With the program set to tackle qualifying for the 2022 FIFA World Cup, the 2020 Summer Olympics and Concacaf Nations League knockout round during the next 12 months, this year's gathering has offered up a huge opportunity for players to stake their claim going forward.
"The theme of the whole camp was staking their claim, looking to improve their situation and get a firm grasp of where they fit in in the player pool," USMNT head coach Gregg Berhalter told reporters earlier this week. "I would expect there to be young players in the lineup and that's perfectly okay. They've worked hard all month so far and it'll be nice to give them an opportunity to perform."
YOUTH IS SERVED
With the program's first challenge of 2020 being the Concacaf Men's Olympic Qualifying Championship in March, the January Camp roster has a distinctly youthful feel to it. With 13 players on the 22-man squad age-eligible for the Olympic qualifying tournament, U-23 MNT head coach Jason Kreis has served as an assistant to Berhalter during the camp, helping guide a team that averages 23 years and 77 days and just seven caps.
"This camp is a really terrific opportunity for me and some of the key players in the U-23 pool to work with Gregg and his staff for an extended period of time," Kreis said earlier this month. "It will provide a chance for us to all be together in an elite environment and to further explore and understand what it means to be a part of the U.S. Men's National Team Program. Finally, it is always nice to have many eyes on these players and many opinions to help us make the best decisions regarding the roster as we look forward to the CONCACAF Qualification in March."
SOUTHERN CALIFORNIA CONNECTIONS

Southern Cal has always been a hotbed of soccer talent in the USA, and it's certainly reflected on the roster with nine players on the 22-man squad holding various ties to the area. A number of players in the squad have ties to the LA Galaxy and the sight of Saturday's game, Dignity Health Sports Park, while others like LAFC defender Walker Zimmerman and former UCLA right back Reggie Cannon have called SoCal home at one point or the other. Read up on the full list of Southern California connections here.
USA-COSTA RICA COMPARISON
With Saturday's match falling outside the FIFA international window, the vast majority of players from both teams play in their domestic leagues, while Costa Rica has also pulled in seven players from Major League Soccer. With both sides bringing U-23 eligible players, Saturday's game serves as a preview of sorts for when the two nations meet in the opening match of the 2020 Concacaf Men's Olympic Qualifying Championship in March.
A comparison between the two rosters:
| | | |
| --- | --- | --- |
| Category | USA | Costa Rica |
| Average Age | 23 years, 77 days | 26 years, 38 days |
| Average Caps | 7 caps | 16 caps |
| Uncapped Players | 12 | 7 |
| Double-Digit Caps | 6 | 8 |
| U-23 Eligible | 13 | 8 |
USA-COSTA RICA NOTES
In a series that dates back to 1975, the USMNT and Costa Rica hold an even 16-16-6 record against each other.
The USA is 16-6-4 in home matches against Los Ticos.
The teams last faced off almost a year to the day of Saturday's match, with the USA using goals from Sebastian Lletget and Paul Arriola to earn a 2-0 victory on Feb. 2, 2019 in San Jose, Calif.
The two teams previously met in Carson, Calif., on Sept. 2, 2011, with the USMNT falling 1-0.
Oshane Nation of Jamaica is the referee for Saturday's match.
He has previously officiated one USMNT match, a 3-0 win against Bolivia on May 28, 2018 in Chester, Pa.
USA ROSTER NOTES
As of Feb. 1, 2020, the 22-player squad averages 23 years, 77 days and seven caps.
With the match occurring outside a FIFA international window, 20 of the 22 players feature for Major League Soccer clubs, while Denmark-based midfielder Christian Cappis (Hobro) and German-based winger Ulysses Llanez (Wolfsburg U-19) were allowed by their clubs to take part in the camp.
Twelve players are vying for their first international appearances, while 13 are age-eligible for the 2020 Concacaf Men's Olympic Qualifying Championship.
Only six players on the roster hold double-digit caps: Gyasi Zardes (55), Paul Arriola (32), Aaron Long (16), Sebastian Lletget (13), Walker Zimmerman (11), Reggie Cannon (10).
Thirteen MLS clubs are represented on the roster, with FC Dallas leading the way with three selections.
Seven players earned invites to their first USMNT camp this month: defenders Julian Araujo and Sam Vines; midfielders Christian Cappis, Bryang Kayo and Brandon Servania; and forwards Jesús Ferreira and Ulysses Llanez.
Veteran goalkeeper Bill Hamid returns to USMNT camp for the first time since June 2018.
The LA Galaxy duo of Sebastian Lletget and Julian Araujo will have the opportunity to suit up for the USMNT in their home stadium of Dignity Health Sports Park with the camp-ending friendly 

COSTA RICA ROSTER BY POSITION:
GOALKEEPERS (3): Luis Alpizar (Jicaral; 0/0), Esteban Alvarado (Herediano; 16/0), Aarón Cruz (Saprissa; 0/0)
DEFENDERS (8): Pablo Arboine (San Carlos; 1/0), Keyner Brown (Herediano; 2/0), Kevin Espinoza (Guadalupe; 0/0), Keysher Fuller (Herediano; 7/1), Giancarlo González (LA Galaxy/USA; 80/2), Joseph Mora (D.C. United/USA; 3/0), Rónald Matarrita (New York City FC/USA; 36/3), Jeikel Venegas (Perez Zeledon; 0/0),
MIDFIELDERS (10): Bernald Alfaro (Alajuelense; 0/0), Luis Díaz (Columbus Crew SC/USA; 1/0), David Guzmán (Saprissa; 16/0), Ariel Lassiter (Alajuelense; 5/0), Randall Leal (Nashville SC/USA; 15/0), Marvin Loría (Portland Timbers; 1/0), Cristopher Núñez (Cartaginés; 0/0), Ulises Segura (D.C. United/USA; 8/0), Yeltsin Tejeda (Herediano; 50/0), Johan Venegas (Saprissa; 54/11)
FORWARDS (2): Marco Ureña (Alajuelense; 65/16), Manfred Ugalde (Saprissa; 0/0)

IN FOCUS: COSTA RICA
Costa Rica sits 46th overall in the latest FIFA Coca-Cola World Ranking
Los Ticos are managed by former Costa Rica international Ronald Gonzalez.
Since taking over in late September 2020, Gonzalez helped navigate Costa Rica to the Concacaf Nations League knockout round, going 1-0-3 in the group stage.
The most senior player on the squad with 80 caps, center back Giancarlo Gonzalez is teammates with Sebastian Lletget and Ulysses Llanez at the LA Galaxy. He also played for USMNT head coach Gregg Berhalter at Columbus Crew SC in 2014.
Defender Joseph Mora and midfielder Ulises Segura partner with Paul Arriola and Bill Hamid at D.C. United.
Left back Rónald Matarrita is teammates with U.S. goalkeeper Sean Johnson at New York City FC, while Luis Diaz plays alongside Gyasi Zardes at Columbus Crew SC.
Ariel Lassiter, who is the son of former U.S. international Roy Lassiter, is also part of the Costa Rica squad. Lassiter briefly represented the U.S. U-23 MNT in 2015 and was part of the LA Galaxy organization from 2015-18.