Dr. Juan Delgado hired as Austin FC Academy Technical Director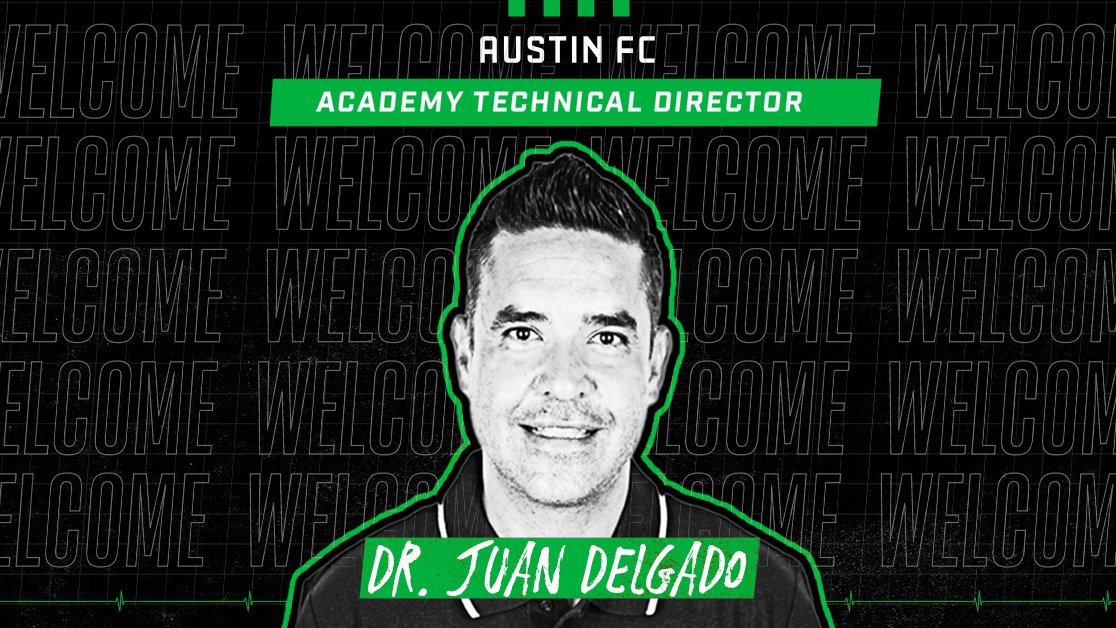 Austin, TX – Austin FC has announced the hire of Dr. Juan Delgado as Austin FC Academy Technical Director.
Most recently Dr. Delgado has been Head of Scouting for the Aspire Academy in Doha, Qatar where he established and designed scouting strategy for Qatari national teams from Under 8 (U8) to Under 23 (U23) levels, and actively contributed to the most successful period in Qatar's football history.
Before his role with Aspire Academy, Dr. Delgado was Technical Director of Valencia CF Academy and Valencia CF's Director of Coaching for their youth sides from Under 7 (U7) to Under 12 (U12) and Football Coach for the Under 12 (U12) and Under 23 (U23) teams. At both Valencia CF and Villareal CF, Dr. Delgado played a central role in developing players who have gone on to enjoy success at the highest levels of national and international competition, while also helping the development of highly successful academy operations in La Liga, one of the most competitive leagues in the world.
As Austin FC Academy Technical Director, Dr. Delgado will be responsible for building the coaching methodology for Austin FC Academy and helping develop, establish and maintain the direct connection of playing styles from Austin FC's First Team, which will compete in Major League Soccer (MLS) starting in 2021, through the Austin FC Academy teams.
Additionally, Delgado will work with Austin FC Academy General Manager Tyson Wahl and Austin FC Sporting Director Claudio Reyna on the long-term player development plan for Austin FC Academy players and teams, as well as mentoring and leading Academy players, and leading ongoing coaching education platforms for Austin FC Academy and the greater Austin soccer community.
"Juan Delgado will have a tremendously positive impact on Austin FC's Academy and youth soccer in Central Texas," commented Tyson Wahl, Austin FC Academy General Manager. "Juan's combination of top-level experience within La Liga Academies, the Aspire Academy, and within governing federations around the world make him a world-class professional and we are delighted to welcome him to Austin. This is an important appointment and our Club is honored to have a distinguished youth development leader with a track record of global success join Austin FC Academy to help Austin FC create one of the top academies throughout the region and in MLS."
"I am very proud to have the chance to join Austin FC Academy and to bring my experience, knowledge, contacts and passion for developing young talent to such an exciting Club," said Dr. Juan Delgado. "Tyson, Claudio and the whole team are laying the foundations for sustained success at all levels, from the youth setup through to the First Team, so to have the opportunity to help them and Austin FC's Ownership group meet their objectives, short and long-term, is a chance I could not miss. The future of soccer in the USA is very exciting and I am motivated to begin helping to identify and develop young talent in Texas and throughout the USA, and to bring what I have learned over many years working at the highest level of our game to this exciting new team in Austin."
"Austin FC's ability to recruit top-level professionals, like Juan, demonstrates the appeal of the City of Austin, our club, and our ambitions," added Claudio Reyna, Austin FC Sporting Director. "His track record speaks for itself, and the roster of players he has worked with shows that his methods and practices are tried, tested, and proven to be successful. We are delighted he is joining our growing soccer operations team and are excited to have him start work with us very soon."
Dr. Delgado is fluent in four languages (Spanish, English, Catalan and Portuguese) and has multiple degrees in a range of subjects including Football Management (Georgetown University & Josoor Institute), Sports Sciences (University of Valencia), Sport & Exercise Psychology (Autonomic University of Madrid & Spanish Olympic Committee), Physical Activity and Sports Sciences (University of Valencia) and Teaching (Jaume / University of Castellon). He is a widely published author, in particular in tactical periodization, and has professional certificates from the Royal Spanish Football Federation (UEFA Football Coach (Level PRO)); from the Royal Netherlands FA (International Coaching Course); and from the National Soccer Coaches Association of America (Premier Diploma).