US Youth Soccer National League Las Vegas Preview: 18U Boys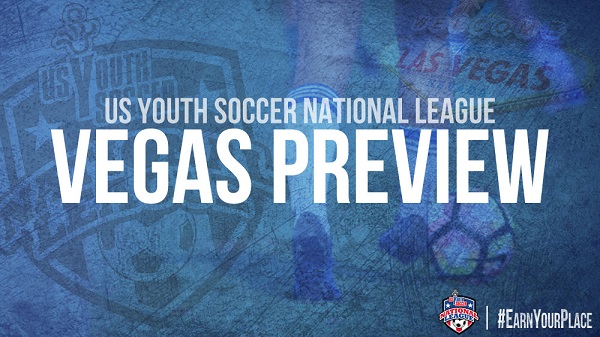 Click for division previews, games to watch and player notes…
14U Boys | 15U Boys | 16U Boys | 17U Boys | 18U Boys
FRISCO, Texas (Via US Youth Soccer) — The 2017-18 US Youth Soccer National League Boys season will wrap up play March 9-11 at the Bettye Wilson Soccer Complex in Las Vegas, Nev., as 72 teams — representing 24 state associations and 52 clubs — play their final games to solidify the division standings.
---
BLACK DIVISION
Entering the final weekend of play, NCFC Elite 00 (NC) sits three points ahead of McLean 00 Green (VA) in the top position in the 18U Black Division. The North Carolina side earned a crucial 4-2 win over the 2015 National Champions from Virginia and will now wait to see if its 13 points will be enough to advance to the 2018 US Youth Soccer National Championships.
Ohio Premier (OH-S) and Washington Premier 2000 Black (WA) both have seven points heading into Vegas and will be looking to earn the necessary points to move to the top of the table. The two teams will meet on the first day of play in Vegas in a game that could decide who will advance to the National Championships. Michigan Jaguars 00 Green (MI) and FRAM 00 Lawson (CA-S) will be the other two teams competing and will look to throw a wrench in the other teams' plans by grabbing points of the leaders.
Game to Watch
March 9, Ohio Premier (OH-S) vs. Washington Premier 2000 Black (WA)
This is the game that could decide who earns the division's berth to the 2018 National Championships. Ohio Premier will look to lean on its defensive efforts, which have carried the side to a perfect clean sheet through its first three games. The two teams will be looking to earn nine points through three games in order to clinch the berth to Nationals while avoiding any sort of tiebreaker scenario. All the drama starts with game one of the weekend.
BLUE DIVISION
FC Dallas 00 Che (TX-N) finished its six games with 13 points in the 18U Blue Division and will be sitting at home hoping that number is enough while the last four teams finish out their seasons in Las Vegas. West Coach FC Armour 2000 (CA-S), LMSC Rats (PA-E), Eastside FC 00 Red (WA) and St. Louis Scott Gallagher Elite 2000 (MO) could all potentially leapfrog FC Dallas with positive results in the final weekend.
West Coast has the slight point advantage heading into Vegas after achieving a perfect 3-0 start in North Carolina. With three other teams nipping at its heels, West Coast may have to remain perfect through Vegas in order to head back to the National Championships. You can expect to see hard fought games in Vegas, where each of the teams know every result is magnified as they fight for the top spot in the division.
Game to Watch
March 9, LMSC Rats (PA-E) vs. Eastside FC 00 Red (WA)
Neither LMSC or Eastside can afford to drop any points in this game, as they both sit two points behind West Coast. A win against Eastside on day one would give LMSC some big momentum heading into its day two matchup against West Coast. In order to get a win, LMSC will have to defeat an Eastside team that has allowed just one goal through its first three games. If West Coast wins its first game, three points from this match-up will be just what is needed to keep the winner in the hunt for a National League title.
RED DIVISION
Baltimore Celtic SC 00 (MD) got the job done in Disney and clinched the National League Red Division title and a spot in the 2018 National Championships. Celtic secured a crucial 1-1 tie against Davie United Sharks Blue (FL) on the first day of play and then earned two more wins to finish three points ahead of the Florida side. Baltimore finished with a very impressive total of 25 goals while just allowing five goals against.
While the Red Division title may already be decided, teams will be battling for pride in Vegas. Downtown LVSC 00 Academy (NV) comes into the weekend with six points and a shot at finishing second in the division, which is no small task. Downtown defeated Davie United in the opening weekend of play so they will need seven points through three games to finish in the second spot.
Game to Watch
March 9, Lexington FC White (KY) vs. Downtown LVSC 00 Academy (NV)
Downtown will need to secure at least one point in its opening game in order to keep its chances alive of finishing second. The hometown side faces Lexington, who is fighting to finish in the top half of the division. The Kentucky side will need to shore up its defense as it allowed 10 goals through three games. Defense could be key in this matchup as both teams averaged just over one goal per game in the opening weekend.
WHITE DIVISION
LVU 2000 Black (PA-E) sits on top of the 18U White Division with 12 points and can now do nothing but cross its fingers and hope that it is enough to hold on to first place. Nationals Union 00 Black (MI) and Greater Seattle Surf 00 (WA) both arrive at Las Vegas with six points each, while Fullerton Rangers 00 White (CA-S) and Sparta 00 JK (UT) each have four.
Each team has the possibility to finish at the top of the table so expect each match to be intense from the opening kickoff in Las Vegas. Nationals or Surf will need two wins and a tie, while the pressure will be on the other two to pull some magic out of a hat to secure a perfect three games in Vegas.
Game to Watch
March 9, Nationals Union 00 Black (MI) vs. Sparta 00 JK (UT)
Sparta has participated in the last two National Championships as National League representatives and is now looking at an uphill battle in order to get back. Nothing but wins will do for the Utah side as it needs a perfect nine points in order to advance. Nationals Union also can't afford to lose as it needs to earn at least a tie and two wins in order to secure enough points to clinch the White Division title. A Sparta win could really tighten up the race and make for an intense final two days of National League play.