US Youth Soccer National League Las Vegas Preview: 17U Boys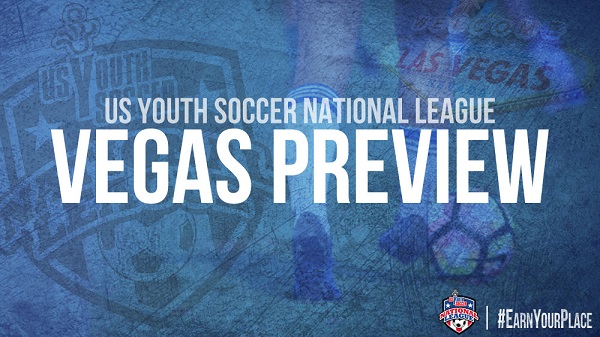 Click for division previews, games to watch and player notes…
14U Boys | 15U Boys | 16U Boys | 17U Boys | 18U Boys
FRISCO, Texas (Via US Youth Soccer) — The 2017-18 US Youth Soccer National League Boys season will wrap up play March 9-11 at the Bettye Wilson Soccer Complex in Las Vegas, Nev., as 72 teams — representing 24 state associations and 52 clubs — play their final games to solidify the division standings.
---
BLACK DIVISION
A lot of the drama in the 17U Black Division took place in Orlando, where Tampa Bay United (FL) earned a crucial win over Solar 01 Sawyer (TX-N) to take over first place. A Tampa win on the final day in Orlando, coupled with a Solar tie, left Tampa on top of the standings with 14 points heading into the final weekend of play in Las Vegas.
Now, the Florida side can only sit and watch as Club Ohio 1 (OH-S) takes aim at the top of the table. The Ohio South side heads to Las Vegas after picking up five points in North Carolina with a win and two draws. Club Ohio must win all three games in Las Vegas to make up the nine-point gap between it and Tampa Bay. If it can pull off that feat, the division title will come down to the best goal differential between the two sides since they played to a 1-1 draw to open the season. Should Club Ohio drop any points, then Tampa will secure first place in the Black Division.
Game to Watch
March 9, Club Ohio 1 (OH-S) vs. SC del Sol 01 (AZ)
SC del Sol could prove to be a difficult matchup for Club Ohio to open the weekend in Las Vegas. The Arizona side will be playing relatively close to home, and it played two tight games against the current two top teams in the group back in December. Club Ohio knows it needs to win each of its games in Las Vegas to have a shot at the Black Division title, so it should come out with plenty of energy in this matchup. A win will get the momentum started on what could be a special run for the Ohio side.
BLUE DIVISION
Entering the final weekend of play, several possibilities remain in the 17U Blue Division. Current leader Solar 01 Stricker (TX-N) has a four-point advantage at the top of the standings, which could be a good enough gap to hold on for the title. However, odds are one of the teams with games to play in Las Vegas will overtake Solar and earn a ticket to the US Youth Soccer National Championships.
The most likely challenger to finish on top is SLSG Elite 01 (MO), which has won all three of its games while outscoring opponents 7-to-1. Meanwhile, Westside Timbers 01 Copa (OR) is just three points behind SLSG and has the ability to make the leap to first with positive results in each of its remaining games. Finally, CUP Gold 01 (OH-S) is still alive but will need to win each of its games in Las Vegas and get some help in the others in order to have a shot at the division title.
Game to Watch
March 9, SLSG Elite 01 (MO) vs. Westside Timbers 01 Copa (OR)
This matchup will be a key influencer on the rest of the weekend for the Blue Division. An SLSG win would end Westside's shot at the title while making the odds very high that the Missouri side will take the division crown. However, should Westside manage to secure a victory, it would pull even with SLSG and own the head-to-head tiebreaker. That would really tighten up the race and make things interesting heading into the final two days of play.
RED DIVISION
Picking up three wins in Orlando helped McLean Green 01 (VA) post a significant lead at the top of the 17U Red Division standings. The Virginia side has 15 points and holds an eight-point edge over Eastside FC 01 Red (WA) — the only side to beat McLean.
Eastside must now pick up three wins in Las Vegas in order to overtake McLean for first place and punch a ticket to the National Championships. If the Washington side can rediscover its stout defense from North Carolina, it should have a chance. Eastside conceded just one goal in its first three games of the season, which is a rate that will keep it in any game. While its opponents in Las Vegas may not have a shot at the title, each comes from a club with significant experience in the National League, so they won't go without a fight.
Game to Watch
March 11, WCFC Armour 2001 (CA-S) vs. Eastside FC 01 Red (WA)
While it may have a 1-1-1 record, WCFC brings plenty of experience to the table. The Cal South side won the US Youth Soccer Region IV Championship last summer and advanced all the way to the National Championship final. WCFC can use this National League weekend to prepare for another summer run, and that could cause trouble for Eastside. Should Eastside win its first two games, this result will determine if it captures the division title or comes up just short. But no matter the scenario, this should be a good matchup between regional foes.
WHITE DIVISION
Oklahoma Energy FC 01 Central (OK) will not have to keep an eye on the results in Las Vegas after it wrapped up the 17U White Division title with a 5-0-1 record. The Oklahoma side showed an impressive ability to win close games, as four of its five victories came via a one-goal margin. Those tight wins helped Oklahoma compile 15 points to put the division title out of reach for the remaining teams playing in Las Vegas.
While the berth to Nationals may be decided, LVSA 01 Red (NV) still has a shot to earn a spot back into the National League for next season if it can win all of its remaining games. LVSA will have the advantage of playing close to home after it showed it is not far off from the group leaders based on the team's performance in North Carolina. LVSA played three high-scoring matchups — all against the current top three teams in the group. Those performances showed the Nevada side can hang with anyone in the group, and it will aim to come away with three points in each of its remaining games.
Game to Watch
March 9, Galaxy 2001 Blue (IL) vs. LVSA 01 Red (NV)
Both of these teams played some of the sides currently at the top of the standings in North Carolina, and each came close to coming out on the winning end. LVSA averaged three goals per game in North Carolina, while the Galaxy found the back of the net two times per game. With each side tending to play in high-scoring games, this one could go back-and-forth as the teams kick off the final weekend of play for the White Division.