US Youth Soccer National League Las Vegas Preview: 16U Boys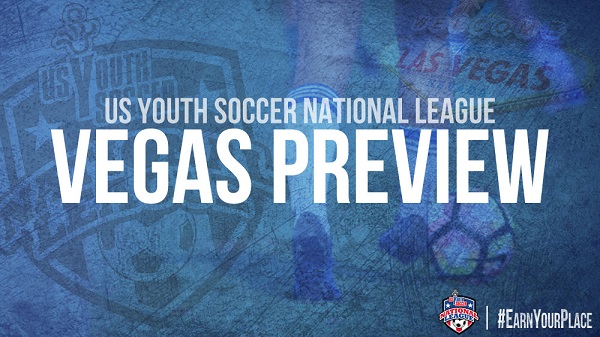 Click for division previews, games to watch and player notes…
14U Boys | 15U Boys | 16U Boys | 17U Boys | 18U Boys
FRISCO, Texas (Via US Youth Soccer) — The 2017-18 US Youth Soccer National League Boys season will wrap up play March 9-11 at the Bettye Wilson Soccer Complex in Las Vegas, Nev., as 72 teams — representing 24 state associations and 52 clubs — play their final games to solidify the division standings.
---
BLACK DIVISION
All four 16U Black Division teams competing in Las Vegas enter with a shot at the title. Idle Baltimore Celtic 2002 (MD) currently sits on top of the standings, but Washington Premier 2002 Black (WA) is just one point back after going 3-0-0 in North Carolina to begin its season. It's very likely Washington overtakes Celtic. The only question will be if it can hold off its remaining foes.
FC United Pre Academy 2002 (IL) is just three points behind Washington after it rebounded from a loss on the first day of play in North Carolina to win two straight. Meanwhile, Tuzos Academy 02 (AZ) joins Washington as the only other Black Division side without a loss. However, the Arizona side tied twice in North Carolina, so it has to aim for three points in each of its Las Vegas games to make a push for first place. Finally, Michigan Jaguars 02 Green (MI) is 1-1-1 and still in the race, but it has an uphill climb to make it to the top of the standings.
Game to Watch
March 10, Washington Premier 2002 Black (WA) vs. FC United Pre Academy 2002 (IL)
Each of the games early in the weekend will shape the scenarios entering the final day of play. This matchup could have as much of an impact as any, as FC United could potentially pull even with Washington with a win. The Illinois side must first take care of business on Friday, but if it can, it will add even more weight to the matchup with Washington. Each game featuring these teams has seen an average of roughly five goals per game, so there should be plenty of action in this one.
BLUE DIVISION
A pair of teams with 3-0-0 records highlight the 16U Blue Division, which will have an exciting competition for the group winner in Las Vegas. SC Waukesha 02 Blue (WI) posted a 4-2-0 records to secure 12 points and a momentary spot at the top of the division standings. However, that lead is likely to disappear during the course of the three days of play in Las Vegas.
St. Louis Scott Gallagher SC Elite (MO) and Boca OC 02 White (CA-S) each have nine points with three games remaining — making them prime contenders for the division title. Neither side has given its opponents much of a chance this season, as SLSG and Boca have conceded one and zero goals, respectively. Adding to the intrigue of the race for first place is the fact that both SLSG and Boca each won their division a year ago. Each followed a similar path that included a successful week in Las Vegas and key victory in a top-two matchup on the season's final day.
SCUFC 02 Elite (SC) and Excel Soccer Academy 02 (AZ) are each mathematically still in contention for first place, but they'll need to overcome a lot in just three days to catch the leaders.
Game to Watch
March 9, St. Louis Scott Gallagher SC Elite (MO) vs. Boca OC 02 White (CA-S)
The Blue Division weekend starts with a bang, as the two defending National League division winners clash on Friday. As mentioned above, each has proven difficult to break down, which could lead to a low-scoring game. St. Louis scored eight goals in North Carolina to Boca's four, but three months can change a lot — making it hard to predict what kind of form each team will be in when they take the field in Las Vegas. It will be interesting to see how each side approaches the game in this impactful matchup.
RED DIVISION
Through two weekends of play, the 16U Red Division still has no clear favorite to finish on top. All four teams competing in Las Vegas have a legitimate chance to secure the group's one ticket to the US Youth Soccer National Championships.
Midwest United FC 02 Royal (MI) was the most impressive team of the bunch in North Carolina, as it outscored opponents 13-to-0 while picking up three wins. However, Chicago Magic Soccer (IL) also managed to win all three of its early matches, as the Illinois side and Midwest head into the games in Las Vegas as the favorites to claim the division title.
If either of those teams slip up, Seattle United 02 Copa (WA) is ready to take advantage. The Washington side enters with seven points after securing two wins and a draw in December. And Folsom Lake Earthquakes (CA-N) has six points — putting it just five behind the current leader and only three behind Midwest and Chicago. With all four teams competing in Las Vegas so close to each other in the standings, the division outlook can easily change from day to day.
Game to Watch
March 11, Chicago Magic Soccer (IL) vs. Midwest United FC 02 Royal (MI)
March 11, Folsom Lake Earthquakes (CA-N) vs. Seattle United 02 Copa (WA)
Either or both of the games on the final day of the season could determine the Red Division winner. The matchup between Chicago and Midwest is a clear one to watch for, as both teams enter the final weekend with unblemished records. However, should either stumble during the first two days, the Earthquakes or Seattle United could have title hopes on the line on Sunday. There's a good chance the teams will have to keep an eye on the other group game, as each result could impact who earns the division's berth to the National Championships.
WHITE DIVISION
Defending National Champion Solar Chelsea Red 02 Stricker (TX-N) will being keeping a close eye on the results in Las Vegas, as it waits to see if it will secure a chance to defend its title this summer in Frisco, Texas. The scenario is simple for the North Texas side, which wrapped up its National League season with 15 points in the 16U White Division. Just one team can catch Solar, and it must win every game in order to do so.
That team chasing the defending National Champions is Club Ohio Green 1 (OH-S), which enters the final weekend of play with seven points. Club Ohio picked up one of its two wins with a 2-1 victory over Solar in North Carolina, so the Ohio South side has shown it can beat anyone in the division. That's just what it will have to do to make up the eight-point gap separating it and Solar.
Game to Watch
March 9, Club Ohio Green 1 (OH-S) vs. Santa Clara Sporting 02 Green (CA-N)
Each of Club Ohio's games carry equal importance, and you can't overlook a regional matchup with Sporting J. B. Marine Mann (MO) on the season's final day. However, this Friday match will set the tone for the rest of the weekend. If Club Ohio can settle in after a long trip to Las Vegas and earn a victory against Santa Clara, it will give the Ohio side some momentum entering its final two games. That could be just what it needs to make a run at the division title. However, it must overcome this first challenge before it can look ahead.