US Youth Soccer National League Las Vegas Preview: 15U Boys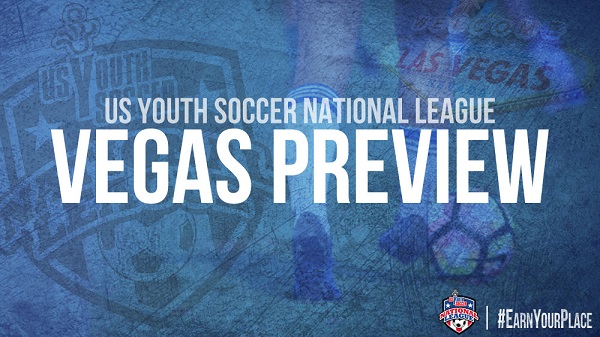 Click for division previews, games to watch and player notes…
14U Boys | 15U Boys | 16U Boys | 17U Boys | 18U Boys
FRISCO, Texas (Via US Youth Soccer) — The 2017-18 US Youth Soccer National League Boys season will wrap up play March 9-11 at the Bettye Wilson Soccer Complex in Las Vegas, Nev., as 72 teams — representing 24 state associations and 52 clubs — play their final games to solidify the division standings.
---
BLUE DIVISION
After the December games in Orlando, the teams with games left to play in the 15U Blue Division have a clear goal to reach if they want to advance to the National Championships. Both United SA Mount Pleasant 03B Premier (SC) and CFJ City 2003 Pre-Academy (IL) have finished their seasons with 13 points, and reaching that mark will be no easy task.
Just two teams in the division have a mathematical chance to surpass 13 points in the standings, and the most likely to do so is LVSA 03 Silver (NV). Aside from playing in its backyard, LVSA has the advantage of entering the final weekend with a perfect 3-0-0 record. The Nevada side needs just four points to pull even with the leaders, and its potent offense in North Carolina suggests it will have a good shot to do so.
Meanwhile, Tennessee Soccer Club 2003 (TN) is also within striking distance but it has no margin for error. Despite having a win, two draws and no losses, Tennessee cannot afford to drop any points in Las Vegas if it wants to catch USA/MP and CFJ — each of whom Tennessee tied in North Carolina.
Game to Watch
March 9, Tennessee Soccer Club 2003 (TN) vs. LVSA 03 Silver (NV)
As the only two teams left with a shot at first place, this is a clear game to watch on the first day of action in Las Vegas. Tennessee will need to win in order to stay alive for a top-two spot. If it can come away with the win, it will put pressure on LVSA entering the final two days of play. However, an LVSA win will give the Nevada side a clear path to a berth to Nationals, as well as the Blue Division title. With Tennessee having to go for the win, it should be an exciting, open game.
RED DIVISION
The top of the 15U Red Division has already been decided, as OK Energy FC Central 03 (OK) locked up first place in Orlando. However, with the top two teams in the 15U divisions heading to Nationals, there is still plenty to play for in Las Vegas.
CFA Dalton 03 Elite (GA) finished its season in December and currently sits in second place with 13 points. The teams chasing it during the final weekend of play will be Beadling (PA-W) and La Roca S CS (UT). Beadling has seven points after two wins and a draw during the open weekend of the season in North Carolina. That draw came against CFA, so should the two sides finish second and even on points, it would come down to goal differential to determine the second-place team.
La Roca will hope those scenarios become moot when it aims to jump into second during the course of the weekend in Las Vegas. The Utah side currently has six points, so it cannot afford a loss. However, its only defeat came in a tight match against division champ Oklahoma Energy, so La Roca has shown it can compete with the best in the group.
Game to Watch
March 10, La Roca S CS (UT) vs. Beadling (PA-W)
As with the Blue Division, the top matchup in the Red Division features the two teams who enter the final weekend with a shot at earning a berth to the National Championships. Should they each win on Friday, the stakes for this game will be raised even higher. Neither side will have the ability to clinch a top-two finish in this match, but the winner could grab control of its own destiny prior to the final day of the season. A draw could add some benefit for each team, but expect each side to play for the win in this key matchup.