US Youth Soccer National League Las Vegas Preview: 14U Boys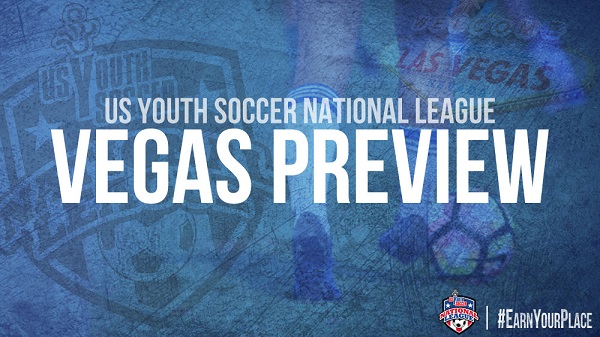 Click for division previews, games to watch and player notes…
14U Boys | 15U Boys | 16U Boys | 17U Boys | 18U Boys
FRISCO, Texas (Via US Youth Soccer) — The 2017-18 US Youth Soccer National League Boys season will wrap up play March 9-11 at the Bettye Wilson Soccer Complex in Las Vegas, Nev., as 72 teams — representing 24 state associations and 52 clubs — play their final games to solidify the division standings.
BLUE DIVISION
With all 14U Boys teams still with five games to play, no team is out of the hunt for a top-two finish and berth to the US Youth Soccer National Championships. That's especially true in the 14U Blue Division, where just one team — Nationals Union 04 Black (MI) — managed to win its first two games and one point separates second place from sixth. Nationals is a clear favorite heading into the games in March, but that can all change after the first day of play.
Potomac Soccer Association (MD) has yet to concede a goal and is just two points behind Nationals after picking up a win and draw in North Carolina. Those are the same results earned by Oklahoma Energy FC 04 Central (OK), which will aim to become the third team from its club to punch a ticket to the National Championships. Meanwhile, 2017 National Championship qualifier Real Jersey FC (NJ) is within striking distance, as its only blemish thus far is a narrow loss to Nationals on the first day of play. With so many teams bunched up in the standings, it's truly anyone's guess as to how the table will look when the final whistle blows in Las Vegas.
Game to Watch
March 11, Real Jersey FC (NJ) vs. Potomac Soccer Association (MD)
After a busy first two days of play, the teams will know just how much weight this matchup will hold. Potomac and Real enter the weekend second and fourth, respectively, so this game will have significant implications on the top of the standings if they can continue that form. Real has a tough matchup with Oklahoma Energy on Saturday, so the outcome of that one may determine what kind of momentum the New Jersey side carries into Sunday. No matter what unfolds prior to this matchup, it should be interesting to see how the stout Potomac defense handles the Jersey attack, which has produced the second-most goals in the division.

RED DIVISION
While the 14U Red Division features a little more separation from top to bottom, there's even less clarity as to which sides will claim the top two spots. NM Rush 04 (NM) picked up two wins in as many games, and an offensive outburst helped it post a plus-seven goal differential after just those two contests. That is good enough to send the New Mexico side to Las Vegas as the current leader in the division.
However, NM Rush isn't the lone two-win side in the Red Division, as Soltilo FC Los Angeles (CA-S) and Sporting BV SKC Academy 04 (KS) each have six points. Soltilo has yet to allow a goal while scoring five, and Sporting has shown an ability to perform in pressure situations — picking up both of its wins by a one-goal margin. With five games remaining, there is plenty of time for any of the remaining sides to make a move and vault to the top of the standings. However, the three sides who enter March with six points have a clear step up on the rest of the field and will look to recapture the form they displayed in North Carolina.
Game to Watch
March 10, Soltilo FC Los Angeles (CA-S) vs. Bethesda Blue 04 (MD)
Bethesda Blue played group leader NM Rush very close on the opening day of the season when it came up just short in a 2-1 loss. The Maryland side picked up a win in its second game and is just three points back of the top teams in the division. It has some tough matchups to open the weekend in Las Vegas, capped by this one against current second-place side Soltilo FC. Should Bethesda be able to pull out a victory in this matchup, it would shake up the top of the standings and leave things wide open entering the final day of the season. In order to earn a win, Bethesda will need to break down the Cal South side's defense, which has not conceded a goal yet this season.