US Youth Soccer National League Greensboro, N.C. Event: Day 1 Recap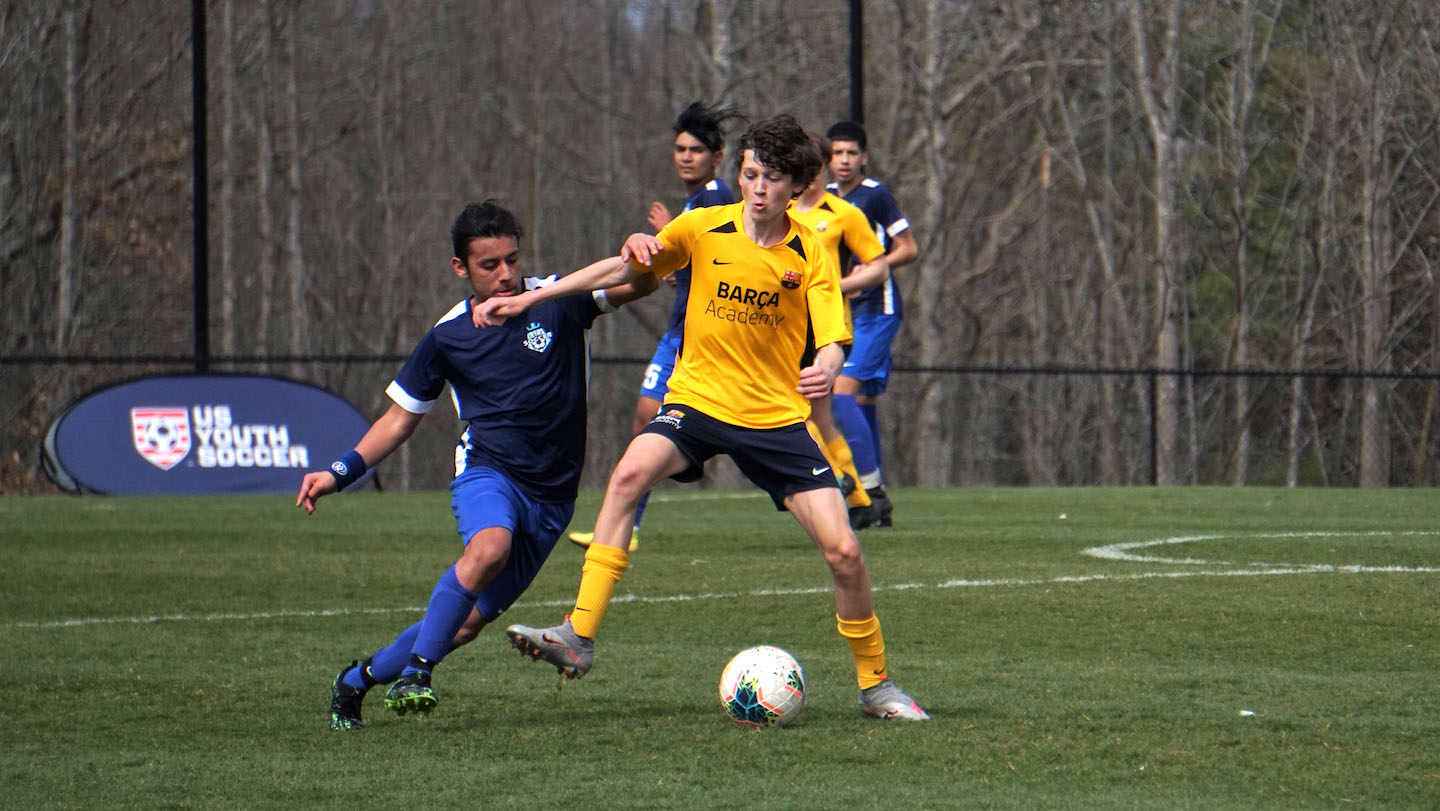 GREENSBORO, N.C. — National League Greensboro kicked off on Friday, as teams competed as part of either the US Youth Soccer National League Showcase Series or USYS National League Playoffs.
National League Greensboro games are taking place at BB&T Soccer Complex at Bryan Park and Truist Sports Park in the Greensboro, N.C., area.
The weekend in Greensboro will see teams from the 15U-19U Boys age groups compete in the National League Playoffs, as they pursue a berth to the 2021 USYS National Championships.
Teams in the Playoffs compete in a three-game group-play format that will see the first-place finishers advance to the National Championships. This weekend in Greensboro will see 10 boys teams clinch a berth to Nationals, joining the 16 teams that won their Playoff groups earlier in the season.
With just three games to decide the Playoff group winners, the teams wasted little time on Friday in ratcheting up the intensity.
In the 18U Boys age group, Oregon Premier 03B Academy (OR) played to a 1-1 draw in its Playoff opener against Louisville OESA-KY 03 Academy (KY). Oregon Premier coach Alex Hockborn said the National League produces one of a "very few events in the country where you can compete against this level of competition."
"What I love about this opportunity is that the boys now get to handle pressure. It's an opportunity to be in an environment where every minute matters," Hockborn said. "Today was a really important game to get a point on the board. The pressure of the environment really creates quality players, because they get to not only test what they're able to do with technique, but do it under actual stress and pressure."
With two days left at National League Greensboro, the Playoff sides know they need to make each result count in their pursuits of berths to the National Championships. In addition to the opportunity to qualify for Nationals, the meaningful games provide players with a chance to challenge themselves in an environment that is similar to what they'll see later in their careers.
"At this age, these guys are 2003s, so a lot of these guys have aspirations to play at the next level, whether that be in college, semi-pro or pro. The reality is that this the standard," Hockborn said. "If you want to make it at that level, you need to be able to show it across 90 minutes. Having been put under pressure for an entire 90 minutes and having those one or two players on the opposing team who can change a game, it really tests the players and stretches them — both physically and mentally."
A look back at Friday's action in the National League Playoffs…
15U BOYS
Raiders FC 2006 (IL) recorded a 3-0 shutout victory to earn an early spot atop the Group C standings thanks a goal differential advantage over fellow Friday winner Real Jersey FC 2006 (NJ). In Group D, very little separated the teams on the first day of action. CUP 06 Gold (OH-S) earned a 1-0 win to move to the top of the group, while Riverside City FC (CA-S) and West Pines United FC Elite (FL).
16U BOYS
After going a goal behind, Real Jersey FC 2005 (NJ) fought back to secure a 3-1 win — allowing it to stand alone with three points in the Group C standings. In Group D, Santa Clara Sporting 05B Green (CA-N) and Pitt Greenville SA 05 Boys (NC) each earned close wins, with the Cal North side having a slight early edge in goal differential.
17U BOYS
A 2-0 victory helped Downtown LVSC 04 Gold (NV) take an early lead atop the Group C standings. The shutout allowed the Nevada side to gain a goal differential edge over CUP 04 Gold (OH-S), which also won its opening match. In Group D, just one goal separated the teams in each matchup. PA Dominion FC 2004 Boys (PA-E) and JB Marine Academy 2004 (MO) each came out on top in the tight contests, but all four sides are very much in the title hunt heading into the weekend.
18U BOYS
Bethesda Blue 03 (MD) is the lone team with three points in Group C after it secured a 3-1 win on Friday. Meanwhile, Baltimore Celtic 2003 Premier (MD) scored the only goals in Group D on the first day of play. Its 2-0 win — coupled with a scoreless draw in the other match — gave the Maryland side an early advantage in the standings.
19U BOYS
Group C is as tight as can be after one day of action, as both matches ended in draws. Riverside City FC B02 Academy (CA-S) and Liverpool FCIA Central MD 2002 Boys (MD) tied, 1-1, while LVU-FPA 2002 Boys and Michigan Jaguars 2002 Green (MI) played to a 3-3 draw. In Group D, a pair of high-scoring matches saw Sparta B02 Premier MD/KC (UT) take an early place atop the standings thanks to a goal differential edge over Strikers Miami (FL).
For more information on the National League and each of its competitions, including the National League Playoffs, click here.