US Youth Soccer National League Girls standings taking shape on Day 3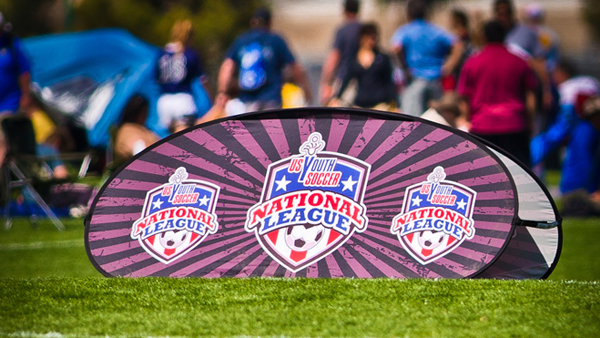 Day 3 of 4 complete
Scores and Standings | Get National League News | Video | Live Broadcast Replays
WILSON, N.C. (Via US Youth Soccer) — Just one more day remains in the opening weekend of the 2015-16 US Youth Soccer National League Girls season, with Sunday's matches solidifying team standings until the next meeting in Orlando, Fla., Dec. 31 – Jan. 2, alongside the Disney Soccer Showcase.
The third day of league play in Wilson, N.C., tends to separate the field as teams settle in after an anxious start to the season. While several teams have begun to make strides in the group standings, few divisions have a clear favorite to claim the title. The top two teams in seven of the 10 divisions are separated by one point or less, and five of the divisions contain ties atop the standings.
The competitiveness of the league has been on full display through three days of play in North Carolina, as just nine teams remain unbeaten and untied. Combined with the fact that spots in the 2016 US Youth Soccer National Championships are on the line, the National League games provide college coaches and U.S. Soccer staff the opportunity to see how the teams and players perform in an intense environment.
While every game provides a test for teams, few sides have had the type of challenge that Under-16 Cleveland FC (OH-N) faced in its first few games — facing both the defending National Champion and 2015 National finalist to start its season. Cleveland coach Ross Nicol, whose team built on the momentum from those two matchups to claim a 4-0 win on Saturday, said a couple years of experience in the league has helped his team get off to an excellent start.
"This is our third year in the National League, and I've never had a game like we had there. Nearly every game we've played has been decided by one goal," Nicol said. "We're talking most of our 15 games in the National League that have seen one goal that's decided it. Every single game is a battle. Every single game is a challenge. We get fantastic competition here."
Nicol said returning to the National League each season is a goal his team talks about, and it acts as a motivator in US Youth Soccer Midwest Regional League and Regional Championship competition. The same is true for many of the sides that are competing in North Carolina, as all have secured past success to make into the National League.
For Under-15 Century V Gold (PA-W), which earned its first win on Saturday, the team is excited to continue its push for a division title after putting in the work to qualify for the National League.
"Speaking for my team, we had to play through the Region I Champions League against a lot of these teams. We had to win the league in order qualify," Century V coach Randi Rohm said. "Being able to go through that process is a tremendous accomplishment for the girls because it's very tough to get here to the National League."
National League teams earn their place in the league based on a proven track record of success in US Youth Soccer regional and national competitions and are among the nation's best. Competing for a league title and a spot in the US Youth Soccer National Championships, each and every game will play into who represents the National League this summer in Frisco, Texas.
The National League is an extension of the US Youth Soccer Regional Leagues (US Youth Soccer Region I Champions League, Midwest Regional League, Southern Regional Premier League and Far West Regional League). The National League provides an avenue for teams to play in meaningful matches against top competition from across the country for continued development and opportunities for exposure at the national team, collegiate and professional levels.
National League Girls teams will wrap up their opening week of play on Sunday, Dec. 6, as they each play their fourth game of the season. Complete standings, scores and schedules, including goal scorers and match information, can be found at the results page here. Click on the score of each game for more information.
Some highlights from Saturday's matches…
Under-14
The Under-14 Blue Division has featured several close matchups through three days of play. With a scoreless tie against South Shore Select Elite (MA) on Saturday, Legends FC 01 (CA-S) remained in first place with seven points. South Shore sits in third place with five points while Tennessee SC 20 (TN) earned a win Saturday to jump to second place with six points.
In the Under-14 Red Division, CUP Gold 01/02 (OH-S) earned its third win on Saturday to stay in first place, while Greater Binghamton United FC (NY-W) tied to remain undefeated and in second place with seven points. Fullerton Rangers 01 White (CA-S) has a win and two ties and sits in third place with one day of play left in North Carolina.
Under-15
Century V Gold (PA-W) remained in the thick of the Under-15 Red Division race with a 1-0 victory over South Shore Select Elite (MA). The Region I teams played a very close game and went to halftime in a scoreless tie. In the 58th minute, a Century V player put a little too much gravy on a shot from distance that hit the crossbar, but Sarah Sinnott won the race to the loose ball and slid it home to put her side in front. Century V's defense made sure that goal held up, as it hung on for the clean sheet to give the Pennsylvania side its first win of the week.
In the Under-15 Blue Division, Midwest United FC 01 Royal (MI) has a firm grasp on first place after earning its third win on Saturday with a 2-1 victory. HBC Impact 00 (NY-E) and OFC 01 Phillips (OK) are tied for second place with a win and two draws apiece.
Under-16
Elsewhere in the Under-16 Red Division, Cleveland FC (OH-N) remains at the top of the division after a 4-0 win over SDFC Panthera (NJ). After a scoreless first half-hour of play, Cleveland's Janiece Joyner struck for two goals — beating the keeper for her first and then finishing through a defender after SDFC cleared a couple of attempts off the line. Vanessa DiNardo and Brooke Weitzel also added goals for Cleveland. By coming away with seven points following a difficult stretch of games that includes matches against both 2015 National Championship finalists, Cleveland is in good position in the division standings entering the final day of play in North Carolina.
Solar Chelsea Elite 00 (TX-N) earned a key win on Saturday to stay alive in a tight Under-16 Red Division, as it edged LA Galaxy SB Elite (CA-S), 1-0. The North Texas side came close to breaking through on a couple Messiah Bright attempts on goal, but the LA Galaxy keeper was positioned well to make both saves. The Solar keeper matched her counterpart minutes later by fully extending to tip a Galaxy shot over the bar. With both keepers putting in strong efforts, it took a wonderfully placed shot from Solar's Michaela Sheehy to break the deadlock. Sheehy curled a left-footed strike just inside the far post to give Solar a 62nd-minute lead, and it hung on for the 1-0 victory.
A pair of Cal South sides sit atop the Under-16 Blue Division, as Carlsbad Elite 99 (CA-S) and Albion SC White (CA-S) have each won their first three contests of the season. FC Pennsylvania Strikers (PA-E) and CUP Gold 99/00 (OH-S) are tied in third place with six points after the Strikers won a matchup between the two, 2-0, on Saturday.
Under-17
After conceding an early goal, YMS Premier Xplosion 98 (PA-E) stormed back to earn a 3-1 win over Beach FC 98 Academy (CA-S) in a matchup of 2-0 teams. Beach took a sixth-minute lead when Monique Ponce found the back of the net, but 2015 Golden Ball winner Murphy Agnew replied for YMS to level the score at halftime. Agnew then gave YMS the lead in the 75th minute, and forward Andrea Amaro added a late insurance goal to cap the 3-1 win to make the Pennsylvania side the lone unbeaten team in the division.
The Under-17 Red Division featured another pair of 2-0 teams in FC Kansas City Forte Elite (MO) and Arsenal FC Bowers (CA-S), who remain tied in the standings after playing to a 1-1 draw on Saturday. Arsenal grabbed an early lead when Jordan Dow found the back of the net in the 10th minute. The game went from end to end, as each team pressured the opponent's goal. In the 75th minute, FKCK managed to pull even on a strike from Abigail Groom, and the game ended that way as the team's split the point with the draw.
In the Under-17 Blue Division, Legends FC 98 (CA-S) sits on top of the standings with seven points. Kings Hammer Academy Red (KY) picked up its second win of the week to move into second place, while Team Chicago Academy-Brasilia (IL) is in third with a win and two draws.
Under-18
Syracuse Development Academy 97/98 (NY-W) picked up its second win of the week by holding off Tennessee SC 16 (TN) for a 1-0 victory in the Under-18 Blue Division. After a scoreless first half, Jade Gentile put Syracuse in front in the 50th minute when she powered her right-footed strike inside the far post. Tennessee continually threatened the Syracuse goal for the remainder of the game and had several close calls — including a goal called back for offsides and a shot that hit the crossbar. Syracuse managed to hold off the Tennessee pressure and came away with the hard-earned 1-0 win.
In the Under-18 Red Division, MD United Coyotes (MD) and NJ Stallions Dynamite (NJ) each picked up wins on Saturday to remain perfect on the season and on top of the division standings. Meanwhile, the two 2015 National Championships finalists — Beach FC Academy 97 (CA-S) and Tampa Bay United 97 Premier (FL) — sit in third and fourth, respectively.