US Youth Soccer National League Girls begin final weekend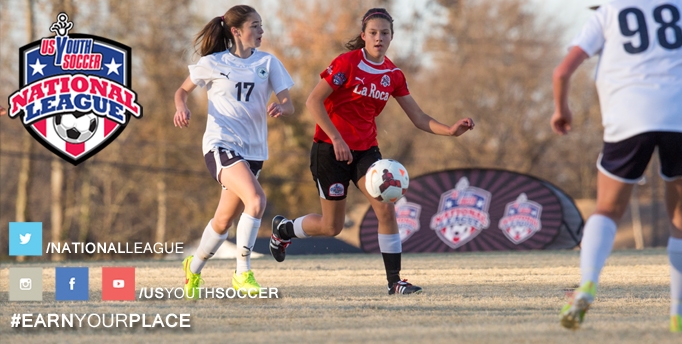 LAS VEGAS, Nev. (Via US Youth Soccer) — The US Youth Soccer National League Under-14, Under-15, Under-16, Under-17 and Under-18 Girls resumed league play Friday with college coaches and U.S. Soccer scouts lining the fields at the Bettye Wilson Soccer Complex in Las Vegas, Nev. All Under-14 squads are competing this weekend, while half of the field is represented in the Under-15 through Under-18 age groups.
When the National League Girls' standings are finalized on Sunday, March 22, the top two finishers from each age group division will earn a spot in the 2015 US Youth Soccer National Championships, July 20-26 in Tulsa, Okla., and the top two finishers in the Under-14, Under-15, Under-16 and Under-17 age groups will secure their place in the league next season. All teams displayed determination when they kicked off their weekend in Las Vegas on Friday, as many entered play with division titles and berths to the National Championships on the line.
The league standings remain tight, as Friday saw just one more team — Under-15 Legends FC 99 (CA-S) — punch its ticket to the National Championships. Legends coach Josh Hodges said the National League is filled with quality teams and each and every game is difficult. His side is still going to work for the division title, which he knows is an impressive accomplishment given the level of competition in the league each year.
"We want to clinch the title, for sure," Hodges said. "We ended up finishing second last year. We definitely want to win the National League this year and put our club in the position to even set the record for the most National League titles."
With many of the divisions so tightly matched, the intense action on Friday provided college coaches with a great environment to watch players compete in meaningful matches. Under-16 Kings Hammer Academy Red (OH-S) was one of several teams that took advantage of its opportunities to showcase quality soccer while also picking up an important win that helps it in the division standings.
Kings Hammer coach Chris Black said his team handled the transition from snowy Ohio to a warmer climate well on Friday, but they still have to prepare and be ready for two more difficult opponents. A top-two finish in their group and berth to Nationals is certainly the goal for Kings Hammer, but the Ohio side has already seen other benefits of earning the opportunity to compete in the league.
"The National League is awesome in terms of having a great atmosphere, a lot of college coaches, and you're playing against some of the best teams in the country," Black said. "From a player development standpoint, that's where everybody wants to be and this has it."
There are still several heated races for division titles and top-two finishes. Heading into Saturday's games, 39 teams are still alive in their hunt for a ticket to the 2015 National Championships.
2015 US Youth Soccer National Championship Qualifiers via the National League
*qualified Friday
Under-15
Blue Champion: Tophat 18 Gold (GA)
Red: Legends FC 99 (CA-S)*
Under-16
Blue: Tophat 17 Gold (GA)
Red Champion: JFC Storm 98/99 (FL)
Under-17
Blue: Tampa Bay United 97 Premier (FL)
National League Girls action continues Saturday, March 21 at Bettye Wilson Soccer Complex with games at 8 a.m., 10 a.m. and 12 p.m. PT.
The National League is an extension of the highly successful US Youth Soccer Regional Leagues (US Youth Soccer Region I Champions League, Midwest Regional League, Region III Premier League and Far West Regional League). The National League provides an avenue for teams to play in meaningful matches against top competition from across the country for continued development and opportunities for exposure at the national team, collegiate and professional levels.
National League teams earn their place in the league based on a proven track record of success in US Youth Soccer regional and national competitions and are among the nation's best. Competing for a league title and a spot in the US Youth Soccer National Championships, each and every game will play into who represents the National League this summer in Tulsa, Okla.
Some highlights from Friday's matches…
Under-14
After falling behind Under-14 Blue Division leader Greater Binghamton United FC (NY-W) early, Dallas Kicks SC (TX-N) used a determined second-half to post an impressive 4-1 win. Victoria McKnight gave GBU a 15th-minute lead that lasted nearly 40 minutes of play, as the New York side continued the impressive form it displayed in North Carolina. However, the Kicks' Emilie Torres netted a 52nd-minute equalizer, which sparked an 8-minute span that saw Dallas score four goals. Jaida Thomas and Adrienne Arriaga each found the back of the net, and Torres scored her second as Dallas earned the 4-1 win to jump into first place.
In the Under-14 Red Division, CUP Gold 00/01 (OH-S) remains on top after a 2-0 win Friday against OFC 01 Phillips (OK). In the 30th minute, Eva Kiper received a cross to the back post and calmly struck a first-time shot across her body and inside the far post to give CUP a 1-0 lead. Both sides exchanged chances before Kiper added an insurance goal for CUP in the closing minutes. The OFC keeper did well to deny a great CUP chance with a quick reaction save, but Kiper managed to convert the rebound and cap her side's 2-0 win. CUP has a three-point lead atop the standings, but it faces second-place South Shore Select Elite (MA) in an exciting matchup on Saturday.
Under-15
In the Under-15 Blue Division, La Roca Premier PO (UT) jumped into third place with a 1-0 victory over Corinthians SC 99 (CA-S). Marli Niederhauser provided the game's lone goal when she beat the keeper in the 13th minute. The La Roca defense made sure that tally held, as it recorded its second clean sheet of the season. The Utah side is now one win away from moving into second place, but Saturday's opponent — LA Galaxy SB Elite (CA-S) — is just two points behind La Roca and looking to make a move in the standings.
Legends FC 99 (CA-S) secured at least a top-two finish in the Under-15 Red Division with a 2-1 win over Tennessee SC 18 (TN). It took just seconds for Kaylee Ramirez to find the back of the net and give Legends a first-minute lead. However, Emma Leasure responded for Tennessee in the 30th minute to send the match to halftime even at 1-1. Ramirez put Legends back in front early in the second half, and the Cal South side hung on for its fifth win in as many games.
Legends can clinch the division on Saturday, but it faces a Penn Strikers side that is still looking to finish in the top-two of the group. Strikers dropped a tough 1-0 decision to Carlsbad Elite 99 (CA-S) on Friday in another very competitive game between a pair of Red Division sides.
Under-16
Kings Hammer Academy Red (OH-S) jumped Beach FC 98 Academy (CA-S) in the Under-16 Red Division standings thanks to a 1-0 win Friday against the Cal South side. Beach entered the day with a chance to clinch a top-two finish, but instead came up just short against an organized Kings Hammer side. Payton Black got on the end of a free kick to give the Ohio South squad a lead just before halftime. Kings Hammer managed to keep Beach from finding the back of the net, as it held on for the important shutout victory. The win pulls Kings Hammer even with Beach in the standings, and the result also means defending National Champions JFC Storm 98/99 (FL) wrap up the division title.
YMS Premier Xplosion 98 (PA-E) is close to securing at least a second-place finish in the Under-16 Blue Division thanks to a 2-0 win on Friday. The Pennsylvania side has come up just short in the National Championship final the past two seasons, and it will look to take advantage of its chance to earn a trip back to Nationals with a positive result on Saturday.
Under-17
Defending National Champion Beach FC Academy 97 (CA-S) earned a 6-3 win over Tennessee SC 16 (TN) in a thrilling Under-17 Red Division game filled with several high-quality goals. Kaitlin Fregulia scored twice in the first 15 minutes to give Beach a two-goal advantage before Salera Jordan pulled Tennessee back within one in the 29th minute. Just seconds after the second half kicked off, Rocio Rodriguez was played in behind the defense and tucked her shot inside the left post to push Beach's lead back to two goals. Fregulia added her third before Maxine Nagramada hit a first-time half-volley from 20 yards that flew inside the left post — extending the Beach advantage to 5-1. Tennessee's Karlie Paschall immediately responded off the restart with a nice chip over the keeper that found the back of the net. Fregulia and Paschall each added one more goal for their respective sides, as Beach held on for the 6-3 win.
NJ Stallions Dynamite (NJ) kept its top-two hopes alive by playing Carlsbad Elite 97/98 (CA-S) to a scoreless draw on Friday in Under-17 Blue Division action. Neither side managed to break down the opposing defense, as the two teams eventually settled for a point each in the standings. Carlsbad missed an opportunity to move six points clear of the rest of the teams playing in Las Vegas, but it is still in control for a top-two finish and possible division title.
Under-18
In a very tight Under-18 Red Division, Pride Predators 97 (CO) picked up an important 4-1 win over Farmingdale United (NY-E). The New York side controlled play early and took the lead when Mackenzie Kober gathered a loose ball after a free kick and hit it low and hard into the far corner. Pride quelled the initial Farmingdale pressure and equalized in the 30th minute on a Madison Tominello tally. The Predators' Caitlin Esterle struck to give Pride the lead shortly after, and Reece Hummel doubled the advantage in the 59th minute. Amanda Burke capped the 4-1 win with a 78th-minute goal, as Pride moved into third place with the victory. All four Red Division teams are still very much in the hunt for a top-two finish with just two days of play remaining.
Beach FC Academy (CA-S) won its Under-18 Blue Division matchup to move into a three-way tie for second place. Meanwhile, two-time defending National Champions DMCV Sharks Elite (CA-S) posted a 3-0 victory to keep their hopes alive of earning a berth back to Nationals through the National League.