Top teams face off on Day 1 of Jefferson Cup Girls Showcase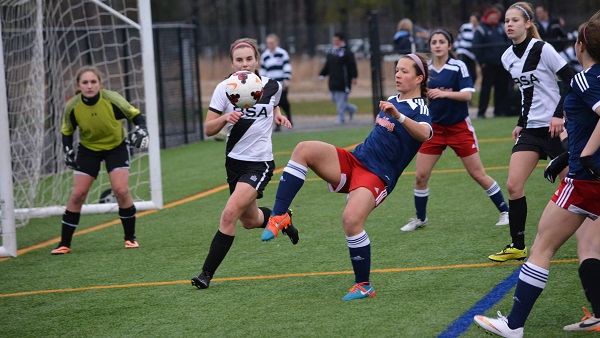 RICHMOND, Va. – The 2015 Jefferson Cup Girls Showcase Weekend kicked off on Friday with a day of close games across the U-15 to U-18 age groups. Several games ended with dramatic equalizing and game-winning goals as teams battled to vault themselves to the top of the brackets on Day One.
One of the most thrilling finishes of the day came in the U-16 Elite Black Division where New Hampshire State Cup champion Sea Coast United Elite 98/99 won 1-0 over South Carolina State Cup champion SC United FC Mt. Pleasant 98 Elite on a goal in the final seconds of the match.
Seana Gosselin (2017) scored the game-winner on an assist by Gretchen McGrath (2017) after a tough defensive battle throughout the contest. Sea Coast had pushed into SC United FC's defensive third multiple times, but South Carolina's back line led by Hannah Betfort, Mackenzie McAvoy (2017) and Madeleine Job had a strong effort as well. Ultimately, Sea Coast was able to find an extra wave of energy in the closing seconds to break through in the end.
+READ: Nation's elite head to Richmond for Jeff Cup Girls Showcase Weekend
"We did a good job of holding possession but we weren't able to find that final ball until the final seconds of the match," said Sea Coast Director of Coaching Chris Scott. "In the first half we struggled to get going but in the second half they started coming into their own. We have a team full of very fit athletes."
Center back Lauren Triglione was instrumental defensively for Sea Coast, covering valuable real estate in front of the box and making several key clearances.
Along with Sea Coast, Premier SC Real (MD), Fredericksburg FC Elite Impact (VA), Vienna YS Thunder Black (VA) and Delaware Rush 98 opened the weekend with wins in the U-16 Elite Black Division.
+READ: SoccerWire Q&A: Duke's Robbie Church talks Jeff Cup, recruiting, spring match vs. UVa
See below for a few more highlights from Friday at the Jefferson Cup Girls Showcase Weekend…
U-15
Cleveland FC 2-2 FC Virginia United – Championship Division
In a dramatic U-15 Championship division match, Cleveland FC battled back from a two-goal deficit to tie FC Virginia United 2-2.
Virginia went ahead 2-0 in the first half on a free kick by sophomore Karen Lohrmann and another by freshman Amy Thompson.
But just as it looked like Virginia would take a two-goal lead into the break, Cleveland's Brooke Weitzel, a freshman, headed home a corner kick from fellow 9th grader Victoria Baker to have the lead just before the whistle.
An even and back-and-forth second half yielded neither an insurance goal for Virginia nor a tying goal for Cleveland. But with about 10 minutes remaining Janiece Joyner, a freshman who had a strong game in front of the college scouts at central defense, pushed forward into a target forward role.
The move played dividends as Cleveland began creating more chances and was denied a tying goal on a very nice diving save by Jordan Silkowitz.
But minutes later, Joyner collected a direct pass about 35 yards from goal, beat two defenders and then rounded Silkowitz and fired a shot that just tucked under the crossbar right before the final whistle.
"I was really proud of how we battled back and never quit," said Cleveland coach Ross Nicol. "We played them a year ago last spring at the FC Delco tournament and lost 3-0 so this is a good measuring stick for how far we've come."
"It's always frustrating when you have like 10 seconds to go and give up a goal but it's a good learning experience for us, especially on the first one," said Christian Cziommer.  "But they're 15 years old and they still have a lot to learn about what they need to do to get better and improve and this is what makes the game interesting. It's frustrating but we want to learn from it and make sure they take away something from this."
Nicol said he had to fight the temptation to push Joyner up top earlier in the game. "She was playing so well back there and I didn't want to push her up too early and leave us exposed," he said. "But with about 10 minutes left I decided it was time… She's a tremendous player who is being recruited by North Carolina and could likely play anywhere in the country."
NEFC Elite 3-1 PDA – Championship Division
US Youth Soccer National Champion NEFC Elite has jumped out to an early lead in the U-15 Championship Division with a 3-1 win over PDA Gunners Blue. Forward Marykate McGuire (2018), whose 7 goals at the 2014 US Youth Soccer National Championships was four more than any other player, had a brace on Friday against PDA. She scored the first and third goals of the game for NEFC, scoring the third on a blast into the right side of the night from the top left corner of the box.
"MK is fantastic up top, she knows how to score goals as well as anyone in the country," said NEFC coach Carl Tarabelli.
Along with McGuire, midfielder Taylor Kofton (2018) was terrific for NEFC Elite, scoring a goal of her own and providing a dazzling assist on a cross for McGuire's first goal. McGuire assisted Kofton's goal as well, rolling a ball in to Kofton cutting through the center of the PDA defense who struck with a powerful finish into the left half of the net.
"Taylor makes it look easy, she is such an impact player," said Tarabelli. "Not only can she feather passes and thread the needle, she can take players on. She's just a dominant player."
While McGuire and Kofton racked up offensive numbers, it was a team effort from front to back for NEFC which will face ECNL powerhouse FC Virginia and Region II champion Cleveland FC in the coming days.
"We didn't just want to win, we wanted to play our style of football and I think we did that," said Tarabelli. "We possessed well, we combined, and not only did we win the 50-50s we looked to create opportunities for each other. We've been looking forward to the quality of this tournament since the brackets came out, and we're excited to face FCV and Cleveland. Their reputations precede them."
Kara Borden (2018) scored a late second half goal for PDA which will face Cleveland FC on Saturday and FC Virginia on Sunday.
U-16
Vienna Thunder Black 3-1 New Jersey Rush – Elite Black Division
In a U-16 Elite Black division matchup, Vienna Thunder from Virginia rallied to beat New Jersey Rush 3-1.
Vienna controlled most of the match but had nothing to show for its effort then found itself trailing early in the second half after a well-struck side-volley from about 25 yards by Shannon Ahern caught Vienna's goalkeeper off her line and just dipped under the cross bar.
Vienna didn't panic and was finally rewarded when Caroline Grundy's pressure of the Rush goalkeeper forced a turnover and she finished easily into an open net.
Minutes later Vienna playmaker Camryn Conklin got loose on the left flank and her well-placed cross was one-timed home by Grundy to make it 2-1.
With New Jersey pressing forward for the equalizer, Conklin was sprung free on a breakaway and calmly rounded the 'keeper to make it 3-1 just before the final whistle.
"We knew we were playing well and we just had to stick with what we were doing. We definitely worked hard and tried to keep the ball and create chances and play smart," said Conklin. "I knew if we kept creating chances that eventually they'd start to fall for us."
Vienna coach Nadir Moumen said staying calm helped his team rally. "I probably can't say what I was thinking," Moumen said with a chuckle. "But we never wavered from what we do. We like to possess the ball and create a lot of chances. It's a fun way for the girls to play and they really seem to like it and today it helped us get back in the game and win it."
Beadling United 3-1 Buffalo SA Crusaders – Elite Orange Division
In a U-16 Elite Orange division game with a slew of Division I coaches watching from the sidelines, Beadling United from Western Pennsylvania beat Buffalo SA Crusaders 3-1.
Beadling's Makena Silber (2018) recorded a brace, scoring the first and last goals of the game. After Silber put Beadling ahead early in the first half, her teammate Deena DeBaldo (2017) curled a corner kick directly into the goal just before halftime.
Buffalo's Marissa Birzon (2017) had a strong second half with several dangerous runs and was rewarded for her work with a goal that made it 2-1. However, Silber would put the game out of reach when she followed up with her second goal of the match.
Because of their geographic proximity, the two teams were quite familiar with each other and both teams have players from Eerie, Penn., which is equidistant between the two clubs. "This is a team we're very familiar with and have a lot of respect for," said Beadling coach Rob Fabean. "There was a lot of future D-I talent out there today on both teams, which is probably why there were close to 100 coaches on the sidelines today. I think both teams put on a really good show and we're pleased to have gotten the result."
U-17
+READ: Jefferson Cup: U-17 girls scramble, adapt as Friday rain forces reschedules
Richmond United ECNL 1-0 Bethesda ECNL Eclipse 97
Regional rivals played out a tense, dramatic Elite Clubs National League clash under the lights at the River City Sportsplex on Friday evening, squeezing in a league match before meeting less-familiar tournament competition in the Championship bracket of the showcase weekend.
Originally scheduled for mid-afternoon at West Creek, the match was pushed back to an nighttime start that Richmond coach Jay Howell thought might've helped his players during a packed period in their calendars.
"It was supposed to kick off at 2, we were supposed to be at West Creek on the grass," said Howell. "We recognized early in the day that was not going to happen, and so we made some adjustments. It was important that the girls get as much rest as possible also, so I thought that it was great that we were able to move it a bit later because we had a bunch of girls that played in high school games last night.
"The rain, in a weird way, may have helped us a little bit."
With temperatures dropping steadily in misty, clammy conditions, it seemed that neither defense would yield over the run of play. But Richmond United's Bailey Cristian stunned Bethesda with a late goal to deliver the host side a 1-0 victory that will go a long way towards Richmond's hunt for a postseason place out of the ECNL Chesapeake Division. And more than a dozen NCAA scouts were on hand to take in the two clubs' side-by-side U-16 and U-17 matches.
"This kickoff actually worked out well," said Howell. "It was nice that a lot of college coaches stayed and watched, which was fantastic. Their presence here has been great all day, even with the weather being a little bit rough. So it's been a good day."
Lakeshore UF17AAA (Canada) 2-1 Montgomery United SC Black Magic
As hours of steady snow and rainfall across the Mid-Atlantic region forced Jefferson Cup organizers to scramble for scheduling solutions on Friday, coach Gilles L'Esperenace and his Lakeshore squad from the west side of Montreal, Quebec sat and waited, wondering if winter's icy grip had followed them south.
"We thought we were going to come to more hot weather!" joked L'Esperenace, whose team carry Canada's elite "AAA" tag and thus compete at a province-wide level back home.
Their meeting with Black Magic, who hail from Landsale, Pennsylvania, was eventually moved to a 9:30 pm ET kickoff at River City – and it was better late than never, as the sides' contrasting approaches made for a useful exercise.
Lakeshore's patient possession buildup was tested by Black Magic's sharp pressing and very high defensive line, and an early 2-0 lead for the Canadians was nearly erased as both the hands and feet of Lakeshore goalkeeper Tanya Cierson were kept busy for the duration. The result hung in the balance until the very end, but time ran out on the Pennsylvanians' comeback hopes for a 2-1 final.
"The other team was very strong, very physical, very quick," said L'Esperenace. "They tended to go for through balls. And so our girls had to adapt a little bit – and we have still have a few things to work on. It was very interesting.
"This is a famous cup – it's well-known even in our part of the world," he added. "And we know it attracts a lot of university coaches recruiting, and as you maybe have seen, we have a lot of talent on the team. More than half the girls would like to have the opportunity to play soccer in the States at the university level."
Match Fit Academy FC ECNL (N.J.) 3-0 Shattuck-St. Mary's Sabres (Minn.)
"What a lovely day, guys," joked one member of the Shattuck-St. Mary's Sabres as the team arrived at the damp, foggy River City Sportsplex ahead of their first match of the 2015 Jefferson Cup.
When a Minnesotan is lamenting the biting weather conditions, you can be certain it's chilly. And the result was a cold slap for the Midwesterners, too, as two penalty kicks conceded in a five-minute span of the first half sent Shattuck-St. Mary's to a 3-0 loss to New Jersey power Match Fit Academy at River City in one of several rescheduled kickoffs on Friday night.
"It's a young team," said Shattuck-St. Mary's coach Dave Lovercheck, whose program is the rare example of a team (in this case, a boarding school's) combining the best aspects of club and high-school participation. "To give up two penalties in five minutes there in the first half changed the game a little bit for us. We were pressing to get another one and gave up a later one.
"Obviously we'd like to win the games. But this is a showcase and the point really is to to get the players seen and hopefully showcase them in a way that college coaches are interested."
Despite the busy efforts of Sabres attackers like Hayley Moore, Lauren Crenshaw and Alaysia Lane, Match Fit's towering center-back duo of Victoria Coppa and Caleigh Farrell anchored a confident clean-sheet performance.
U-18
New York Rush Patriots 1-1 Potomac Hotspur – Championship Division
In a U-18 top flight game featuring players bound for some big Division I programs, New York Rush Patriots 98 battled to a 1-1 draw with Maryland's Potomac Hotspur. Killian Donohoe scored for the New Yorkers while Kate Morrison (2016) found the net for Potomac.
Not surprisingly, defenses ruled the day in this game. Hotspur's backline is anchored by towering center-back Maya Joi Cherry, who will be playing college soccer this fall in the SEC for Georgia. Meanwhile, Rush left back Heidi Druehl signed with perennial power Connecticut earlier this year.
As the game wore on, Druel gradually pushed forward more and she and Cherry put their athleticism toe-to-toe late in the match, competing for a loose ball that sent both of them sprawling to the turf.
Afterwards, New York coach Steve Davis was pleased with the draw. "A fair result," he said. "Considering we haven't been able to train outside because there's three feet of snow back home, we're just happy to be outside again. This is our first time being outside, training or playing, since we were at the Disney Showcase (in Orlando) on January 3."
Loudoun 95 Red 1-0 Southampton SA Storm – Elite Division
Alexandria Stanford (2015) scored a late first half goal for Loudoun, which would be all her team needed to seal the win.
McLean YS ECNL 5-0 PWSI Courage 96 Red – Championship Division
McLean earned a statement win against PWSI scoring four second half goals and taking the match 5-0.
McLean has played PWSI plenty, and things were fairly even on the scoreline in the first, but clinical finishing, led by Lauren Harkes, cemented the impressive result in the second. Harkes, the daughter of former Virginia and U.S. Men's National Team star John Harkes, grabbed a hat-trick and an assist.
"We cleaned up a lot of the things from the first half. We finished a lot of our chances," McLean coach Nadir Moumen said.
Moumen wanted his team to play as hard as possible, looking for the result and preparing girls for the next level.