Jefferson Cup: U-17 girls scramble, adapt as Friday rain forces reschedules
RICHMOND, Va. – Even on the first day of spring, the nasty winter of 2014-15 still packed a punch in Virginia on Friday as waves of snow, sleet and rain washed over the opening day of the Jefferson Cup girls showcase weekend, forcing a litany of reschedules and cancellations.
But tournament officials packed in extra games on the area's many artificial-turf fields and, when left with no other option, moved some to Saturday in order to provide players and college scouts with the exposure both sides craved.
Under-17 match play under the lights at the River City Sportplex, in particular, ran all the way into the 11 p.m. hour.
"All we talked about was trying to get everybody the chance to play all of their games if it's possible," Richmond Strikers coach Jay Howell told SoccerWire.com. "It's difficult, but I think the girls appreciate the opportunity to play.
"Is it perfect? No, because we don't really want to get into playing two games in one day. But the players came here to play and they want to have the opportunity to be showcased."
Richmond United ECNL 1-0 Bethesda ECNL Eclipse 97
Regional rivals played out a tense, dramatic Elite Clubs National League clash under the lights at the River City Sportsplex on Friday evening, squeezing in a league match before meeting less-familiar tournament competition in the Championship bracket of the showcase weekend.
Originally scheduled for mid-afternoon at West Creek, the match was pushed back to an nighttime start that Howell thought might've helped his players during a packed period in their calendars.
"It was supposed to kick off at 2, we were supposed to be at West Creek on the grass," said Howell. "We recognized early in the day that was not going to happen, and so we made some adjustments. It was important that the girls get as much rest as possible also, so I thought that it was great that we were able to move it a bit later because we had a bunch of girls that played in high school games last night.
"The rain, in a weird way, may have helped us a little bit."
With temperatures dropping steadily in misty, clammy conditions, it seemed that neither defense would yield over the run of play.
But Richmond United's Bailey Cristian stunned Bethesda with a late goal to deliver the host side a 1-0 victory that will go a long way towards Richmond's hunt for a postseason place out of the ECNL Chesapeake Division. And more than a dozen NCAA scouts were on hand to take in the two clubs' side-by-side U-16 and U-17 matches.
"This kickoff actually worked out well," said Howell. "It was nice that a lot of college coaches stayed and watched, which was fantastic. Their presence here has been great all day, even with the weather being a little bit rough. So it's been a good day."
Lakeshore UF17AAA (Canada) 2-1 Montgomery United SC Black Magic
As hours of steady snow and rainfall across the Mid-Atlantic region forced Jefferson Cup organizers to scramble for scheduling solutions on Friday, coach Gilles L'Esperenace and his Lakeshore squad from the west side of Montreal, Quebec sat and waited, wondering if winter's icy grip had followed them south.
"We thought we were going to come to more hot weather!" joked L'Esperenace (pictured at top), whose team carry Canada's elite "AAA" tag and thus compete at a province-wide level back home.
Their meeting with Black Magic, who hail from Landsale, Pennsylvania, was eventually moved to a 9:30 pm ET kickoff at River City – and it was better late than never, as the sides' contrasting approaches made for a useful exercise.
Lakeshore's patient possession buildups was tested by Black Magic's sharp pressing and very high defensive line, and an early 2-0 lead for the Canadians was nearly erased as both the hands and feet of Lakeshore goalkeeper Tanya Cierson were kept busy for the duration. The result hung in the balance until the very end, but time ran out on the Pennsylvanians' comeback hopes for a 2-1 final.
"The other team was very strong, very physical, very quick," said L'Esperenace. "They tended to go for through balls. And so our girls had to adapt a little bit – and we have still have a few things to work on. It was very interesting.
"This is a famous cup – it's well-known even in our part of the world," he added. "And we know it attracts a lot of university coaches recruiting, and as you maybe have seen, we have a lot of talent on the team. More than half the girls would like to have the opportunity to play soccer in the States at the university level."
Match Fit Academy FC ECNL (N.J.) 3-0 Shattuck-St. Mary's Sabres (Minn.)
"What a lovely day, guys," joked one member of the Shattuck-St. Mary's Sabres as the team arrived at the damp, foggy River City Sportsplex ahead of their first match of the 2015 Jefferson Cup.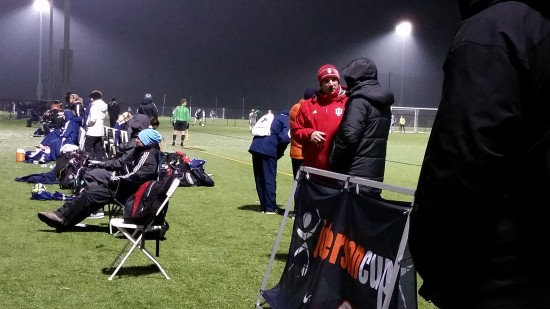 When a Minnesotan is lamenting the biting weather conditions, you can be certain it's chilly. And the result was a cold slap for the Midwesterners, too, as two penalty kicks conceded in a five-minute span of the first half sent Shattuck-St. Mary's to a 3-0 loss to New Jersey power Match Fit Academy at River City in one of several rescheduled kickoffs on Friday night.
"It's a young team," said Shattuck-St. Mary's coach Dave Lovercheck, whose program is the rare example of a team (in this case, a boarding school's) combining the best aspects of club and high-school participation. "To give up two penalties in five minutes there in the first half changed the game a little bit for us. We were pressing to get another one and gave up a later one.
"Obviously we'd like to win the games. But this is a showcase and the point really is to to get the players seen and hopefully showcase them in a way that college coaches are interested."
Despite the busy efforts of Sabres attackers like Hayley Moore, Lauren Crenshaw and Alaysia Lane, Match Fit's towering center-back duo of Victoria Coppa and Caleigh Farrell anchored a confident clean-sheet performance.