US Youth Soccer National League Conferences: East Region Recap (Oct. 3-4)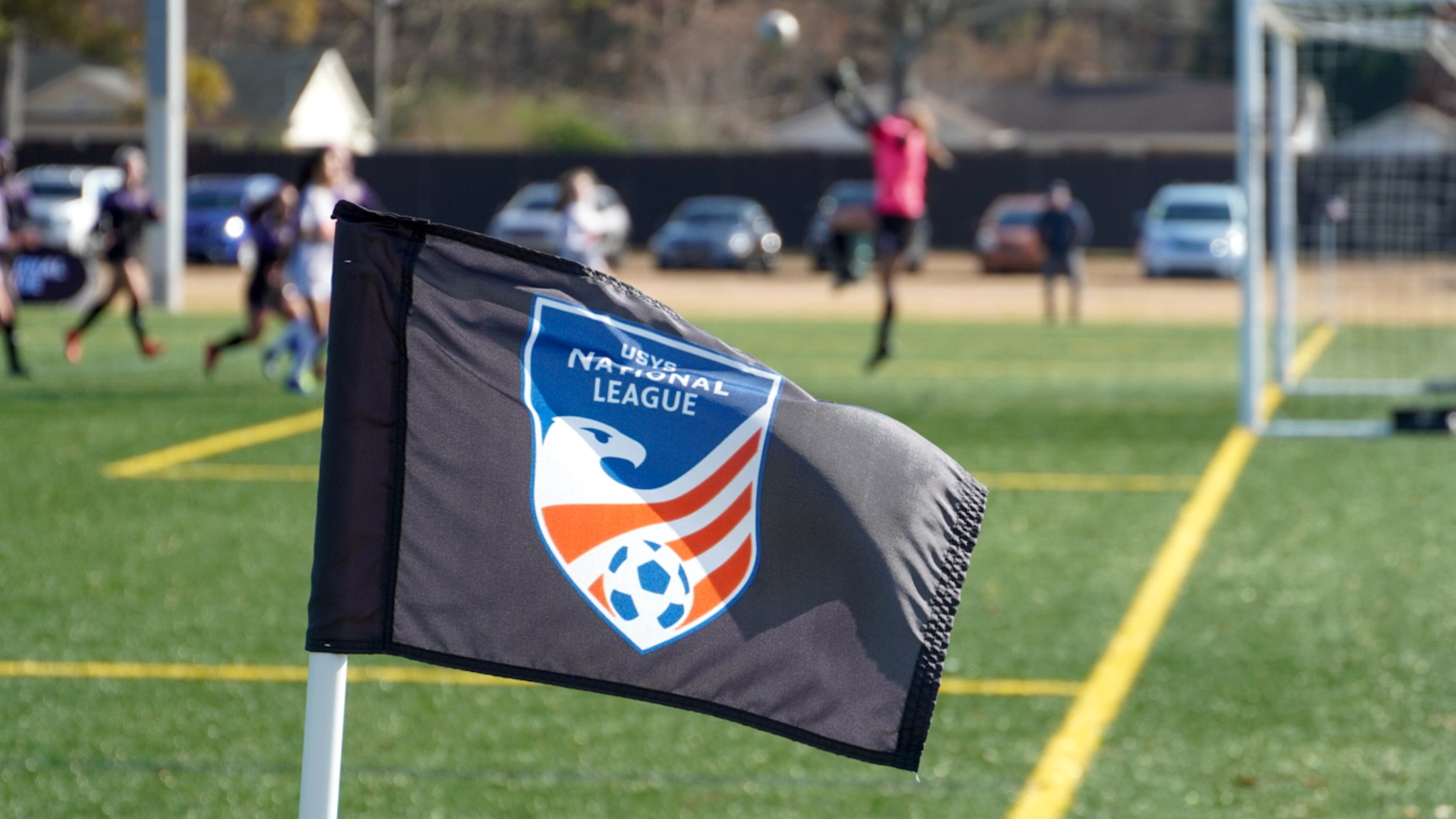 The US Youth Soccer National League Conferences in the East Region saw teams in the 13U and 14U age groups play their fourth weekend of the Fall 2020 Season on Oct. 3-4.
With Columbus Day Weekend next week, teams are looking to enter the break on a high note, as some teams are preparing for tournament play over the holiday weekend.
The USYS National League Conferences are part of each team's pursuit of a place at the 2021 US Youth Soccer Eastern Regional Championships, this season being held June 25-July 1, 2021 at Tuckahoe Turf Farms in Hammonton, N.J.
JUMP TO: Mid Atlantic | New England | North Atlantic | South Atlantic
Some of the key matches in the conference over the weekend included…
South Atlantic Conference, Managed by EDP Soccer
The 13U Girls Premier I division saw Keystone FC Premier 08 host Harford FC United Navy Lightning. The teams entered the game separated by only a point, as both looked to stay in the top half of the table and overtake Penn FC Youth for first place. The game was physical but well played on both sides. Harford FC scored first, but Keystone equalized on a Avery Gorsegner finish assisted by Sophia Shaw. A miscommunication on the back line led to a second Harford FC goal, and the visitors led 2-1 at half. In the second half, Gorsegner scored her second goal off an Audrey Klemick assist to level the game, and Sydney Hepner scored to put Keystone FC ahead. Hepner then scored another on a penalty kick to put the game away for a 4-2 final score.
"I was happy how we played the whole game, but especially the second half, overturning the deficit and coming away with the win," said Keystone FC coach Kevin McKee. "Hats off to Harford for a really good game."
The 14U Girls Premier I Division saw OPSA Magic 07 take on Penn FC Youth 2007 Black, as both teams aimed to catch Eagle FC 07 Black in the table. OPSA came into the game with two wins and a draw, and Penn FC came in with a win and a draw. In the first half, Viktorya Luchenbach scored for Penn FC and the team went into halftime with a 1-0 lead. Halfway through the second half, a handball in the box led to a penalty kick for OPSA, which tied the game at one. Neither team was able to find a late winner and the game ended in a 1-1 tie.
The 14U Boys Premier I Division featured a top-of-the-table clash, as SAC/BA Pre Academy Spurs hosted Potomac Blue 07. SAC/BA came into the game after two wins last weekend, and Potomac came in with two big wins after a draw in its early games. The evenly matched game was broken in the first half by a nicely placed through ball by Potomac's Matias Zarembka to Alessandro De Marchi, who slotted it home. SAC threatened late in the game but was unable to find an equalizer, as Potomac won, 1-0.
"It is always a hard fought game when we play SAC," Potomac coach Jesse Balsamo said. "The teams match up well. I was very pleased with the team's performance. The boys moved the ball well throughout the game."
Potomac continued its winning ways, as it followed up Saturday's 1-0 win against SAC with a 3-2 win against Bethesda SC on Sunday.
The 13U Boys Premier II Division featured HPSC Little Tigers squaring off against Baltimore Crew FC in an important game in the hunt for promotion to Premier I this spring. Both teams came into the game on seven points, tied at the top of the table with Great Falls-Reston SC. The game was evenly matched and scoreless heading into the final five minutes of the game when Baltimore Crew striker Grayson McLaughlin drew a penalty kick. Center back Keagan Luu took the spot kick and converted it to give Baltimore a 1-0 lead. Striker Josh Hays added another goal in the closing moments, propelling Baltimore Crew to a 2-0 Win over the HPSC Little Tigers.
"There was a lot of pressure to put the goal in. I tried to do my best," Luu said. "I honestly had been concentrating on marking their striker who was really strong throughout. I was happy that we got the win."
Asked about his team's clean sheet in the game, Max Levesque the team goalkeeper said: "We worked hard as a defense to help each other against a really strong offense by the Little Tigers. My defense helped me hold it together on some really hard shots that I couldn't catch and just had to deflect."
"All week we had to plan and prepare for the Little Tigers, we knew that they were fast and strong and could really hit it anywhere on the field," Baltimore coach Tom Karle said. "We changed our formation and we had to switch halfbacks into back to match them. We had to keep absorbing the pressure their team was putting on us, and when we finally got down to the final minutes of the game, we were able to counter attack. When we drew the PK, I went with my gut in choosing Luu to take the kick, he had been hot on hitting previous free kicks and it proved to be the right decision."
New England Conference, Managed by EDP Soccer
The 14U Girls Premier I Division saw New England Surf State Navy host Juventus Academy Boston 2007 South as New England Surf looked to extend its unbeaten streak to start the season. Both teams played well up and down the pitch, as each team had their share of opportunities. The match ended in a 1-1 draw with Sadie Nugent being the lone goal scorer for Juventus and Chloe Lang scoring for Surf.
"We had a few chances to come away with the win and so did they," Juventus coach Bernie Graves said. "Our defense was on point today. A solid match by both clubs."
Juventus defender Jalynn Andrews credited Surf for generating pressure throughout the game.
"Our defense played well, staying tight and shifting the pressure from left to right while working the ball up the field," Andrews said. "The Surf team played very well, holding their shape in the middle, which proved challenging for us at times."
"It was a very competitive game. The New England Surf girls equalized with a fantastic strike from Chloe Leng to make it 1-1," New England Surf Director Andy Prosser said. "Both teams had spells in the game to earn a winner, but a draw on the day was a fair result. It shows the competitive nature of the league being built in New England, which will continue to establish itself with games like this today."
The 14U Boys Premier I Division featured a meeting between two of the top teams, as undefeated Western United Pioneers FC 07 Elite visited Seacoast United Mass South 2007 Elite. Seacoast got on the scoreboard first in the 4th minute on a goal by Ryan Laramee that was assisted by Lucas Silvia. In the 12th minute, a Marcelo Diamantino penalty kick made it 2-0 in favor of Seacoast. Western United Pioneers' Owen Miller was able to cut the lead in half before halftime with a 26th-minute goal. In the second half, Jermaine Forskin made it 3-1 for Seacoast when he scored off a Diamantino assist. Seacoast finished out the scoring in the 65th minute when Laramee scored his second of the game off a free kick, as Seacoast went home with a 4-1 win.
"It was a great game between two very good teams," Seacoast coach Martin Doherty said. "We started the game brilliantly and put them under a lot of pressure with our energy and work rate out of possession. Overall, a great team performance, and we deserved the result.
"It was a good game between two really good teams," Seacoast goal scorer Ryan Laramee said. "We scored early and kept the pressure on. There was a lot of hustle and team effort to get this win."
North Atlantic Conference, Managed by EDP Soccer
The 13U Girls Premier I Division featured FC Somers Lady Hammers visiting Long Island SC 2008 Academy. Both sides entered the game unbeaten, with FC Somers coming off of two wins and Long Island SC having a win and a draw. The game saw possession go back and forth with shots on goal hard to come by. Each team was able to find the back of the net once, with Fiona Kelleher scoring the goal for FC Somers Lady Hammers in the first half. The final score was a true reflection of the game, a 1-1 tie in a very tight game between evenly matched teams
The 14U Girls Premier Division had a top-of-the-table showdown when first-place New York Surf 07 Academy Blue traveled to take on Force FC 2007. Both teams entered the game on nine points in the standings. The game went into halftime tied 1-1 with goals by Megan Jasinski for New York Surf and CJ Kuiken for Force FC. Force FC went up 2-1 in the second half on a goal by Monica Curry, but Miranda Zollo later scored for New York Surf to tie the game at 2-2. Zollo was then involved in the game-winner, with an assist to Morgan Shirley to put New York Surf up, 3-2. After a slow start to the match, the strong ending to the match saw Surf pick up the win to remain alone at the top of the table with four wins from four games.
"We played so well in the last 10 minutes," Surf midfielder Basia Czarkowska said following the comeback win.
The 14U Boys Premier II Division had a key matchup with Stony Brook SC Atletico 2007 hosting Amityville Chelsea 2007 in the fight for promotion to Premier I. Stony Brook entered the game at the top of the table with seven points, while Amityville was just one point behind. The game was evenly matched, with the two teams going back and forth all game. The game ended in a 1-1 tie, with Kevin Cruz scoring off a through ball from Denis Hernandez for the Amityville goal.
"It was a very competitive game from both sides," Amityville coach Mike Abbondondolo said. "There are lots of learning lessons for our boys as we are starting to show our style and flexibility with morphing in and out of formations."
The 13U Boys Premier II Division saw first-place Park Slope United 2008 National travel to take on second-place FC Transylvania 08 Red in an important match, as both teams are looking for promotion to Premier I. FC Transylvania came into the game battling a few injuries, and a slow start for the team saw Park Slope United score first on an incredible solo goal from Solomon Powell, who was able to curl a fantastic shot into the top corner. In the second half, FC Transylvania equaled the score when Colin Warden scored on a breakaway from midfield. Neither team managed to create a late winner, as the game ended in a 1-1 tie.
"The game was very intense and both sides had many opportunities," FC Transylvania coach Stefan Cocea said. "It's always good to have great competition."
"Great effort from the team today in a very evenly contested game between two competitive sides," Gianluca Masucci, coach of Park Slope United, said. "The boys knew it was going to be a tough game and they stepped up to the challenge. We now look ahead to our next match in two weeks, which we expect to be another closely contested affair."
In the Club vs. Club Division, AC Connecticut hosted White Plains YS in the 13U and 14U Boys age groups. AC Connecticut came away with wins in both games. The 08s had a big win behind impressive performances by Josai Vereen, who scored five goals, and Brandon Marcal, who had six assists. The 07s were evenly matched throughout in a very intense game. In the fifth minute, AC Connecticut struck first with Daniel Rodrigues scoring right from the corner kick. AC Connecticut's second goal came later in the first half on a play that started with a great through ball by Jack Ryan down the right side. That pass found Brayan Tenesaca, who beat the left defender down the line to set up a cross into the middle. Rodrigues controlled that ball and worked a quick give-and-go with striker Brady Bulakowski before slotting the second goal to the side net. White Plains fought back and tied the game at two, and the score remained tied at two until the final minutes of game. With two minutes left, AC Connecticut's Bulakowski went on a breakaway, and White Plains made a huge save, but Ricky O'Connor was able to volley the ball in from 25 yards out into the empty net for the winner — giving AC Connecticut the 3-2 win.
Mid Atlantic Conference, Managed by EDP Soccer
The 14U Girls Premier I Division featured a crucial top-of-the-table clash between PSA SDFC Elite 2007 and Torpedoes SC. PSA SDFC entered the game with three wins and two draws, and Torpedoes SC entered with three wins as they looked to position themselves at the top of the table for their back half of the season. A first-half goal from Torpedoes' Micaela Chamberlain was the only goal of the opening 35 minutes. The second half saw Torpedoes' Abby Hendrickson score on a strike from 20 yards out after a great team build up to cap her side's 2-0 victory.
The 13U Girls Premier I Division saw unbeaten Cinnaminson SC Union, which is currently in second place, travel to take on FC Europa 2008 Elite Girls, who are currently in third place. Both teams looked to keep pace with first-place Lehigh Valley United, which defeated Philadelphia SC Coppa Express over the weekend. FC Europa scored early in the game to go up 1-0, but Cinnanminson was able to find an equalizer Ava Johnson that was assisted by Shiloh Moore. That proved to be all the scoring, as the game ended in a 1-1 draw.
"It was tough giving up a goal so early in the game like we did, but we battled and kept fighting," Cinnaminson goal scorer Ava Johnson said. "Some quick combinations from our midfielders led to a cross from Shiloh Moore, and I was able to finish it one time into the bottom corner of the net."
The 14U Boys Premier I Division saw PA Dominion FC 07 host first-place Lehigh Valley United 07, with PA Dominion FC entering the game just three points behind the league leaders. Three minutes into the game, Lehigh Valley United went up 1-0 on a great finish from the right winger. PA Dominion responded with a goal from Chris Boyle to knot the game up at 1-1. Later in the game, PA Dominion's Jacob Lacher scored off a corner kick to provide the game-winner in his side's 2-1 victory.
"We fought hard and answered with two goals to get the win," PA Dominion captain Ethan Barr said. "Our midfield won the 50-50s and our attackers finished well. It was a good character builder after the stretch we've had."
Speaking about his goal, Lacher credited teammate Ryan Noel and said, "he put it on a platter for me and I put it away. Great team win."
The 13U Premier I Division saw PSA National 08 host PDA Hibernian Matthaus. PSA National looked to keep pace with NJ Premier FC and Foundation SA at the top of the table after tying with Foundation SA last week. PDA Hibernian looked to get its first win of the season after two close defeats. PSA National went up 1-0 in the first half, but PDA Hibernian was able to tie the game before halftime on a goal by Nick Angiolino. Xavier Krause scored a second goal for PDA Hibernian in the second half, which would end up being the winner as the match ended 2-1.
"PSA is a great team and they put us under a lot of pressure, especially early in the game," PDA Hibernian coach Scott Loesser said. "We were able to settle down throughout the game and eventually found the net a couple times to take the lead. We've gone back and forth with PSA the last few years, so we were fortunate to come away with a result."
"PSA was extremely skilled and physical. My teammate, Jason Pacetti, took a great shot, hit the crossbar and I was in the perfect spot to put it away on a header," PDA Hibernian goal scorer Nick Angiolino said. "My team fought hard, and we were fortunate enough to come away with the win. Big congrats to my teammate Xavier Krause for the game-winning goal."