US Youth Soccer National League 15U-19U Boys conclude Arizona event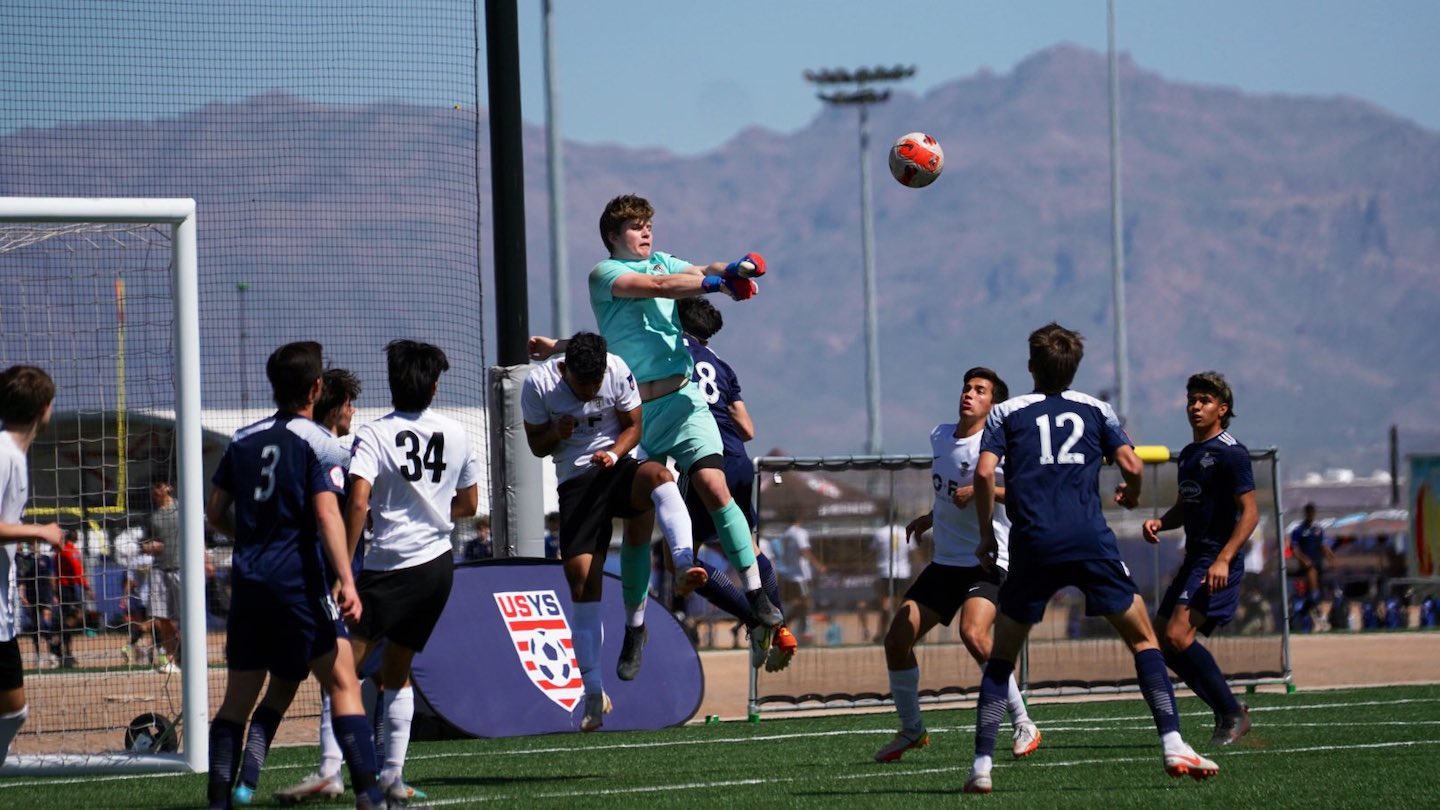 Official Website | Photo Gallery
MESA, Ariz. — National League Florida wrapped up on Monday, as the National League P.R.O. teams in the 15U-19U Boys age groups played their final games of the event at Bell Bank Park, Powered by Legacy Sports USA in Mesa, Ariz.
Top-finishing National League P.R.O. teams (12 per gender age group) earn direct advancement to the USYS National Championships, and many of the results in Arizona proved to be crucial in determining which teams punched their tickets.
The competitive level of National League P.R.O. was on full display this weekend, as several berths to Nationals were decided on the final day of action in Arizona.
Arsenal FC of Pittsburgh 06B Premier (PA-W) is one of the sides that clinched its division title, and the PA West side is excited to get its first taste of the National Championships.
The boys action heated up under the desert sun as more teams clinched the top spot on the road to Nationals. Check out the sights from the last day of matches in Mesa, AZ. #EarnYourPlace pic.twitter.com/g8K5idtEps

— National League (@NationalLeague) March 15, 2022
"It's the first team for our club to make it to Nationals. That's a good feeling for these guys," Arsenal FC coach Jonathan Velotta said. "It will keep the focus a little bit longer having that carrot at the end of it. Having that opportunity at the end of the year to compete for something that meaningful is pretty special."
The competitive level and platforms provided through National League P.R.O. and the Great Lakes Conference has helped Arsenal FC and its players grow and develop as a collective group and as individuals.
"They've developed a style and developed a culture," Velotta said. "They were ready for this. The National League has provided us a platform for us to play more nationally competitive teams more often. It's upped our preparation and made them a little more focused at practice — understanding what's at stake at that level. It's been a great progression for the team, and this is what we wanted."
Take a brief look at where the National League P.R.O. boys teams stand after NL Arizona…
15U Group C
With a win on Monday, La Roca J Milla (UT) clinched first place in the group. LA Surf Futures B07 (CA-S) is currently in second, but Michigan Tigers FC 2007 Boys Gold (MI) is just a point back and has a game left to play.
15U Group D
Group winner United PDX 07B Premier Black (OR) completed an unbeaten season with a win on Monday. FC United DSM 2007B (IA) and VSA Centurion (PA-E) are still in contention for second place, with each having a game remaining in the season.
15U Group E
Azzurri Storm 07 Boys Premier (FL) completed a perfect 7-0-0 season on Monday, while SAC 2007B Pre-Academy (MD) won to secure a second-place finish.
16U Group D
West Pines United FC 2006B Ezzy (FL) won on Monday to clinch the group title and berth to Nationals. SC Wave Juniors 06 Boys (WI) and FC Europa 06 Boys Elite (PA-E) are separated by one point, and each have a game remaining to try to lock down second place.
16U Group E
Arsenal FC of Pittsburgh 06B Premier (PA-W) won a winner-take-all matchup against NJ Premier B2006 (NJ) to secure a first-place finish. LV Pros 06B (NV) took second place thanks to a 2-0 win on Monday.
16U Group F
Miami Breakers FC 06 Black (FL) and Strikers Miami FC Elite 2006 (FL) are tied for first and will decide the group winner when they face off in their final game of the season.
17U Group D
After clinching its group title over the weekend, FC Evolution N B05 (OH) completed a 7-0-0 season with a win on Monday. Seventh games still to be played will decide the second-place finisher in the group.
17U Group E
A 4-1 win on Monday allowed LVSA 05 Boys Red (NV) to finish its title-winning campaign with an unbeaten record. Juventus – Zoff (FL) finished in second with 16 points in the standings.
17U Group F
SC Wave Juniors 05 Boys (WI) came back to beat SAC 05B Pre-Academy White (MD) and move to the top of the standings. The Wisconsin side faces Raiders FC 2005 (IL) in its seventh game, and Raiders could overtake SC Wave for first with a win.
18U Group D
A close win on Monday left PDA Hibernian Modric 2004 (NJ) tied atop the standings with a game in hand over co-leader Houston Legends 04B NLFC (TX-S). Both sides have already qualified for Nationals.
18U Group E
Three teams are still alive for the top two spots in the group, and each side has a game left to play. FC Somers Arsenal P (NY-E) leads the way with 15 points, while Strikers Miami FC 2004 Elite (FL) has 14 and Raiders FC 2004 (IL) has 13.
18U Group F
United PDX 04B Premier Black (OR) won the group, while Downtown LVSC 04 Gold (NV) and Brausa 04 Blue (MD) are alive for second place with seventh games remaining.
19U Group C
STA-MOSC 2003 NL (NJ) secured a top-two finish with a win on Monday. Meanwhile, the seventh game between FC Dallas Youth 03B West (TX-N) and Solar Sawyer 03 (TX-N) will determine the group winner and second ticket to Nationals.
19U Group D
Strikers Miami FC Elite 2003 (FL) punched its ticket to Nationals after going 6-0-1. Milwaukee Bavarian United (WI) can still clinch first place with a win in its seventh game against Kingdom SC 03 Red (MI), while the Michigan side could move above Milwaukee and into second place with a victory in that matchup.
19U Group E
Leg-A-Z Caimans (FL) and CASA 03M United (PA-E) each clinched a top-two finish and berth to Nationals. Their seventh games will dictate which side wins the group title.
The girls will kick off their portion of National League Arizona later this week, with showcase games taking place March 18-20 and National League P.R.O. games taking place March 19-21.