US Youth Soccer National League P.R.O. 15U-19U Boys action heats up at Arizona event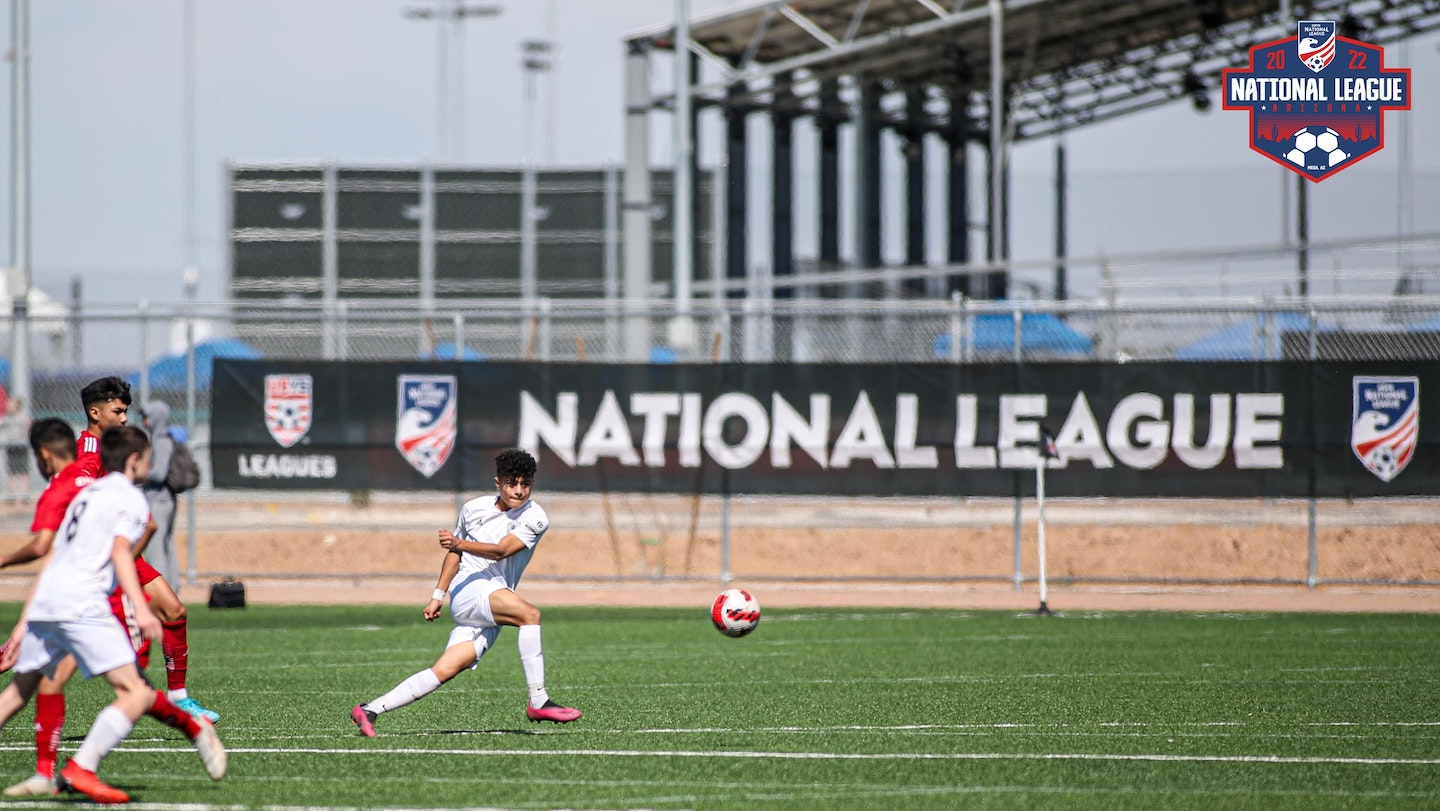 Official Website | Photo Gallery
MESA, Ariz. — Many boys teams are beginning to separate themselves in the USYS National League P.R.O. standings after Sunday's 15U-19U action at National League Arizona in Mesa, Ariz.
The latest day of competition at Bell Bank Park, Powered by Legacy Sports USA also included the final showcase games of the weekend.
Top-finishing National League P.R.O. teams (12 per gender age group) earn direct advancement to the USYS National Championships, and many of the results in Arizona will directly impact which teams punch their tickets.
Sunday saw the first teams of the weekend punch tickets to the National Championships, and three teams — 15U Azzurri Storm 07 Boys Premier (FL), 17U LVSA 05 Boys Red (NV) and 17U FC Evolution N B05 (OH) — secured National League P.R.O. titles.
🎥 The temperature and competition were heating up in the desert on Sunday. Check out the action from Mesa, AZ. #EarnYourPlace pic.twitter.com/B3WM2AfAL7

— National League (@NationalLeague) March 14, 2022
Meanwhile, many other results had massive implications for the teams still vying for berths to Nationals. In 16U Group D, SC Wave Juniors 06 Boys (WI) fought back to earn a 1-1 draw and remain in the Top 2 in the standings. SC Wave coach Ian Bennett said the meaningful games, combined with the high level of competition, create a fun and pressure-filled environment that's good for the players' development.
"It's so great to see great teams here. That's the biggest thing. You're bring the best of the best. For me, that's all you want as a coach," Bennett said. "You want to be pushed by the best. You want to play the best and compete against the best. That way, there's a standard to uphold. These guys do it. National League P.R.O. — everyone loves it. That's the league you want to be in, and it's huge for us."
Take a brief look at where the some of the National League P.R.O. boys teams stand after Sunday's matches…
United PDX 07B Premier Black (OR) clinched a Top 2 finish in 15U Group D. Meanwhile, FC United DSM 2007B (IA) came back to win, 2-1, against VSA Centurion (PA-E) to take over sole possession of second place.
Azzurri Storm 07 Boys Premier (FL) won its sixth straight game to clinch first place in 15U Group E.
With a 3-3 tie on Sunday, Arsenal FC of Pittsburgh 06B Premier (PA-W) secured a spot in Nationals and at least a Top 2 finish in 16U Group E.
In 16U Group D, SC Wave Juniors 06 Boys (WI) fought back to earn a big point in a 1-1 draw against FC Europa 06 Boys Elite (PA-E) to remain in second place.
FC Evolution N B05 (OH) used a big win on Sunday to move to 6-0-0 and clinch the 17U Group D title.
A 3-1 win on Sunday allowed LVSA 05 Boys Red (NV) to clinch the top spot in 17U Group E.
There's a little more clarity at the top of a tight 17U Group F title race, as SAC 05B Pre-Academy White (MD) earned a 4-2 win against Raiders FC 2005 (IL) in a battle of two of the three co-leaders. SC Wave Juniors 05 Boys (WI) also won to remain level with SAC on 13 points.
In 18U Group D, Houston Legends 04B NLFC (TX-S) earned a 1-1 draw against PDA Hibernian Modric 2004 (NJ) that helped it secure the a Top 2 finish and a spot at Nationals. PDA is still alive for a chance to win the division.
FC Somers Arsenal P (NY-E) moved to the top of the 18U Group E standings with a big win against previous co-leader Raiders FC 2004 (IL).
Strikers Miami FC Elite 2003 (FL) picked up a 3-0 win on Sunday to remain on top of the 19U Group D standings.
The boys weekend of National League Arizona will wrap up on Monday, as the National League P.R.O. teams compete in their final games of the event. The girls will take over later this week, with showcase games taking place March 18-20 and National League P.R.O. games taking place March 19-21.