US Youth Soccer Far West Presidents Cup 2019: Day 2 Recap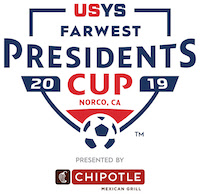 Schedules, Scores and Standings
Facebook | Twitter | Instagram | #USYSPCUP
NORCO, Calif. (Via US Youth Soccer) – Day Two of preliminary matches has concluded at the 2019 US Youth Soccer Far West Presidents Cup presented by Chipotle at the Silverlakes Sports Complex in Norco, Calif.
While some teams have already secured their spot in Friday's Quarterfinals, the fate of most will be decided Thursday for the chance to advance to the elimination rounds.
One team that is looking to seal its spot in the quarterfinals with a win tomorrow is Rocky Mountain Soccer Cougars Black (CO), as it currently sits tied for second in its group. According to head coach Brian Minter, they are improving as the tournament goes on.
"We lost in the state semi-finals last year, but knew this team had talent to go further," said head coach Brian Minter "We won our state event and then several local tournaments leading up to this. Unfortunately, the quality wasn't as high as it is here which we needed for a proper warm up. We walked the fields Monday when things were still getting set up and the boys kept asking what everything was, and I was like this is it. This is the stage you're about to play on."
Minter continued to talk about his team's experience with Far West Presidents Cup and what he enjoys about the competition here.
"The Regional Presidents Cup stage raises the expectation for every player in every position. You have to raise your game to match the level of competition here. Local tournaments just can't match the formality and stage of a regional tournament like this. That formality and stage really help the kids to learn the skills necessary to raise their game and improve their quality of play."
Notes from a few of today's President Cup games:
13U Boys
Oxnard United Soccer Club (CA-S), the highest scoring club on match Day 1 came into Day 2 looking to continue their momentum against Colorado United White (CO). Colorado got out to the early lead behind an Aden Trembly goal in the eighth minute. Then the Oxnard offense took over behind 13U Boys leading goal scorer Freddy Lobato. He put a move on a defender in the corner and then laced an inch-perfect cross for the finish by Michael Sauceda. Lobato was an offensive dynamo the rest of the half and helped earn his team to a 2-1 lead at half. Lobato followed that up with a second half hat trick including a shot from midfield where he caught the keeper out. Not to be outdone, his teammates matched his four goals and helped the team to an 8-2 win. The win kept the team on top of their group and clinched a spot in the quarterfinals.
14U Boys
The first half of the match between Federal Way FC (WA) vs Fire FC Black 05B (UT) was a tight affair with both keepers doing their best to keep their teams hopes and dreams alive. It started with an all-out attack by Federal Way forcing the Utah keeper into making multiple saves within the first five minutes. Around the ten-minute mark, Fire FC found its way into the match with a long-range effort that was saved by Federal Way goalie Jonathan Alvarez. Alvarez was forced into making more saves as he helped his team stay in the match. Finally, Federal Way broke through, as Yayah Sheriff latched onto a ball following a succession of corners putting his team ahead 1-0 going into half. Two more goals in the second half from Jose Menjivar and Medichael Mereste rounded out the scoring and gave Federal Way FC the comfortable victory and a clean sheet for Alvarez.
15U Boys
One of the more exciting games of the afternoon, Milan Academy Gold (CA-S) took on Cook Inlet SC 04B (AK) in a match that had plenty of goals. Milan came out firing, scoring 3 goals in the first thirty minutes before Cook Inlet scored to bring the match to 3-1. That lead blossomed to as large as 5-1 after Milan's Gerzain Espinoza scored one of soccer's rarest goals. He hit a corner kick towards the back post and watched as it bent its way into the back of the net unassisted. A Milan teammate had knocked it in, but the referee ruled it had already crossed the line and Espinoza's Olimpico stood. Cook Inlet's Connor Musick did his best to bring his team back by scoring two goals a minute apart. The last word would be Espinoza's however, as he scored the final goal in the 75th minute to bring the final scoreline to a 6-3 victory in favor of Milan.
16U Girls
Idaho Rush 03 Premier (ID) picked up its second victory in as many days with a 4-0 over LVSA 03 Girls White (NV) behind a pair of braces from 16U Girls leading goal scorers Amaia Smith and Jayla Ponce. The offense was particularly deadly late in the second half, scoring three goals in six minutes starting in the 72nd minute. The other cross bracket group leader is Pateadores MV G03 Blue (CA-S) who won their second game 2-1 after goals from Peyton Hill in the second minute and a second half goal from Giulia Henshaw. This sets up a match tomorrow from the leaders of both Group C and D.
17U Girls
In a match that could determine who advances to quarterfinals, both SWAT Crush 02G CB (UT) and SC Del Sol 2002 Girls White (AZ) walked away with a point after a 1-1 draw. SWAT's Brooklyn Peterson got the game's first goal in the 21st minute before the answer came from SC Del Sol's Victoria Hubbard twenty-two minutes later. After the equalizer, both teams cancelled each other out as SWAT applied tremendous pressure on the Del Sol defense but opened themselves up to counter attacks. SC Del Sol nearly scored on several set pieces and missed a great chance on a through ball late in the second half. With one game left to play, both teams will be looking for all three points tomorrow for the chance to play in the quarterfinals.
18U Girls
Alaska Rush 01G Premier (AK) finds itself sitting pretty after two days leading its group with six points. Today's victory wasn't easy however, as Albion SC Las Vegas 01 (NV) made the Alaska side work for it. Both teams pushed hard and looked for a goal, but the scoreboard read 0-0 deep into the second half before a corner for Alaska. The corner was swung in and l bounced around the box, with several shots being blocked before it found the foot of Sierra Nunn who buried it. The goal gave Alaska Rush the lead and eventually the 1-0 win. With only one game left, Alaska knows a victory tomorrow guarantees its place in the semifinals on Saturday.
Notes from 12U National Championships Series:
12U Boys
Each game in the 12U Boys age group tomorrow looks to be a meaningful matchup as almost every game will have implications on who will or who won't advance to the quarterfinals. FBSL Tuzos Jonathan Academy 07 B (AZ) sits on the top of Group A with four points but is only one point ahead of the second and third place teams. XF Premier B07A is also clinging to a one-point lead over second place Puma USA Kickers (CA-S) in Group B. Boca OC (CA-S) leads Group C but a loss to second place La Roca HW (UT) would see them finish second in the group. Heat FC 07 ED (NV) and AC Brea PDA (CA-S) both have six points setting up a winner takes the group match tomorrow.
12U Girls
Groups A, B and C all have two teams tied atop the standings with four points each. Each game in those groups will have significant impact on who advances with practically no teams eliminated from contention after two games. Real Colorado 07G (CO) has already beaten both the second and third place teams in Group D and has locked its place in the quarterfinals. This leaves Legends IE G07 Premier CK (CA-S) and FC Portland 07G Navy (OR) in a win and you are in scenario. With so much to play for, tomorrow is going to be a great day.
For complete event results for the Far West Presidents Cup, click here. For more information on all US Youth Soccer Regional and National Presidents Cup events, visit the US Youth Soccer Presidents Cup Homepage at www.usyouthsoccer.org/presidents-cup.
Note:  The US Youth Soccer Presidents Cup is a separate series of events from the US Youth Soccer National Championship Series.