US Youth Soccer Far West Presidents Cup 2019: Day 1 Recap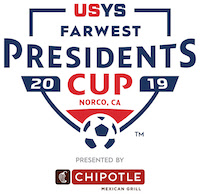 Schedules, Scores and Standings
Facebook | Twitter | Instagram | #USYSPCUP
NORCO, Calif. (Via US Youth Soccer) – The 2019 US Youth Soccer Far West Presidents Cup is now underway in Norco, Calif. The six-day event, which takes place June 11-16, kicked off Tuesday with 13U through 18U Boys and Girls teams starting the action at the Silverlakes Sports Complex. The 12U Boys and Girls National Championship Series games are also taking place alongside the Presidents Cup.
The event features more than 180 US Youth Soccer boys and girls teams competing for a regional title and a chance to advance to the 2019 US Youth Soccer National Presidents Cup, July 10-14 in Murfreesboro, Tenn.
Preliminary games will continue through Thursday, June 13. Quarterfinal matches will take place Friday, June 14 with Semifinal matches taking place on Saturday, June 15. Regional champions will be crowned following final matches on Sunday, June 16.
Cal North is the host of the event, and 13 other State Associations represented include Alaska, Arizona, Cal South, Colorado, Hawaii, Idaho, Montana, Nevada, New Mexico, Oregon, Utah, Washington and Wyoming.
The US Youth Soccer Presidents Cup offers teams the challenge of experiencing different types of play by competing from state to regional to national levels. The Presidents Cup provides teams with a progressive, competitive experience that highlights competition, camaraderie and community.
Notes from a few of Tuesday's President Cup games:
13U Girls
Two teams in the 13U age bracket really set themselves up nicely on day 1. So Cal Blues Sarabia started the tournament off with a fantastic 5-0 opening victory with the help of a lovely brace scored by Hannah Caira. Not to be outdone LVSA 06 Girls Silver got a brace of their own from talented goalscorer Marcela Gasco and 4 additional goals in an opening day 6-0 victory over NSC Green Genesis. While the two powerhouses are each leading their respective groups after day 1, Group A is wide open with both matches ending in draws.
14U Girls
Heat FC 05 TP National were on fire today as their offense could not be stopped by the heat, the crossbar, or the opposition as they scored 8 times in their victory. The offense was cooking in the first half with 5 goals and could not be stopped in the second either when moments after striking the crossbar, a shot by Tatum Gunderson scored off a corner for her second of the game.
Meanwhile on field 18 no goals were to be found as the game ended 0-0 between Milan SC and SSAAK CSC Thunder 05G in part to the heroic goalkeeping of SSAAK keeper Hannah Aemisegger came up big in the second half saving multiple shots from the relentless Milan attack.
15U Girls
In a battle of "Washington" teams it was Washington Premier FC (WA) coming out on top by beating Washington Timbers 04G Red 2 (OR). They went into halftime with a comfortable lead after two first half goals from Jaiden Wright and Julia Farrington, before getting the insurance goal on a fantastic piece of finishing by Maya Knautz to win 3-0.
16U Boys
Not much to separate the teams after 1 day with multiple ties and no team winning by more than 1 goal, and only AVSC Storm (CA-S) keeping a clean sheet. The highest scoring game of the day was a fantastic match between neighboring states as La Roca NO used a second half brace from Bona Gabriel Newman, including one in the dying moments to storm back and draw 2-2 against Heat FC 03 AS (NV).
17U Boys
A sweet volley was to be found in AYSO Rancho Conejo (CA-S)'s 2-0 victory over Real Colorado Olimpico 02 (CO). After having been frustrated for most of the first half by the resolute defense of Real Colorado, a turnover in the opposition half was quickly swung wide before an inch perfect cross was driven home off the volley by Joseph Ochoa. A second goal was added later in the match by Diego Lopez Duarte to secure the win.
18U Boys
A wild first half seemed destined to go to halftime tied at 0-0 despite fantastic chances from both sides before Martin Garcia Sandovalscored in the 30th minute for California Rush B01 Cinza (Cal-S). The Pueblo Rangers 01 B Elite (CO) had to feel their goals were coming after seeing two shots saved off the line by scrambling defenders from the Cal-S club. Unfortunately for them they never did and a second goal for California Rush came from Eric Church to put the game out of reach for a final of 2-0.
Notes from a few of today's National Championship Series games:
12U Boys
Some large score lines dotted the division as all 4 group leaders won by 4 or more goals. XF Premier B07A (WA) has to be feeling good after their 5-1 win and seeing the other group game end in a draw. While the other 3 group leaders remain tied on points despite their big wins. Only 2 teams kept clean sheets on the day, including FBSL Tuzos Jonathan Academy 07 B (AZ) who needed all the saves to hold onto their 1-0 victory.
12U Girls
Cal South has to be feeling good as a State Association after all three of their teams won by shutting out the competition in their respective games. They had better not get too comfortable however as Wasatch SC 07G ZB (UT) is putting on the pressure with a 2-0 win of their own. While Real Colorado 07G National is leading their group after their 4-1 win over FC Portland 07G Navy.